One ride and you'll understand why the 2016 Kawasaki Ninja 300 is the most popular learner-approved motorcycle of the past few years.
It is a thoroughly refined, agile, forgiving, smooth, attractive and well-built package that will not only suit many learners, but also a wide variety of rider heights and abilities. Even experienced riders might like one as a second bike for commuting and weekend canyon-carving.
And in 2016, the lightweight sports bike is even better with bold new colours, improved instrument visibility at night, a slipper clutch ad ABS standard.
If you love aggressive and angular styling, you'll love the Ninja 300 with its "Transformers" design
The build quality is exceptional with high-quality surfaces, even on the engine casings, with small and even panel gaps and top-shelf feel in the controls. Amazing for such a bargain bike.
We tested the Special Edition ABS which looks stunning in its black, grey and red livery, especially those tasty red mag wheels which are the same design as the flagship ZX-14R.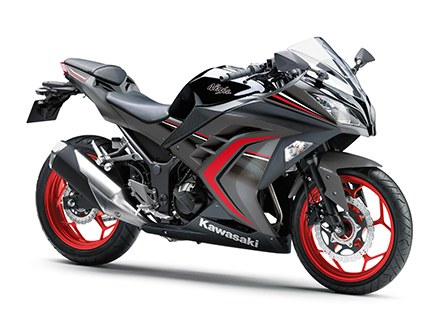 While the Ninja 300 may look small, once you throw your leg over the bike it seems to fit. I'm just over 6' (187cm) and I don't feel cramped.
My neighbour, a 58-year-old female experienced rider, stands 5'3" (160cm) but is still able to put her feet on the ground and feel confident thanks to the slim seat.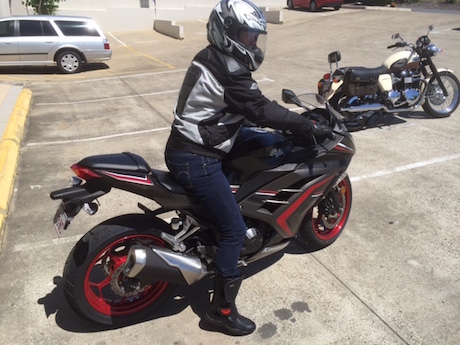 It may look like a crotch rocket, but it's not. The handlebars are deceptively high and easy to reach with just a slight lean forward.
The rider's seat is flat and firm, yet comfortable. The pillion seat and high pegs are only suitable for short journeys.
In all, the riding position will suit a wide range of rider heights and be capable of most tasks, except long-distance touring.
The biggest attraction in the top-selling Ninja 300 is the parallel-twin engine.
It's the most powerful in its class, but more importantly it is a mechanical quiet, smooth, refined, flexible and forgiving engine and transmission.
While the engine only has 29kW of power at 11,000 revs, it spins up freely and revs at 7000 in sixth gear at 100km/h. Despite the high revs, it never feels buzzy or over-worked.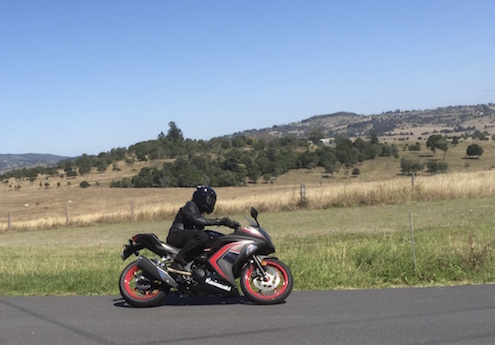 You have to rev it and use the gears for maximum result, but the six-speed box is so positive and lightning quick you will enjoy the task. You also won't hit any angel gears along the way and neutral is very easy to find. The clutch is also nice and light, so you won't get a sore wrist from all the gear changes.
But even if you aren't into MotoGP gear changes, the flexible engine has enough torque (27Nm at 10,000rpm) to forgive the lazy or inexperienced rider.
Just slip it through the first few gears and roll around in third or fourth for most city riding.
Novice riders are also forgiven for clumsy downshifts with the slipper clutch preventing dangerous rear-wheel lockups on hasty gear changes.
Dual throttle valves give the Ninja 30 one of the smoothest responses of any bike I've tested, making it dead easy to perform slow-speed manoeuvres such as feet-up u-turns. This is aided by a tight turning circle thanks to the bars being high enough to clear the tank and not jam your thumbs.
The smooth throttle also allows riders to easily maintain steady speeds and not be inadvertently caught out by police radar.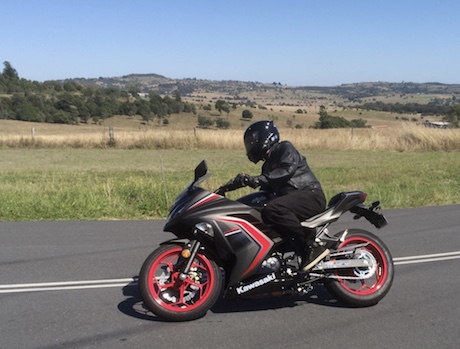 Brakes are very positive with good initial bite and plenty of feel. The lightweight two piston Nissin front callipers and single petal-shaped 290mm disc supply more than enough stopping power for the 172kg bike.
The rear brake is also reasonably effective but a little numb in feel. The lightweight ABS unit is smooth and reactive.
Handling is agile. There is very little weight to fling around and the high and comparatively wide bars for a sports bike make it easy to flick through traffic or your favourite section of winding road.
Yet it doesn't feel nervous on the highway or get blown around in the turbulence from trucks and vans.
The relatively wide 140mm rear tyre provides good grip and you can feel confident with big lean angles.
Commuters will enjoy the upright ring position which allows good vision and visibility in traffic. However, while the wing mirrors don't give much rear vision, they do provide good blind-spot views and are blur-free at any engine revs.
Large fairing vents and a radiator fan do their best to expel heat when stuck in summer traffic.
It won't burn a hole in your wallet, either, with miserly fuel economy of about 4.3L/100km.
That means exceptional range from the 17-litre tank and most commuters will ride to work for a couple of weeks before needing a refuel!
You can keep your economy under control, too, with the Economical Riding Indicator on the multi-function LCD instruments telling you when to shift gears.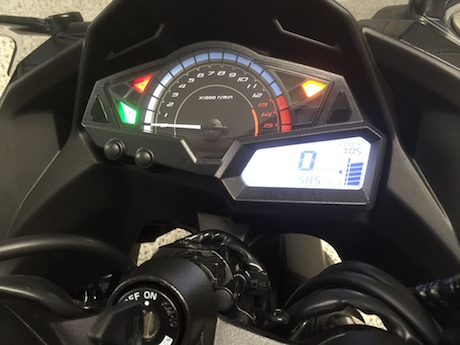 The wealth of on-screen information also includes a speedometer, clock, fuel gauge, dual trip meters and odometer.
At night the new instruments change colour in the analogue tachometer which improves legibility.
Kawasaki has a host of factory accessories including tank protectors, taller screen, sporty single seat, frame sliders, soft top case and more, making this a versatile package to suit many novice and even experienced riders.
Kawasaki Ninja 300 ABS Special Edition
Price: $6399 (SE grey), $6199 (red)
Warranty: 24 months, unlimited kilometres
Engine: 296cc liquid-cooled, DOHC, fuel-injected eight-valve parallel-twin
Power: 39hp (29kW) at 11,000rpm
Torque: 27Nm at 10,000rpm
Bore x stroke: 62mm x 49mm
Compression ratio: 10.6:1
Economy: 3.4L/100km (on test)
Emissions: Euro 3
Transmission: 6-speed, chain drive
Suspension: 37mm telescopic fork, 120mm travel (front); Uni-Trak with five-way preload adjustment, 132mm travel (rear)
Brakes: 290mm petal disc with twin-piston calliper (front); 220mm petal disc with twin-piston calliper (rear)
Wet weight: 172kg
Seat height: 785mm
Wheelbase: 1405mm
Fuel capacity: 17 litres