Kawasaki is about to issue a recall for the Ninja ZX-10 and Ninja ZX-10RR over issues with several gears during "high-impact" shifts.
The official Australian recall says it affects 2016-18 Ninja ZX-10R and 2017-18 Ninja ZX-10RR models.
Go to the end of this article to see the VINs of all 398 affected bikes in Austalia to check if yours is included.
The recall says the transmission gears for second to fourth could break under "high-impact caused by shifting". 
The material used to fabricate the gears is not reliable and is likely to break under high stress.
If the gears break, they can cause loss of control through rear wheel lock-up which can lead to a crash.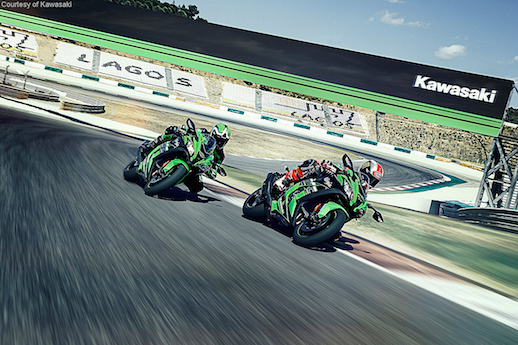 The free fix is to replace the output gears, but it is an involved procedure that could take as long  two days.
Kawasaki is expected to notify owners.
This follows the Kawasaki Motors Australia recall in March 2016 for the 2016 model Ninja ZX-10R sports bike over a steering damper issue which could potentially cause an accident.
The ACCC recall notice said the steering damper bracket mounting bolts could break due to over tightening during assembly.
Recall notices are issued by the manufacturer through a voluntary industry code under the ACCC.
Despite hundreds of recalls by various automotive manufacturers, none has ever been mandatory.  All have been issued by the manufacturer.
While any recall is not good news for the manufacturer, it shows that they are largely diligent in fixing problems.
If you believe there is an endemic problem with your bike that should be recalled, contact the ACCC on 1300 302 502.
To check whether your motorcycle has been recalled, click on these sites:
• Australia
• USA
• UK
• Canada
VINS of affected Ninjas
| | |
| --- | --- |
| JKAZXCR12GA000032 | ZX1000RGFA |
| JKAZXCR16GA000034 | ZX1000RGFA |
| JKAZXCR1XGA000036 | ZX1000RGFA |
| JKAZXCR16GA000051 | ZX1000RGFA |
| JKAZXCR18GA000052 | ZX1000RGFA |
| JKAZXCR1XGA000280 | ZX1000RGFA |
| JKAZXCR13GA000282 | ZX1000RGFA |
| JKAZXCR15GA000283 | ZX1000RGFA |
| JKAZXCR17GA000284 | ZX1000RGFA |
| JKAZXCR17GA000298 | ZX1000RGFA |
| JKAZXCR19GA000299 | ZX1000RGFA |
| JKAZXCR14GA000310 | ZX1000RGFA |
| JKAZXCR16GA000311 | ZX1000RGFA |
| JKAZXCR18GA000312 | ZX1000RGFA |
| JKAZXCR1XGA000313 | ZX1000RGFA |
| JKAZXCR1XGA000361 | ZX1000RGFA |
| JKAZXCR15GA000364 | ZX1000RGFA |
| JKAZXCR17HA005003 | ZX1000RHFA |
| JKAZXCR19HA005004 | ZX1000RHFA |
| JKAZXCR10HA005005 | ZX1000RHFA |
| JKAZXCR12HA005006 | ZX1000RHFA |
| JKAZXCR14HA005007 | ZX1000RHFA |
| JKAZXCR16HA005008 | ZX1000RHFA |
| JKAZXCR18HA005009 | ZX1000RHFA |
| JKAZXCR14HA005010 | ZX1000RHFA |
| JKAZXCR16HA005011 | ZX1000RHFA |
| JKAZXCR18HA005012 | ZX1000RHFA |
| JKAZXCR1XHA005013 | ZX1000RHFA |
| JKAZXCR11HA005014 | ZX1000RHFA |
| JKAZXCR13HA005015 | ZX1000RHFA |
| JKAZXCR17HA005017 | ZX1000RHFA |
| JKAZXCR19HA005018 | ZX1000RHFA |
| JKAZXCR10HA005019 | ZX1000RHFA |
| JKAZXCR17HA005020 | ZX1000RHFA |
| JKAZXCR10HA005022 | ZX1000RHFA |
| JKAZXCS12GA000347 | ZX1000SGF |
| JKAZXCS14GA000348 | ZX1000SGF |
| JKAZXCS16GA000349 | ZX1000SGF |
| JKAZXCS12GA000350 | ZX1000SGF |
| JKAZXCS14GA000351 | ZX1000SGF |
| JKAZXCS16GA000402 | ZX1000SGF |
| JKAZXCS18GA000403 | ZX1000SGF |
| JKAZXCS1XGA000404 | ZX1000SGF |
| JKAZXCS11GA000405 | ZX1000SGF |
| JKAZXCS13GA000406 | ZX1000SGF |
| JKAZXCS15GA000472 | ZX1000SGF |
| JKAZXCS17GA000473 | ZX1000SGF |
| JKAZXCS19GA000474 | ZX1000SGF |
| JKAZXCS10GA000475 | ZX1000SGF |
| JKAZXCS12GA000476 | ZX1000SGF |
| JKAZXCS17GA000537 | ZX1000SGF |
| JKAZXCS19GA000538 | ZX1000SGF |
| JKAZXCS10GA000539 | ZX1000SGF |
| JKAZXCS17GA000540 | ZX1000SGF |
| JKAZXCS19GA000541 | ZX1000SGF |
| JKAZXCS13GA000602 | ZX1000SGF |
| JKAZXCS15GA000603 | ZX1000SGF |
| JKAZXCS17GA000604 | ZX1000SGF |
| JKAZXCS19GA000605 | ZX1000SGF |
| JKAZXCS10GA000606 | ZX1000SGF |
| JKAZXCS19GA000667 | ZX1000SGF |
| JKAZXCS10GA000668 | ZX1000SGF |
| JKAZXCS19GA000670 | ZX1000SGF |
| JKAZXCS10GA000671 | ZX1000SGF |
| JKAZXCS17GA000893 | ZX1000SGF |
| JKAZXCS19GA000894 | ZX1000SGF |
| JKAZXCS10GA000895 | ZX1000SGF |
| JKAZXCS12GA000896 | ZX1000SGF |
| JKAZXCS14GA000897 | ZX1000SGF |
| JKAZXCS10GA000928 | ZX1000SGF |
| JKAZXCS12GA000929 | ZX1000SGF |
| JKAZXCS19GA000930 | ZX1000SGF |
| JKAZXCS10GA000931 | ZX1000SGF |
| JKAZXCS12GA000932 | ZX1000SGF |
| JKAZXCS16GA000948 | ZX1000SGF |
| JKAZXCS18GA000949 | ZX1000SGF |
| JKAZXCS14GA000950 | ZX1000SGF |
| JKAZXCS16GA000951 | ZX1000SGF |
| JKAZXCS18GA000952 | ZX1000SGF |
| JKAZXCS10GA000993 | ZX1000SGF |
| JKAZXCS12GA000994 | ZX1000SGF |
| JKAZXCS14GA000995 | ZX1000SGF |
| JKAZXCS16GA000996 | ZX1000SGF |
| JKAZXCS18GA000997 | ZX1000SGF |
| JKAZXCS12GA002678 | ZX1000SGF |
| JKAZXCS14GA002679 | ZX1000SGF |
| JKAZXCS10GA002680 | ZX1000SGF |
| JKAZXCS19GA002726 | ZX1000SGF |
| JKAZXCS10GA002727 | ZX1000SGF |
| JKAZXCS12GA002728 | ZX1000SGF |
| JKAZXCS14GA002729 | ZX1000SGF |
| JKAZXCS10GA002730 | ZX1000SGF |
| JKAZXCS14GA000205 | ZX1000SGFA |
| JKAZXCS16GA000206 | ZX1000SGFA |
| JKAZXCS18GA000207 | ZX1000SGFA |
| JKAZXCS1XGA000208 | ZX1000SGFA |
| JKAZXCS11GA000209 | ZX1000SGFA |
| JKAZXCS15GA000262 | ZX1000SGFA |
| JKAZXCS19GA000264 | ZX1000SGFA |
| JKAZXCS10GA000265 | ZX1000SGFA |
| JKAZXCS12GA000266 | ZX1000SGFA |
| JKAZXCS12GA000302 | ZX1000SGFA |
| JKAZXCS14GA000303 | ZX1000SGFA |
| JKAZXCS18GA000305 | ZX1000SGFA |
| JKAZXCS1XGA000306 | ZX1000SGFA |
| JKAZXCS19GA000362 | ZX1000SGFA |
| JKAZXCS10GA000363 | ZX1000SGFA |
| JKAZXCS12GA000364 | ZX1000SGFA |
| JKAZXCS14GA000365 | ZX1000SGFA |
| JKAZXCS16GA000366 | ZX1000SGFA |
| JKAZXCS11GA000808 | ZX1000SGFA |
| JKAZXCS1XGA000810 | ZX1000SGFA |
| JKAZXCS11GA000811 | ZX1000SGFA |
| JKAZXCS13GA000843 | ZX1000SGFA |
| JKAZXCS15GA000844 | ZX1000SGFA |
| JKAZXCS17GA000845 | ZX1000SGFA |
| JKAZXCS19GA000846 | ZX1000SGFA |
| JKAZXCS10GA000847 | ZX1000SGFA |
| JKAZXCS14GA001094 | ZX1000SGFA |
| JKAZXCS16GA001095 | ZX1000SGFA |
| JKAZXCS16GA001128 | ZX1000SGFA |
| JKAZXCS18GA001129 | ZX1000SGFA |
| JKAZXCS14GA001130 | ZX1000SGFA |
| JKAZXCS16GA001131 | ZX1000SGFA |
| JKAZXCS18GA001132 | ZX1000SGFA |
| JKAZXCS10GA002954 | ZX1000SGFA |
| JKAZXCS14GA002956 | ZX1000SGFA |
| JKAZXCS18GA002958 | ZX1000SGFA |
| JKAZXCS1XGA002959 | ZX1000SGFA |
| JKAZXCS16GA002960 | ZX1000SGFA |
| JKAZXCS13GA003001 | ZX1000SGFA |
| JKAZXCS15GA003002 | ZX1000SGFA |
| JKAZXCS17GA003003 | ZX1000SGFA |
| JKAZXCS19GA003004 | ZX1000SGFA |
| JKAZXCS10GA003005 | ZX1000SGFA |
| JKAZXCS13GA003046 | ZX1000SGFA |
| JKAZXCS15GA003047 | ZX1000SGFA |
| JKAZXCS17GA003048 | ZX1000SGFA |
| JKAZXCS19GA003049 | ZX1000SGFA |
| JKAZXCS15GA003050 | ZX1000SGFA |
| JKAZXCS17GA003096 | ZX1000SGFA |
| JKAZXCS19GA003097 | ZX1000SGFA |
| JKAZXCS10GA003098 | ZX1000SGFA |
| JKAZXCS12GA003099 | ZX1000SGFA |
| JKAZXCS15GA003100 | ZX1000SGFA |
| JKAZXCS18GA004290 | ZX1000SGFA |
| JKAZXCS1XGA004310 | ZX1000SGFA |
| JKAZXCS11GA004311 | ZX1000SGFA |
| JKAZXCS13GA004312 | ZX1000SGFA |
| JKAZXCS15GA004313 | ZX1000SGFA |
| JKAZXCS17GA004314 | ZX1000SGFA |
| JKAZXCS15GA004330 | ZX1000SGFA |
| JKAZXCS17GA004331 | ZX1000SGFA |
| JKAZXCS19GA004332 | ZX1000SGFA |
| JKAZXCS10GA004333 | ZX1000SGFA |
| JKAZXCS12GA004334 | ZX1000SGFA |
| JKAZXCS13GA004360 | ZX1000SGFA |
| JKAZXCS17GA004362 | ZX1000SGFA |
| JKAZXCS19GA004363 | ZX1000SGFA |
| JKAZXCS11GA004390 | ZX1000SGFA |
| JKAZXCS13GA004391 | ZX1000SGFA |
| JKAZXCS15GA004392 | ZX1000SGFA |
| JKAZXCS17GA004393 | ZX1000SGFA |
| JKAZXCS19GA004394 | ZX1000SGFA |
| JKAZXCS10GA005417 | ZX1000SGFA |
| JKAZXCS12GA005418 | ZX1000SGFA |
| JKAZXCS14GA005419 | ZX1000SGFA |
| JKAZXCS10GA005420 | ZX1000SGFA |
| JKAZXCS12GA005421 | ZX1000SGFA |
| JKAZXCS10GA005448 | ZX1000SGFA |
| JKAZXCS12GA005449 | ZX1000SGFA |
| JKAZXCS19GA005450 | ZX1000SGFA |
| JKAZXCS10GA005451 | ZX1000SGFA |
| JKAZXCS12GA005452 | ZX1000SGFA |
| JKAZXCS13GA005489 | ZX1000SGFA |
| JKAZXCS1XGA005490 | ZX1000SGFA |
| JKAZXCS11GA005491 | ZX1000SGFA |
| JKAZXCS13GA005492 | ZX1000SGFA |
| JKAZXCS15GA005493 | ZX1000SGFA |
| JKAZXCS15GA005509 | ZX1000SGFA |
| JKAZXCS11GA005510 | ZX1000SGFA |
| JKAZXCS13GA005511 | ZX1000SGFA |
| JKAZXCS15GA005512 | ZX1000SGFA |
| JKAZXCS17GA005513 | ZX1000SGFA |
| JKAZXCS12GA005550 | ZX1000SGFA |
| JKAZXCS14GA005551 | ZX1000SGFA |
| JKAZXCS16GA005552 | ZX1000SGFA |
| JKAZXCS18GA005553 | ZX1000SGFA |
| JKAZXCS1XGA005554 | ZX1000SGFA |
| JKAZXCS18GA005570 | ZX1000SGFA |
| JKAZXCS1XGA005571 | ZX1000SGFA |
| JKAZXCS11GA005572 | ZX1000SGFA |
| JKAZXCS13GA005573 | ZX1000SGFA |
| JKAZXCS15GA005574 | ZX1000SGFA |
| JKAZXCS16GA000786 | ZX1000SGFB |
| JKAZXCS18GA000787 | ZX1000SGFB |
| JKAZXCS1XGA000788 | ZX1000SGFB |
| JKAZXCS11GA000789 | ZX1000SGFB |
| JKAZXCS18GA000790 | ZX1000SGFB |
| JKAZXCS18GA000823 | ZX1000SGFB |
| JKAZXCS1XGA000824 | ZX1000SGFB |
| JKAZXCS11GA000825 | ZX1000SGFB |
| JKAZXCS13GA000826 | ZX1000SGFB |
| JKAZXCS15GA000827 | ZX1000SGFB |
| JKAZXCS15GA000858 | ZX1000SGFB |
| JKAZXCS17GA000859 | ZX1000SGFB |
| JKAZXCS13GA000860 | ZX1000SGFB |
| JKAZXCS15GA000861 | ZX1000SGFB |
| JKAZXCS17GA000862 | ZX1000SGFB |
| JKAZXCS1XGA002606 | ZX1000SGFB |
| JKAZXCS11GA002607 | ZX1000SGFB |
| JKAZXCS13GA002608 | ZX1000SGFB |
| JKAZXCS15GA002609 | ZX1000SGFB |
| JKAZXCS1XGA002654 | ZX1000SGFB |
| JKAZXCS11GA002655 | ZX1000SGFB |
| JKAZXCS13GA002656 | ZX1000SGFB |
| JKAZXCS15GA002657 | ZX1000SGFB |
| JKAZXCS17GA002658 | ZX1000SGFB |
| JKAZXCS13GA002706 | ZX1000SGFB |
| JKAZXCS15GA002707 | ZX1000SGFB |
| JKAZXCS17GA002708 | ZX1000SGFB |
| JKAZXCS19GA002709 | ZX1000SGFB |
| JKAZXCS15GA002710 | ZX1000SGFB |
| JKAZXCS17GA003146 | ZX1000SGFB |
| JKAZXCS19GA003147 | ZX1000SGFB |
| JKAZXCS10GA003148 | ZX1000SGFB |
| JKAZXCS12GA003149 | ZX1000SGFB |
| JKAZXCS19GA003150 | ZX1000SGFB |
| JKAZXCS17GA003194 | ZX1000SGFB |
| JKAZXCS19GA003195 | ZX1000SGFB |
| JKAZXCS10GA003196 | ZX1000SGFB |
| JKAZXCS12GA003197 | ZX1000SGFB |
| JKAZXCS14GA003198 | ZX1000SGFB |
| JKAZXCS12GA004723 | ZX1000SGFB |
| JKAZXCS14GA004724 | ZX1000SGFB |
| JKAZXCS16GA004725 | ZX1000SGFB |
| JKAZXCS18GA004726 | ZX1000SGFB |
| JKAZXCS1XGA004727 | ZX1000SGFB |
| JKAZXCS15GA004733 | ZX1000SGFB |
| JKAZXCS17GA004734 | ZX1000SGFB |
| JKAZXCS19GA004735 | ZX1000SGFB |
| JKAZXCS10GA004736 | ZX1000SGFB |
| JKAZXCS12GA004737 | ZX1000SGFB |
| JKAZXCS17GA005401 | ZX1000SGFB |
| JKAZXCS19GA005402 | ZX1000SGFB |
| JKAZXCS10GA005403 | ZX1000SGFB |
| JKAZXCS12GA005404 | ZX1000SGFB |
| JKAZXCS14GA005405 | ZX1000SGFB |
| JKAZXCS1XGA005411 | ZX1000SGFB |
| JKAZXCS16GA005437 | ZX1000SGFB |
| JKAZXCS18GA005438 | ZX1000SGFB |
| JKAZXCS1XGA005439 | ZX1000SGFB |
| JKAZXCS16GA005440 | ZX1000SGFB |
| JKAZXCS18GA005441 | ZX1000SGFB |
| JKAZXCS1XGA005442 | ZX1000SGFB |
| JKAZXCS17GA005463 | ZX1000SGFB |
| JKAZXCS19GA005464 | ZX1000SGFB |
| JKAZXCS10GA005465 | ZX1000SGFB |
| JKAZXCS12GA005466 | ZX1000SGFB |
| JKAZXCS14GA005467 | ZX1000SGFB |
| JKAZXCS1XGA005473 | ZX1000SGFB |
| JKAZXCS12GA005502 | ZX1000SGFB |
| JKAZXCS14GA005503 | ZX1000SGFB |
| JKAZXCS14HA008029 | ZX1000SHF |
| JKAZXCS10HA008030 | ZX1000SHF |
| JKAZXCS12HA008031 | ZX1000SHF |
| JKAZXCS14HA008032 | ZX1000SHF |
| JKAZXCS16HA008033 | ZX1000SHF |
| JKAZXCS16HA008050 | ZX1000SHF |
| JKAZXCS18HA008051 | ZX1000SHF |
| JKAZXCS1XHA008052 | ZX1000SHF |
| JKAZXCS11HA008053 | ZX1000SHF |
| JKAZXCS10HA008609 | ZX1000SHF |
| JKAZXCS17HA008610 | ZX1000SHF |
| JKAZXCS10HA008612 | ZX1000SHF |
| JKAZXCS12HA008613 | ZX1000SHF |
| JKAZXCS16HA008629 | ZX1000SHF |
| JKAZXCS12HA008630 | ZX1000SHF |
| JKAZXCS18HA008633 | ZX1000SHF |
| JKAZXCS1XHA008908 | ZX1000SHF |
| JKAZXCS11HA008909 | ZX1000SHF |
| JKAZXCS18HA008910 | ZX1000SHF |
| JKAZXCS1XHA008911 | ZX1000SHF |
| JKAZXCS16HA008954 | ZX1000SHF |
| JKAZXCS18HA008955 | ZX1000SHF |
| JKAZXCS1XHA008956 | ZX1000SHF |
| JKAZXCS11HA009848 | ZX1000SHF |
| JKAZXCS13HA009849 | ZX1000SHF |
| JKAZXCS1XHA009850 | ZX1000SHF |
| JKAZXCS11HA009851 | ZX1000SHF |
| JKAZXCS13HA009852 | ZX1000SHF |
| JKAZXCS15HA010033 | ZX1000SHF |
| JKAZXCS17HA010034 | ZX1000SHF |
| JKAZXCS19HA010035 | ZX1000SHF |
| JKAZXCS10HA010036 | ZX1000SHF |
| JKAZXCS12HA010037 | ZX1000SHF |
| JKAZXCS13HA010774 | ZX1000SHF |
| JKAZXCS15HA010775 | ZX1000SHF |
| JKAZXCS17HA010776 | ZX1000SHF |
| JKAZXCS15HA011344 | ZX1000SHF |
| JKAZXCS17HA011345 | ZX1000SHF |
| JKAZXCS10HA011428 | ZX1000SHF |
| JKAZXCS12HA011429 | ZX1000SHF |
| JKAZXCS18HA011774 | ZX1000SHF |
| JKAZXCS1XHA011775 | ZX1000SHF |
| JKAZXCS11HA011776 | ZX1000SHF |
| JKAZXCS13HA011777 | ZX1000SHF |
| JKAZXCS11HA009591 | ZX1000SHFA |
| JKAZXCS13HA009592 | ZX1000SHFA |
| JKAZXCS15HA009593 | ZX1000SHFA |
| JKAZXCS19HA009595 | ZX1000SHFA |
| JKAZXCS14HA009603 | ZX1000SHFA |
| JKAZXCS16HA009604 | ZX1000SHFA |
| JKAZXCS18HA009605 | ZX1000SHFA |
| JKAZXCS1XHA009606 | ZX1000SHFA |
| JKAZXCS11HA009607 | ZX1000SHFA |
| JKAZXCS19HA009743 | ZX1000SHFA |
| JKAZXCS10HA009744 | ZX1000SHFA |
| JKAZXCS12HA009745 | ZX1000SHFA |
| JKAZXCS14HA009746 | ZX1000SHFA |
| JKAZXCS16HA009747 | ZX1000SHFA |
| JKAZXCS11HA010045 | ZX1000SHFA |
| JKAZXCS10HA010053 | ZX1000SHFA |
| JKAZXCS14HA010055 | ZX1000SHFA |
| JKAZXCS16HA010056 | ZX1000SHFA |
| JKAZXCS18HA010057 | ZX1000SHFA |
| JKAZXCS17HA010437 | ZX1000SHFA |
| JKAZXCS19HA010438 | ZX1000SHFA |
| JKAZXCS10HA010439 | ZX1000SHFA |
| JKAZXCS17HA010440 | ZX1000SHFA |
| JKAZXCS19HA010441 | ZX1000SHFA |
| JKAZXCS1XHA010464 | ZX1000SHFA |
| JKAZXCS11HA010465 | ZX1000SHFA |
| JKAZXCS13HA010466 | ZX1000SHFA |
| JKAZXCS15HA010467 | ZX1000SHFA |
| JKAZXCS17HA010468 | ZX1000SHFA |
| JKAZXCS14HA010797 | ZX1000SHFA |
| JKAZXCS16HA010798 | ZX1000SHFA |
| JKAZXCS10HA011350 | ZX1000SHFA |
| JKAZXCS12HA011351 | ZX1000SHFA |
| JKAZXCS18HA011354 | ZX1000SHFA |
| JKAZXCS18HA011516 | ZX1000SHFA |
| JKAZXCS1XHA011517 | ZX1000SHFA |
| JKAZXCS11HA011518 | ZX1000SHFA |
| JKAZXCS13HA011519 | ZX1000SHFA |
| JKAZXCS1XHA011520 | ZX1000SHFA |
| JKAZXCS16HA011689 | ZX1000SHFA |
| JKAZXCS12HA011690 | ZX1000SHFA |
| JKAZXCS14HA011691 | ZX1000SHFA |
| JKAZXCS16HA011692 | ZX1000SHFA |
| JKAZXCS18HA011693 | ZX1000SHFA |
| JKAZXCS12HA011804 | ZX1000SHFA |
| JKAZXCS14HA011805 | ZX1000SHFA |
| JKAZXCS16HA011806 | ZX1000SHFA |
| JKAZXCS18HA011807 | ZX1000SHFA |
| JKAZXCS1XHA011808 | ZX1000SHFA |
| JKAZXCS14JA014421 | ZX1000SJFA |
| JKAZXCS18JA014423 | ZX1000SJFA |
| JKAZXCS1XJA014424 | ZX1000SJFA |
| JKAZXCS12JA014434 | ZX1000SJFA |
| JKAZXCS14JA014435 | ZX1000SJFA |
| JKAZXCS17JA014638 | ZX1000SJFA |
| JKAZXCS1XJA014648 | ZX1000SJFA |
| JKAZXCS11JA014649 | ZX1000SJFA |
| JKAZXCS13JA015396 | ZX1000SJFA |
| JKAZXCZ12HA000016 | ZX1000ZHF |
| JKAZXCZ14HA000017 | ZX1000ZHF |
| JKAZXCZ16HA000018 | ZX1000ZHF |
| JKAZXCZ18HA000019 | ZX1000ZHF |
| JKAZXCZ14HA000020 | ZX1000ZHF |
| JKAZXCZ16HA000021 | ZX1000ZHF |
| JKAZXCZ18HA000022 | ZX1000ZHF |
| JKAZXCZ1XHA000023 | ZX1000ZHF |
| JKAZXCZ11HA000024 | ZX1000ZHF |
| JKAZXCZ13HA000025 | ZX1000ZHF |
| JKAZXCZ15HA000026 | ZX1000ZHF |
| JKAZXCZ17HA000027 | ZX1000ZHF |
| JKAZXCZ19HA000028 | ZX1000ZHF |
| JKAZXCZ10HA000029 | ZX1000ZHF |
| JKAZXCZ17HA000030 | ZX1000ZHF |
| JKAZXCZ19HA000031 | ZX1000ZHF |
| JKAZXCZ10HA000032 | ZX1000ZHF |
| JKAZXCZ12HA000033 | ZX1000ZHF |
| JKAZXCZ14HA000034 | ZX1000ZHF |
| JKAZXCZ16HA000035 | ZX1000ZHF |
| JKAZXCZ1XJA003011 | ZX1000ZJF |
| JKAZXCZ11JA003012 | ZX1000ZJF |
| JKAZXCZ15JA003014 | ZX1000ZJF |
| JKAZXCZ17JA003015 | ZX1000ZJF |
| JKAZXCZ10JA003017 | ZX1000ZJF |
| JKAZXCZ12JA003018 | ZX1000ZJF |
| JKAZXCZ14JA003019 | ZX1000ZJF |
| JKAZXCZ10JA003020 | ZX1000ZJF |
| JKAZXCZ13JA003044 | ZX1000ZJF |
| JKAZXCZ15JA003045 | ZX1000ZJF |
| JKAZXCZ10JA003048 | ZX1000ZJF |
| JKAZXCZ12JA003049 | ZX1000ZJF |
| JKAZXCZ19JA003050 | ZX1000ZJF |