Jarow Convertible Review Summary
Jarow Convertible Image Gallery
NOTE:  This helmet is no longer being manufactured. This review was originally posted as the Jarow Convertible, which was distributed by ProtecQ. We had received many complaints about ProtecQ's service regarding this helmet. ProtecQ is apparently no longer importing this helmet.
Nichols motorcycle supply is now the importer and distributor for Caberg in the U.S.A. The helmets will be sold through authorized dealers. The Jarow name is no longer being used.
to the U.S. market, and the Mono Convertible is the Jarow (formerly known as Arrow) helmet that introduced American motorcyclists to the brand. (Note: The Jarow and Arrow names are no longer being used. The helmets are sold worldwide under the original Caberg name.)
You may recognize the Convertible as Jarow's "three helmets in one" model from their recent motorcycle magazine print advertisements. I'd say it's more like two helmets in one, because I'm not sure I'd characterize a flip-up helmet as a full-face, but hey — what do I know about marketing?
The "three helmets in one" tagline refers to the Convertible's ability to function as a full-face, a flip-up or an open-face helmet. A conversion kit is provided with each Mono Convertible which allows the owner to remove the flip-up visor assembly and plug in a black edging that converts the helmet to an open-face version.
The conversion is a bit more complicated than "snap on/snap off". The flip-up assembly must be removed by unscrewing a pair of fasteners (one on each side), using either a screwdriver or a coin. The ability to convert from one type of helmet format to another is unique, and could be useful for an owner who needs both styles of helmet.
I'm not a big fan of open-face helmets, but perhaps someone who owns both a touring bike and a sportbike would like to have the flexibility to switch when the mood strikes.
The Mono Convertible shown in these photos is a test mule of a soon-to-be-released model featuring some new graphics, and it wasn't supplied with a conversion kit. But the Convertible functions rather well as a flip-up, and it has a reasonable price of $225.00.
The graphics are a nice touch, and serve to add a bit of zest to the overall design. Other than the Convertible's unique ability to morph into an open-face helmet, it's a basic, well-constructed flip-up design that's comfortable and provides decent air flow.
The single button on the chin bar makes it easy to swing the visor up, and the face shield has the same strong detents we found on the Caberg Justissimo that will help prevent it from blowing open at high speed.
The Convertible has a slightly roomier fit from front to back than its cousin, the Caberg Justissimo, but there still isn't a heck of a lot of chin room. Although the internal dimensions of the Convertible and the Caberg Justissimo are almost identical, the shape of the flip-up assembly and the internal chin bar padding in the Convertible seem to provide a bit more space. The Convertible either has longer sides than the Caberg Justissimo, or its design allows it to sit lower on my head, but it seems to offer a more enclosed feeling than the Caberg Justissimo and with a bit more protection for my chin.
Jarow uses two shell sizes for their helmets: a small shell size for the XS and S sizes, and a large shell size for the M through XXL sizes. Other manufacturers try to save a few bucks by using one shell size for all helmets, which can make the smaller sizes look (and feel) way too big and the larger sizes to have thinner padding. The Convertible weighs in at 1717 grams, or 3 lb., 12-5/8 oz. (size L), which is about average for helmets in this class. The weight is well balanced and doesn't affect its performance.
The size large Convertible feels comfortable for my round head shape, and I don't notice any abnormal pressure points on my temples or forehead, which is a definite plus.   The Convertible also has removable cheek pads which are designed to provide some room for the installation of speakers for a motorcycle communication system, which should please owners of touring bikes.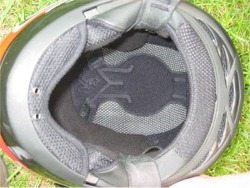 The Convertible isn't as quiet as the Caberg Justissimo. The Convertible's removable flip-up visor is probably the cause of some design constraints that prohibit the tighter tolerances of the quieter Caberg Justissimo.
I always wear earplugs when riding (see the wBW Earplugs and Hearing Protection page), and it's also important to note that certain windscreens or fairings can increase turbulence and apparent helmet noise, so your experience may differ from mine.
The Convertible receives a decent amount of air flow via two inlets on top of the helmet. There are two sliding covers over the inlets; open the covers and the air enters through a pair of holes to provide a bit of a breeze across the top of the noggin. The open vents protrude into the air stream though, and are the cause of some higher frequency wind noise which is noticeably absent when the vents are shut.
The helmet also has four slots on the chin bar, two of which can be closed via a sliding switch on the front. The sliding switch on the pre-production model shown here had a weak detent, which tended to cause it to close unexpectedly. But the two outside air inlet slots are always stay open.
The air flowing in through the chin is directed up across the back of the face shield and also around the sides of the chin bar. The lower fit of the Convertible and its standard under-chin fabric wind block help do help to seal out some of the low  frequency "booming" noise that can be caused by fairing turbulence buffeting around the neck area on many helmets.
Jarow also offers tinted and iridium plated replacement visors for the Convertible, and a replacement clear visor that's been treated with an anti-fog coating.
The Mono Convertible is DOT and ECE 22-05 approved. It has a "quick release" buckle and a relatively long length of extra strapping which can be secured by a small metal snap. Jarow has incorporated a nice feature in all of their quick release buckles — a security "D" ring which can be used to secure the helmet against theft. We're not aware of any other quick release buckles that also include a security ring.
Jarow has added some very unique features to their helmets, and they've upped the ante in the flip-up helmet market. The Jarow Mono Convertible is a well-made helmet that has the unique ability to be fairly easily converted to an open-face version when desired. If you need this functionality, the helmet's price is relatively low, because you'd be getting two helmets for the price of one. If you're interested in the flip-up functionality only, you may want to spend the extra money and go for the Caberg Justissimo, which includes an internal rotating sun shield and is one of the quieter flip-up or modular helmets available.
Product Review:  Jarow Mono Convertible Helmet

Available From:  The Mono Convertible is no longer being manufactured. Also see the Caberg Justissimo.
Suggested Retail Price:  $225.00
Colors:  Burgundy; Cobalt Blue; Metallic Black, Blue and Silver; Red; White. Graphics shown here available in September '03.
Made In: Italy
Product Comments:  Close cousin to the Caberg Justissimo (formerly known as the Caberg Justissimo; can be converted to an open-face with included kit. Slightly larger internal fit due to shape of chin bar. Good airflow. Top vents a bit noisy when open. Mirrored visor shown in these photos is optional.
NOTE:  See also important comments on the Caberg Justissimo
wBW Visitor "R.S." writes:  "I have had my Mono Convertible helmet since I bought it in Daytona in 2003. I've put over 15,000 on my helmet and found it very comfortable. BUT there is a problem with the company's customer service – THERE IS NO CUSTOMER SERVICE.
Shortly after purchasing my helmet, my husband decided to get one also. We waited three months. After several calls to their office in NC and receiving the story that the company in Italy was behind due to all the orders from Daytona, he finally gave up and cancelled his order.
Nine months later, while on a road trip, I cracked my face shield. As soon as I got back, on August 23, I accessed their web site and ordered a new face shield. A day later I ordered some riding gloves from a different company. When I got the gloves in but still had no word on the face shield, I sent an email to customer service. I got no response.
Two weeks after placing the order, I called and was told the shipment would come the next week. I called a week later and was told that the U.S. company reps had gone to meet with the Italian company reps. and they would bring some Jarow products back with them. Today, I was told the U.S. company reps "HAD MISSED THEIR PLANE" but they would arrive on Tuesday. When I asked if they would have any face shields with them, she said she didn't think so!
I am ready to turn my Jarow helmet into a hanging basket and go shopping for a comfortable helmet from a company that has a reputation for good customer service."