The Interphone F5XT has possibly the clearest, distortion-free sound of all helmet Bluetooth and intercom systems I have yet tested. That makes it easier to hold phone conversations even at highway speeds and it means your music doesn't fatigue your ears with distorted mush. And that's one of the most important aspects of a Bluetooth system as far as I'm concerned.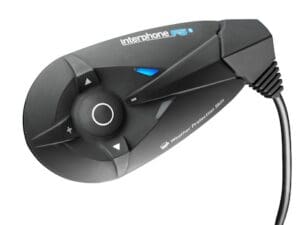 The Interphone F5XT has a host of features that should keep riders entertained and in contact with the outside world and other riders. There's spoken status announcements, speed-related volume control, an FM radio, Bluetooth music streaming, phone functionality and an intercom that will connect with up to five other riders. It comes with either a boom microphone attachment for open-face and flip-up helmets or a stick-on bud for full-face helmets. And if you don't want the outside world to contact you, go without the mic and just listen to GPS directions, the radio or your music either via Bluetooth or a plug-in.
The unit fits to your helmet via a stick-on attachment or a bolt-on clasp and it's fairly small and low profile. However, the unit plugs in via a cable and the boom mic attaches via a velcro spot, so it can be a bit messy with wires. There are five pointed buttons with a central round button which are difficult to use with anything but summer gloves.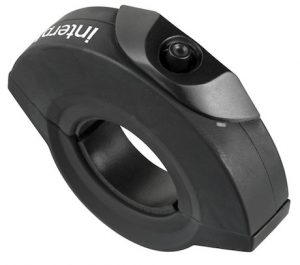 However, there is also an optional Bluetooth remote unit that you can attach to your handlebar which performs all the same functions. It says you can access these with your thumb, but there are few bikes where you can position the remote close enough to access without having to take your hand off the handlebars.
Powering up requires you to hold the centre button for a few seconds and when it switches on a voice tells you how much battery you have – high, medium or low – which is very convenient. On first use you have to go through quite a lengthy and confusing process of selecting the right language and then pairing your phone and remote. Once that's done, it always pairs up immediately you turn it on. It also allows you to pair two phones to the headset simultaneously in case you have a work and personal phone.
The instruction manuals that come with the unit and remote aren't very comprehensive, so I suggest you go to their website and download the full manual here.
Or you can just rely on the spoken instructions can which make the rather complex menu system a little bit easier to follow. I especially like the announcement of who is calling when the phone rings. You can set it up to answer via your voice or a button. I tried voice recognition answering, but it didn't work, so I swapped to the button and had no more problems. Each time you turn it on, it defaults to the intercom setting which is annoying if you always want it on phone, or music, or radio. I'd prefer it defaulted to the setting you had it on when you turned it off. Speaking of which, it takes too long to turn off.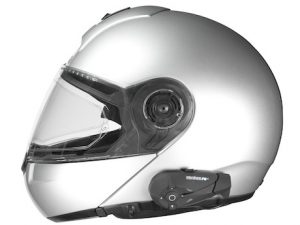 The speed-related volume control is handy so you don't blow your ears off when you come to a stop. But I found it annoyingly jumped up and down in volume around 60km/h so I switched off that function. I also thought it might run down the battery a bit quicker.
As for the battery life, I couldn't run it out in a day of listening to Bluetooth and taking several calls. By the end of a nine-hour day of riding it was telling me battery was low when I powered it up after a stop, but it never ran out. They say it has up to 700 hours of standby and 12 hours of talk time which sounds about right.
While the sound is crisp and clean, it's also shrill with weak bass. I changed my iPhone settings to "bass booster" or "small speakers" and found it was much better. The FM radio sounded a little crackly. It has eight station memories and the spoken announcements tell you exactly what number it is on the dial.
I only had the one Bluetooth unit, so I couldn't test the intercom, but they say it has range of 1.3km between two riders, reducing between riders as you add more intercoms. With six riders patched in they need to be less than 480m apart to hear each other, but that's a whopping 2.4km in total from lead rider to tail-end Charlie! In the real world I've found that these distances may be reduced by roadside obstructions such as trees, as well as corners and hills.
The Interphone F5XT Bluetooth system is available as either a single unit for $299.95 or a pair at $549.95. The remote costs an extra $80.
PHONE/GPS/TABLET MOUNTING KITS
Interphone also now has handlebar mounting kits for most phones, GPS units and even tablets. It allows you to access the phone's functions such as GPS, music, calls and even the weather forecast, although we recommend you pull over for anything more complex than pressing a button. The housings are claimed to be "knock-proof" and waterproof and allow access to touch-screens, buttons, functions, earphone jacks and charging ports. They are quick to release and can pivot a full circle for ideal mounting options.
Prices range from $44.95 – $99.95 depending on the model. They suit the following devices: GPS 4.3", 3.5" and 5.4"; iPhone 3, 4, 4S and 5; Galaxy S3 and S4, 7.0" tablet and iPad.