Polaris is celebrating its 60th anniversary this year and talk is that the company – which also makes Indian and Victory motorcycles – will show "something big" at the Sturgis Motorcycle Rally next month. S0 far all they have revealed is two-tone paint options for the Indian, but that's not really "big", so there must be something else.
SEE ALL THE INDIAN PHOTOS HERE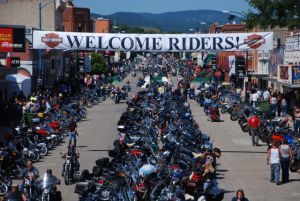 Sturgis Motorcycle Rally is the biggest in the world with more than half a million bikers ready to descend on the town's 4000 population in the Black Hills of South Dakota. It is perhaps the biggest stage in the world to showcase a motorcycle, so Polaris used it last year to unveil the new Indian Chief.
Not only did Polaris unveil the new Chief, but surprised the pistons out of every biker by having not one, but three models. Polaris is such a big and dynamic company it can do that. So don't be surprised if the 2015 Indian range which is due to be unveiled there this year includes at least one new model.
I'm tipping a smaller, lighter model, perhaps called a Scout, to take on Harley's new Street 750 and 500. But don't expect an electric prototype like Harley's LiveWire. The company has already said that is not going to happen just yet.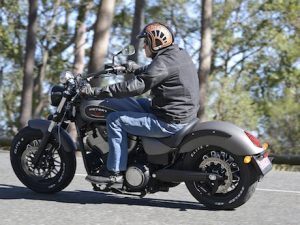 Meanwhile, we have these sneak-peak pix of the two-tone paint options that will be available in addition to the existing single Indian Motorcycle Red and Thunder Black.
Two-tone paint has been a feature of Indian Motorcycle's long history and they give the bike an even more authentic heritage look. Indian says the paint is applied "using premium modern finishes and advanced application technology". If the quality is as good as the rest of the bike, it will be stunning.
Indian Motorcycles Australia marketing manager Adrian Givoye says the two-tone paint option will add $1000 to the current ride-away pricing. He says they arrive in Australia in late October.
SEE ALL THE TWO-TONE INDIAN PHOTOS HERE
Meanwhile, Polaris's other motorcycle brand, Victory, has introduced only one new model in the past two years – the new Gunner which was launched at Daytona Bike Week this year – so it is due for something "big". 
The company uses the one engine and manages to squeeze out several models. But is it time for a new engine from Victory? Maybe a smaller one, again to combat the Street family! If not, then at least we can expect substantial updates.
MotorbikeWriter will be at Sturgis to cover the new models. In fact, I'll be riding a 2015 Cross Country Tour almost 3000km from LA to the rally. I've been told I will get a chance to ride other new models at the rally and may also get a ride in the new Polaris Slingshot three-wheeler.
Polaris began 60 years ago as a small-town farm equipment manufacturer and is now the global leader in the powersports industry with sales last year of $3.8 billion.
In 1956, the first Polaris snowmobile emerged from their small production facility in Roseau, Minnesota, and in the mid-1980s it started producing all-terrain vehicles. It has since added motorcycles, side-by-side off-road vehicles, military vehicles, small electric/hybrid powered vehicles, and more.
Indian Two-Tone Colours for 2015 are:
Chief Classic in

 

Indian Motorcycle Red / Thunder Black.
Chief Vintage in

 

Indian Motorcycle Red / Thunder Black; Indian Motorcycle Red / Ivory Cream; Willow Green / Ivory Cream
Chieftain in

 

Indian Motorcycle Red / Thunder Black;

 

Indian Motorcycle Red / Ivory Cream;

 

Springfield Blue / Ivory Cream