Polaris has released a teaser video of a three-wheeler "Slingshot" machine that looks a little like the KTM Crossbow track car.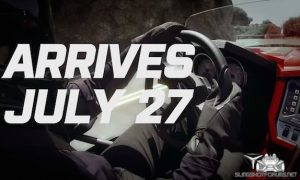 The road-going Polaris Slingshot will be fully unveiled on July 27 and would be a departure for the company which has specialised in all-terrain and snowmobiles. However, Polaris has broken a lot of rules in the past decade or so with its establishment of the Victory Motorcycles brand, then its purchase of Indian Motorcycles and several electric vehicle brands.
The video, tagged "It's Like Surfing Asphalt", shows an open-top two-seater vehicle with a steering wheel and floor-mounted gear shifter which is a departure from their CVT vehicles. The first teaser video will be followed with three more teasers on July 7, 14 and 21. "This is Slingshot. Head-turning exhilaration and style in an awe-inspiring three-wheel roadster," Polaris claims.
Polaris Australia spokesman Robert Rosengarten hopes it will comes to Australia. "At this stage we are unsure on its plans for Australia, but will be in touch once we learn more," he says. "Looks like a whole lot of fun!"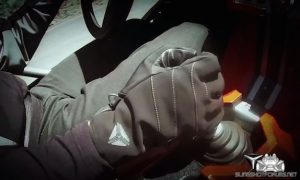 There are few images of the Slingshot, but it has a roll cage, LED lights, angular bodywork and fat, low-profile tyres. While it's no motorcycle, it is sure to have motorcycle-like performance and excitement.
Polaris Industries is certainly a company going somewhere fast. This product may or may not make it into Australia, but at least it shows the company is ready and willing to respond to different market needs and niches. 
In a previous article on this website we also pondered the likelihood of Polaris producing electric motorcycles to follow Harley-Davidson's recent announcement of the Livewire project. If anyone can do make the transition to electric motorcycles, the well-resourced Polaris can.
Polaris Industries is a leader in the powersports industry with sales last year of $3.8 billion. The company is due to release its second-quarter statements on July 22.