Indian Scout motorcycles were used in small numbers by the US Army and its Allies in World War II and now the reborn Scout has been customised for "military duty" again.
Indian Motorcycle asked Klock Werks Kustolm Cycles in South Dakota to create a military tribute motorcycle to celebrate their recent partnership with the USO military service organisation.
The result is the Indian Scout Pathfinder with matte green paint and white graphics, saddlebags from the Indian accessories catalogue, a custom seat, ceramic-coated exhaust and, of course, the armaments.
For those interested, it's a de-commissioned Thompson sub machine gun with a custom gunstock by Boyds Gunstocks of Mitchell, South Dakota. The USO and Indian Motorcycle logos are both engraved in the stock.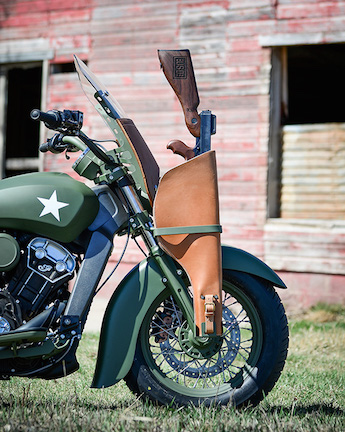 Klock Werks is no stranger to working with Polaris motorcycle brands.
They've already turned a Scout into an "Outrider" custom with ape hanger bars, custom billet aluminium wheels, bobber tail, solo saddle, single exhaust and fat 180mm rear tyre.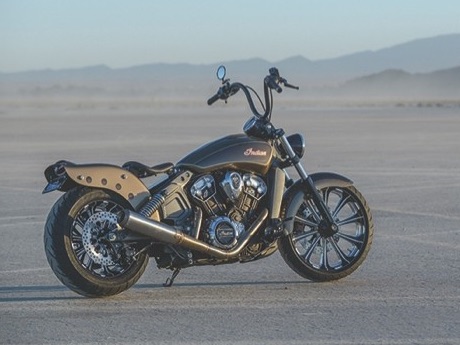 And sister company Victory Motorcycles set an American land speed record on the Bonneville salt flats with a Victory Hammer developed by Klock Werks, together with at-risk kids.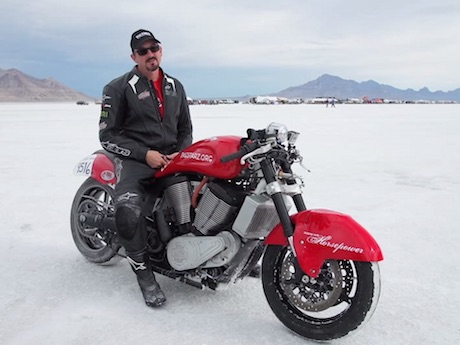 The Pathfinder will tour Indian Motorcycle events, making its first public appearance at the Quail Motorcycle Gathering in Monterey California this weekend,May 15-16. The event features a tribute to the US military this year and will feature a full collection of vintage Indian Motorcycle and other brand military models as well as customs, race motorcycles and rare brands.