As  great as the new Indian Scout looks, it is still a bit of a blank canvas for customisers.
Now Klock Werks Kustolm Cycles in South Dakota has shown what can be done with the Scout.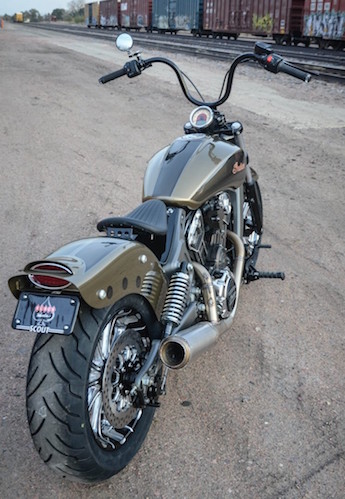 You may remember the work they did with a New York state school and Victory Motorcycles to achieve an American land speed record on the Bonneville salt flats with a Victory Hammer. That was largely the work of Laura Klock.
This time Victory sister company indian Motorcycle has given a Scout to Karlee Cobb of Klock Werks to customise.
She has developed what she calls the Outrider with its ape hanger bars, custom billet aluminium wheels, bobber tail, solo saddle, single exhaust and fat 180mm rear tyre.
"My goal was to build a bike that while is clearly customised, is one that a decent home mechanic could build," she says.
While the bars may seem a little out of place, if you have ridden a bike with ape hangers, don't knock them. So long as they are not higher than your heart, they are very stable and comfortable, offering great low-speed manoeuvrability and high-speed control.
Probably the most common customising of the Scout will be dropping the double, single-sided exhaust which m ay be a bit quiet and heavy for some. I love this shorty angled exhaust from flat track specialists Kully Co. I'd love to hear it!
How would you customise an Indian Scout?