Victory Motorcycles has set an American land speed record on the Bonneville salt flats with a Victory Hammer and helped at-risk kids at the same time.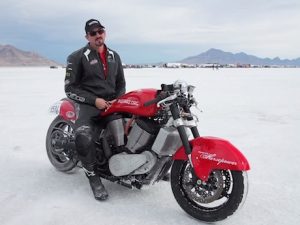 The American motorcycle company partnered with Pine Bush High School in the hamlet of Pine Bush, New York, United States, to build and run the Victory Hammer.
It was part of the school's Starz Program Helping With Horsepower which provides a learning experience for at-risk youths. The program was developed by Laura Klock of Klock Werks Kustom Cycles to teach the students life lessons such as teamwork, self-confidence and problem solving. Lloyd Greer of Lloyd'z Motorworks partnered with Victory to implement the curriculum.
Together with students  at risk of dropping out, they developed the Freedom 106 engine in a Victory Hammer motorcycle to deliver more than 200hp (150kW) with the aid of a Procharger B-1 Supercharger and Power Commanders.
"These guys build an incredible motor," says Klock. "This thing is crazy fast."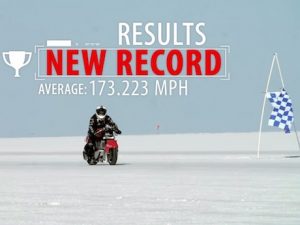 Lloyd says the Victory Hammer's engine didn't require a lot of work to make horespower. "It's a workhorse right from the start," he says.
The bike was then taken to the famous Bonneville Salt Flats on September 28 and ran 172.033mph (276.860km/h) on the down mile and then 174.414mph (280.692km/h) on the return to set the 2014 AMA Bonneville National M-BG/2000 Record of 173.321mph (278.933km/h).
Polaris vice president of motorcycles Steve Menneto says they were proud to be part of the special program. "Using Victory motorcycles to teach our youth the value of hard work and achieving goals is a terrific way to contribute to the future," he says.