Indian Motorcycle Australia has joined a global recall of its 2015-2017 Roadmaster motorcycles over a wiring issue.
The company says the jumper wiring harness in the top box was manufactured without silicone plugs that are intended to keep water out of the unused connector terminals.
They say water may enter the top box wiring harness, potentially causing the brake light to remain illuminated even when the brakes are not applied.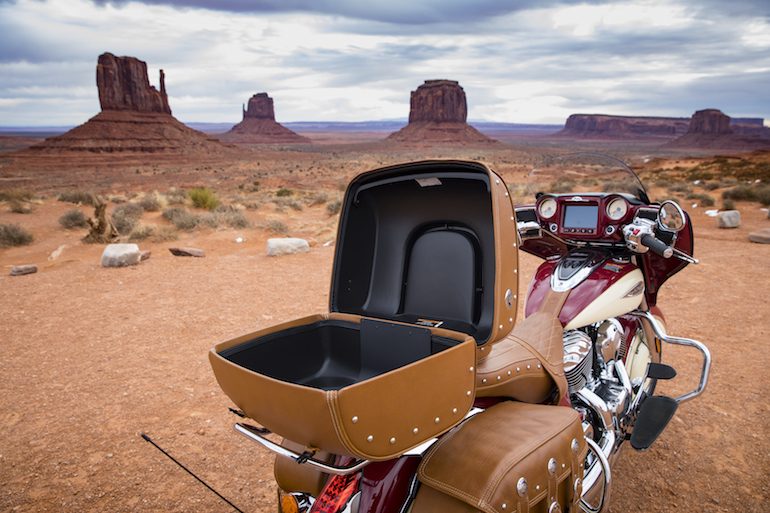 The official recall notice says the wiring issue poses "an accident hazard to the rider and other road users".
Owners are advised to contact their authorised Indian Motorcycle Dealer to arrange an inspection of the affected bike for corrosion and an updated jumper harness if required.
A list of VINs for the 217 affected bikes is printed at the end of this article.
If consumers need assistance contacting or locating an Indian Dealer, please call 1300 721 360 or visit the Indian website.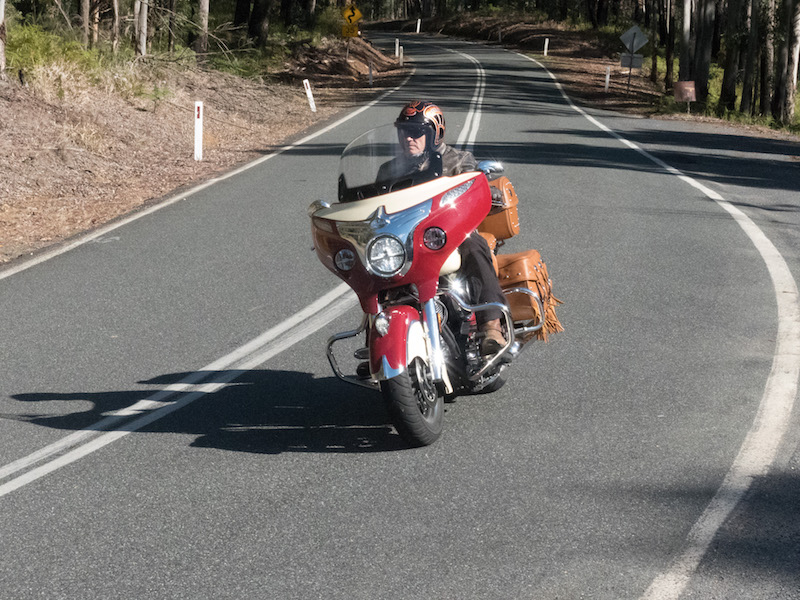 Recall notices are issued by the manufacturer through a voluntary industry code under the ACCC.
Despite hundreds of recalls by various automotive manufacturers, none has ever been mandatory.  All have been issued by the manufacturer.
While any recall is not good news for the manufacturer, it shows that they are largely diligent in fixing problems.
If you believe there is an endemic problem with your bike that should be recalled, contact the ACCC on 1300 302 502.
To check whether your motorcycle has been recalled, click on these sites:
• USA
• UK
• Canada
Roadmasters affected by wiring issue
VIN
56KTRAAA1H3355554
56KTRAAA4H3355886
56KTRAAA5H3355945
56KTRAAA6H3355663
56KTRAAA6H3355937
56KTRAAA7H3355896
56KTRAAAXH3356704
56KTRAAA8H3355471
56KTRAAA8H3355731
56KTRAAA8H3355793
56KTRAAAXH3355892
56KTRAAA0H3355805
56KTRAAA9H3355625
56KTRAAA9H3355902
56KTRAAA3G3331092
56KTRAAA8H3347743
56KTRAAA7G3336277
56KTRAAA7G3333508
56KTRAAA8F3319101
56KTRAAA0H3349728
56KTRAAA9G3338161
56KTRAAA3G3336034
56KTRAAA1H3347762
56KTRAAA3G3330458
56KTRAAA7F3319798
56KTRAAA7F3319882
56KTRAAA6G3333953
56KTRAAA3H3345172
56KTRAAA5F3319847
56KTRAAA5G3337394
56KTRAAA8H3346947
56KTRAAA6H3346087
56KTRAAAXH3355908
56KTRAAA9H3348450
56KTRAAA5H3347277
56KTRAAA2G3336817
56KTRAAA0F3325488
56KTRAAA5F3326734
56KTRAAA6H3344985
56KTRAAA5F3320609
56KTRAAA4H3343771
56KTRAAAXF3326776
56KTRAAA9H3352479
56KTRAAA2F3325511
56KTRAAA5H3347554
56KTRAAA0F3326415
56KTRAAA7F3321941
56KTRAAA6H3346820
56KTRAAA7G3330785
56KTRAAA7H3355767
56KTRAAA0H3355545
56KTRAAA2G3333772
56KTRAAAXG3330215
56KTRAAA6F3326466
56KTRAAA8H3348116
56KTRAAA9F3321603
56KTRAAA6F3326824
56KTRAAA6G3333984
56KTRAAA5F3323798
56KTRAAA7F3321633
56KTRAAAXG3337424
56KTRAAA1H3344022
56KTRAAA0H3355898
56KTRAAA8G3335901
56KTRAAA7H3347572
56KTRAAA0H3353195
56KTRAAA0H3347820
56KTRAAA1G3335724
56KTRAAA7F3321597
56KTRAAA0H3355707
56KTRAAA4H3347559
56KTRAAA3G3335823
56KTRAAA6H3345926
56KTRAAA9F3327062
56KTRAAA6F3326077
56KTRAAA0H3344030
56KTRAAA8H3346608
56KTRAAA7H3346826
56KTRAAAXH3345234
56KTRAAA1G3336825
56KTRAAA1H3349396
56KTRAAA9F3327059
56KTRAAA1G3337554
56KTRAAA6G3336089
56KTRAAA3H3348976
56KTRAAA2F3321636
56KTRAAA4G3335720
56KTRAAA8G3332612
56KTRAAA1G3336727
56KTRAAA7F3322295
56KTRAAA9H3353258
56KTRAAA0H3345887
56KTRAAAXH3347503
56KTRAAA0G3333950
56KTRAAA1H3348457
56KTRAAAXG3330425
56KTRAAA1H3345915
56KTRAAAXG3337519
56KTRAAAXH3355553
56KTRAAA1G3334458
56KTRAAA3H3348475
56KTRAAA1F3326827
56KTRAAA7H3348110
56KTRAAAXH3346741
56KTRAAA2F3326464
56KTRAAA8G3333954
56KTRAAA1G3331186
56KTRAAA5H3347957
56KTRAAA2F3324701
56KTRAAA0F3320162
56KTRAAA4G3340741
56KTRAAA2F3325508
56KTRAAA6H3348552
56KTRAAA8H3347631
56KTRAAA9H3346763
56KTRAAA1H3347289
56KTRAAA3F3321595
56KTRAAA7G3333489
56KTRAAA0G3336038
56KTRAAA3G3331156
56KTRAAA2G3330368
56KTRAAA0F3325538
56KTRAAA3F3321080
56KTRAAAXH3347078
56KTRAAAXH3347100
56KTRAAA1G3336372
56KTRAAA5G3333619
56KTRAAA3F3323749
56KTRAAA9F3327109
56KTRAAA8H3344387
56KTRAAA3F3321600
56KTRAAA0H3345940
56KTRAAA4H3348985
56KTRAAA7H3346759
56KTRAAA4H3344077
56KTRAAA7G3332505
56KTRAAAXH3346898
56KTRAAA5F3320075
56KTRAAA6H3349331
56KTRAAA2H3355630
56KTRAAA2H3355711
56KTRAAA6H3346963
56KTRAAA7H3355400
56KTRAAA4H3349733
56KTRAAA1H3355764
56KTRAAA3H3355636
56KTRAAA5H3355900
56KTRAAA9H3346911
56KTRAAAXH3344424
56KTRAAA2H3355479
56KTRAAA7G3331113
56KTRAAA9G3336376
56KTRAAA9G3333784
56KTRAAA6H3355906
56KTRAAA6H3348566
56KTRAAA5F3321632
56KTRAAA7G3334092
56KTRAAA1H3355795
56KTRAAA8H3344390
56KTRAAA5F3326779
56KTRAAA8G3333615
56KTRAAA4F3319886
56KTRAAA9G3333588
56KTRAAA7G3329619
56KTRAAA3H3353336
56KTRAAA3H3344488
56KTRAAA8G3333811
56KTRAAA2G3330628
56KTRAAA2F3324777
56KTRAAA0F3321943
56KTRAAA0G3331101
56KTRAAA9G3336717
56KTRAAA4H3348050
56KTRAAA1H3347552
56KTRAAA9F3325473
56KTRAAA9H3347072
56KTRAAA5G3332132
56KTRAAA0H3344447
56KTRAAA1H3349320
56KTRAAA4G3331392
56KTRAAA4G3341291
56KTRAAAXF3320119
56KTRAAAXG3335740
56KTRAAA7G3332875
56KTRAAA5G3333622
56KTRAAA1F3321126
56KTRAAA0G3337397
56KTRAAA6H3346753
56KTRAAA4H3348470
56KTRAAA2F3321605
56KTRAAA1G3330345
56KTRAAA3G3338477
56KTRAAA4F3327065
56KTRAAA0G3331163
56KTRAAAXG3335897
56KTRAAAXH3345508
56KTRAAA3F3321631
56KTRAAAXF3320136
56KTRAAA2G3333450
56KTRAAA1G3334086
56KTRAAA6F3320960
56KTRAAA0G3336797
56KTRAAAXH3344472
56KTRAAA0F3320081
56KTRAAA8H3349251
56KTRAAA4G3338164
56KTRAAA0G3329672
56KTRAAA3H3353207
56KTRAAA3F3327056
56KTRAAA1F3321630
56KTRAAA2H3347768
56KTRAAA4F3321573
56KTRAAA2F3320938
56KTRAAA7F3321096
56KTRAAA9G3333655
56KTRAAAXG3333745
56KTRAAA7H3347295