Harley has its HOGS, now Indian Motorcycles is set to name its rider group at the 70th annual Daytona Motorcycle Week, starting on March 7. However, I don't expect they will go with "tribe". Parent company Polaris is very sensitive of the Indian name and even asked for permission from Indian tribal elders for the naming of the new line of motorcycles.
Indian Motorcycles Australia marketing manager Adrian Givoye confirms that an announcement is imminent for the rider group. "There's a lot of work being done on the rider's group to support the kind of association that this type of owner is looking for," he says. "Victory buyers are different in terms of what they are looking for in a rider group from the research we have conduct here and in the US, and as such we are working with both brands customers to develop rider groups that best match what they are seeking from these associations. Although the US will put initial owner groups' foundations in place shortly, we are still developing what our local equivalent will look like."
While an Indian Motorcycles rider's group will be announced, there is no confirmation of another model joining the Classic, Vintage and Chieftain. Perhaps they will leave that for the Sturgis Motorcycle Rally in August to celebrate the first anniversary of the unveiling of the new generation of Indian Motorcycles.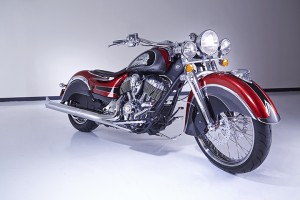 Adrian says he would not be surprised if there is a new model announced at either event. "Polaris does not sit still. Just look at their ATV range which had 10 new models this year," he says. "I think you could probably read into the Custom Chief that they built that the engineering team at Polaris is built on product innovation. They won't sit still for a moment. Indian offers an amazing kind of blank canvas. You could go a four-cylinder, parallel twin or V-twin; they're all in Indian's history. They're not limited by a configuration.
READ MY STORY ABOUT AN INDIAN SCOUT FOUR
"You wouldn't have to be an Einstein to say they've built a large capacity bike, so now everyone is expecting a Scout or a smaller capacity bike."