Indian Motorcycle has filed a trademark application for the name EFTR which suggests it is an Electric Flat Track Racer, with the bike possibly unveiled as early as next year.
The model name EFTR indicates it is likely to be styled on their current popular FTR 1200 model.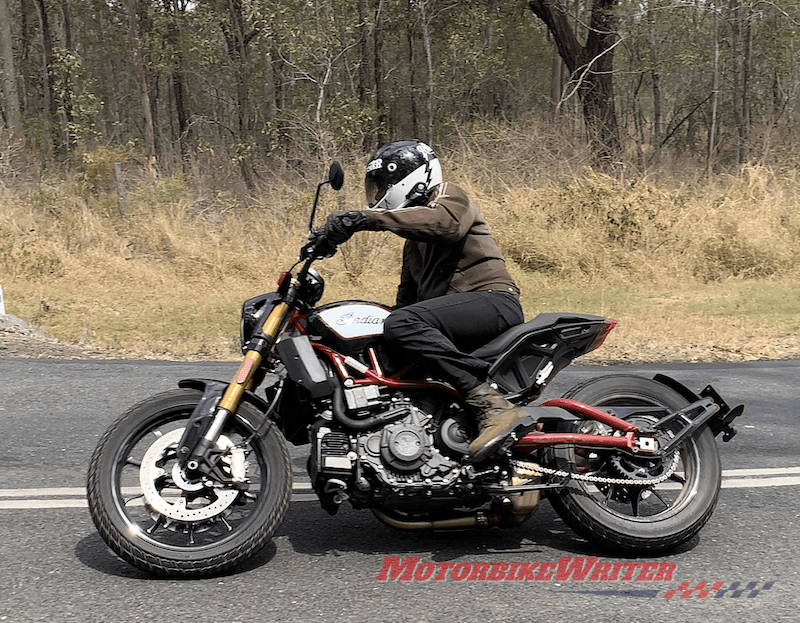 However, Indian PR has now issued a statement that it is a "youth-oriented product" to be announced later this year and has nothing to do with the FTR 1200.
Quite frankly we don't believe them. Why else would they use the "FTR" brand?
We could be wrong, but Indian Motorcycle and Polaris simply don't like their plans being divulged before an official announcement.
They objected to an image we ran of the FTR 1200 before it was released and asked us to take it down. We didn't, they banned us for a year, but we were right.
If this is an electric motorbike it would not be the first from Polaris which is the owning parent company of Indian Motorcycle. 
In 2015, Polaris bought Brammo electric bikes and rebadged them as the Victory Empulse TT which I rode in Colorado that year. 
When Polaris pulled the pin on Victory Motorcycles in January 2017 to concentrate on Indian, they dropped the Empulse TT.
However, then vice-present of motorcycles Steve Menneto confirmed at the time that they would produce an electric Indian within five years.
That timeline means the EFTR could arrive in 2021.
EFTR range and price
We doubt the EFTR will be a resurrected Empulse TT, but it could have some of the same technology. (Out of interest we have included the 2015 tech specs for the Empulse TT at the end of this article.)
When he made the electric Indian announcement, Steve said their electric bikes would have up to 225km of range which is much higher range than the Empulse TT at about 140km.
Interestingly, the Empulse TT had manual transmission in an effort to make motorcycle riders feel more at home than with a twist-and-go throttle like most electric motorcycles.
we expect much the same with the EFTR.
Obviously it is too early to speculate on price, but the Victory Empulse sold in the US from $US19,999 (about $A28,500).
That is much less than the Harley-Davidson electric LiveWire which sells for almost $US30,000 overseas and could cost more than $A40,000 when it arrives in Australia late this year.
2015 Victory Empulse TT tech specs
Price: $US19,999 (about $A30,000)
Warranty: 5 years/unlimited km
Service: only when brake and hydraulic fluids are needed
Motor: Internal permanent magnet AC induction
Power: 40.2kW
Torque: 82.7Nm
Transmission: 6-speed gearbox with multi-plate, hydraulic activated wet clutch
Battery: 10.4 kW-hr Brammo Power Lithium Ion
Battery life: 15,000 cycles from nothing to full charge
Voltage: 103.6 volts / 117.6 volts (max)
Charge times: 2.0 hrs (Level I / 20 to 80% SOC); 3.5 hrs (Level II / 0 to 100% SOC); 8.0 hrs (Level I / 0 to 100% SOC)

Empulse TT battery

Emissions: None
Brakes: Dual 310mm Brembo floating disks with twin 4-piston radial Brembo callipers (front); Brembo single disk with dual piston hydraulic Brembo brake calliper
Top speed: 161km/h-plus
Suspension: Adjustable 43mm inverted forks, Adjustable direct-acting rear shock
Dry weight: 213 kg
Clearance: 185.4mm
Length: 206.5cm
Rake/Trail: 24° / 3.8"
Seat: 800mm
Wheelbase: 1473mm
Tyres: Continental Sport Attack II 120-70 ZR17, 58W / 160/60ZR17 69W
Wheels: 17" x 3.5" / 17" x 4.5"