Waterproof Gloves Hands Review Summary
Review Summary
Gloves are a very important piece of gear. On the handlebars, your hands are exposed to the elements and a poor pair of gloves could leave you with cold wet hands. Not only is this uncomfortable, it becomes a risk. You might find yourself in a bad situation facing frostbite or a lack of grip that could cause a crash. This review of the Icon Patrol waterproof gloves will test to see if it lives up to our expectations.
Pros
Comfortable
Stylish
Waterproof
Well Constructed
Affordable
Cons
Bulky
Cold climate use only
Waterproof Gloves Image Gallery
Introduction
For those of you who follow my articles, you may remember my review on the 2018 Ninja 1000 ABS that I wrote last month.
I also found myself reviewing the Olympia X Moto 2 jacket and pants. It was raining and right around freezing when I did this review. The jacket and pants worked excellently and I was not cold or wet – however, the leather riding gloves I was wearing were awful. After less than an hour on the bike, my left index finger started to feel weird. I stopped and checked my hand and my finger was actually starting to turn blue.
I decided to get a new pair of gloves. I decided to purchase a pair of ICON Patrol Waterproof Gloves. Here is my impression of these gloves after testing at home as well as on the road on my 2018 Aprilia Shiver 900.
ICON was founded in 2002 in Portland Oregon. They list their core mission as protecting riders whenever and however they can.
Please note: I purchased these gloves and they were not provided for review.
First Impressions
I received my parcel containing the ICON Patrol Gloves and was quite eager to open it. At first glance, I immediately noticed how well constructed these gloves are. They are also very stylish. I loved the mix of waterproof textile along with the leather palm. The small reflective strip on the glove looks very smart and serves a purpose during low light riding.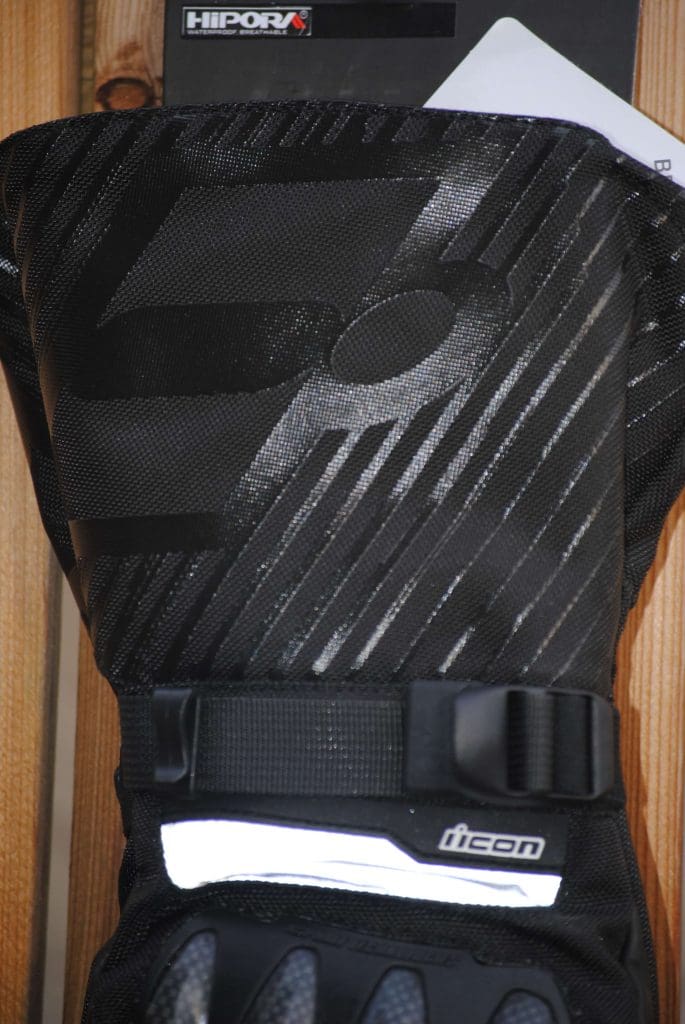 Construction
The ICON Patrol Waterproof Gloves are constructed of very good quality materials from the premium goatskin palms to the waterproof textile, These gloves are very high quality. Small features have been incorporated into the gloves to increase the comfort and performance.
For example, these gloves come with injected thermoplastic knuckles for hand protection, a shield wipe on the left index finger as well as a pre-curved palm and finger design to reduce hand fatigue as well as blisters.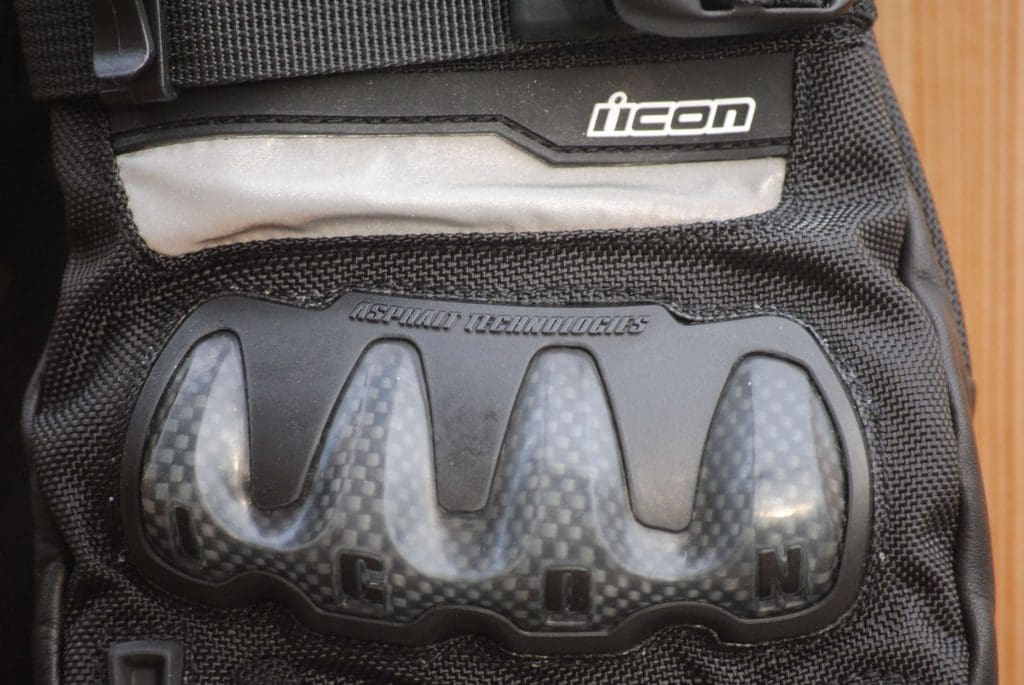 One of the main reasons I purchased these gloves was the fact that my trusty leather gloves I normally wear left me with a touch of frostbite from riding in the rain at cold temperature. I wanted to make sure that the gloves were indeed waterproof.
I donned the gloves and headed to the sink. I ran the cold water and put my hands under the tap for a good 4 minutes. The water did not permeate the glove and I was very satisfied with the waterproofing claim that these gloves provided.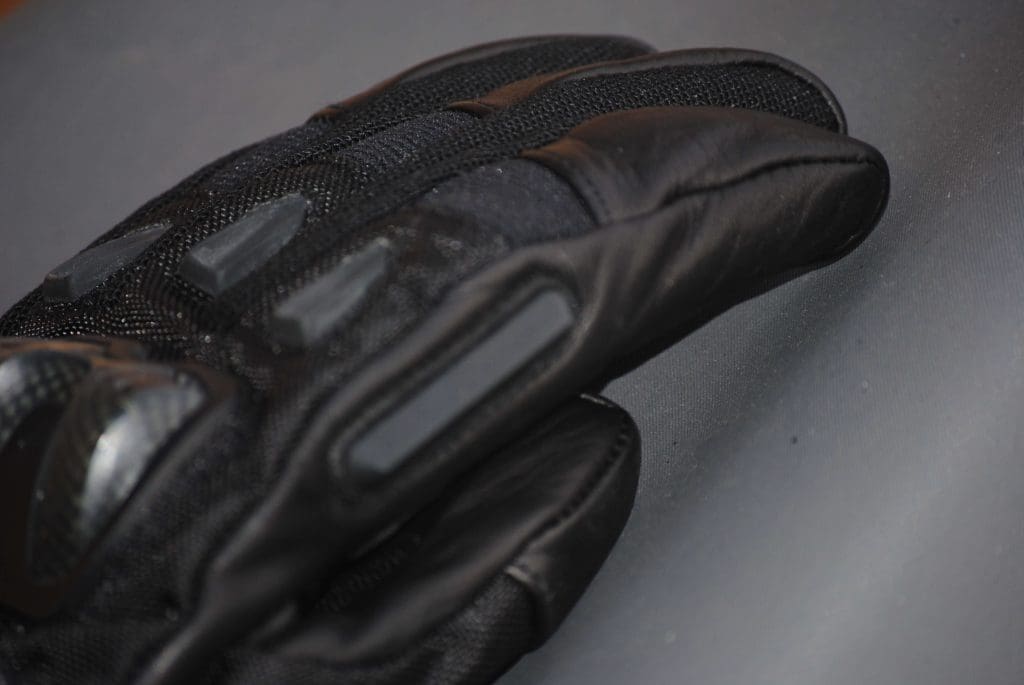 Protection
The ICON Patrol provides amazing protection against the elements. They are a level 3 waterproof glove which means that they feature a Hipora ® waterproof liner, taped seams and a cinch at the wrist.
In addition to protection in inclement weather, the Patrol gloves offer excellent hand protection. A co-molded knuckle offers protection to the back of the hand as well as leather fingertips will provide protection against abrasion in the event of a fall.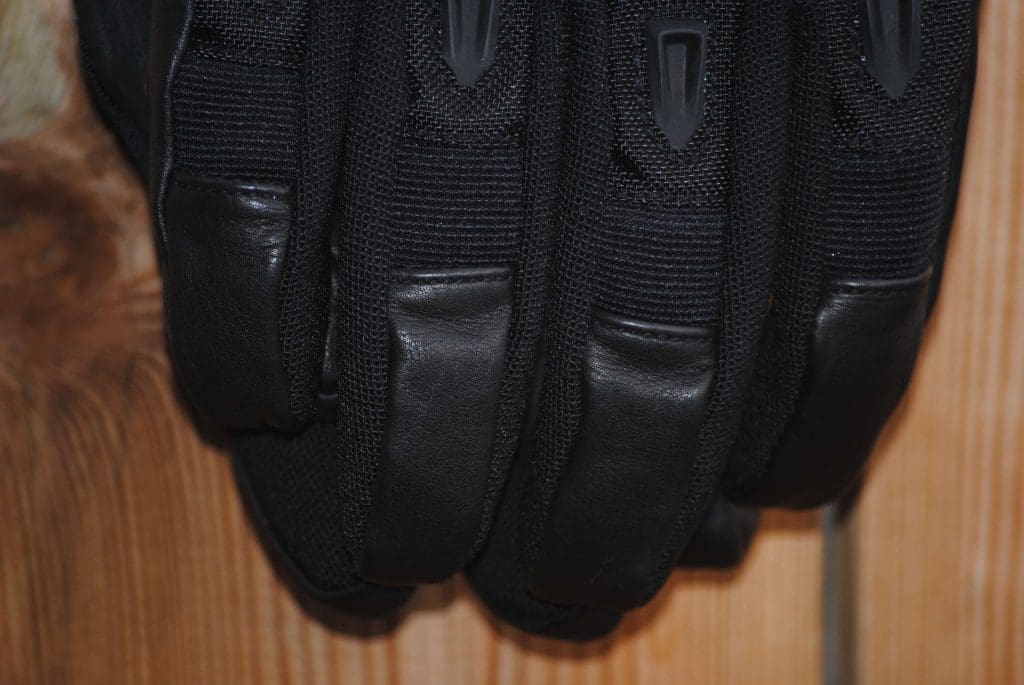 Finally, the gloves being gauntlet offers protection against the wind and the rain. As far as protection against the weather, the ICON Patrol gloves are constructed of superior heat retaining materials to keep the wearer comfortable in colder weather.
Sizing, Fit, & Retention
The ICON Patrol Glove fits small. I usually wear a medium glove, but with the Patrol, I was glad I ordered a large as a medium would have been a bit snug on my hand. I followed ICON's sizing chart that prompted me to measure the width of my hand. I was surprised to see that the chart recommended a large glove but I was happy I did when I received the parcel.
All sizing aside, the gloves fit well… like a glove. I am quite happy at the fitment. The gloves have a natural curve in the palm and fingers. This is a nice feature as it already has the broken-in feel. The gloves feature a strap around the wrist as well as velcro straps to cinch up the cuff.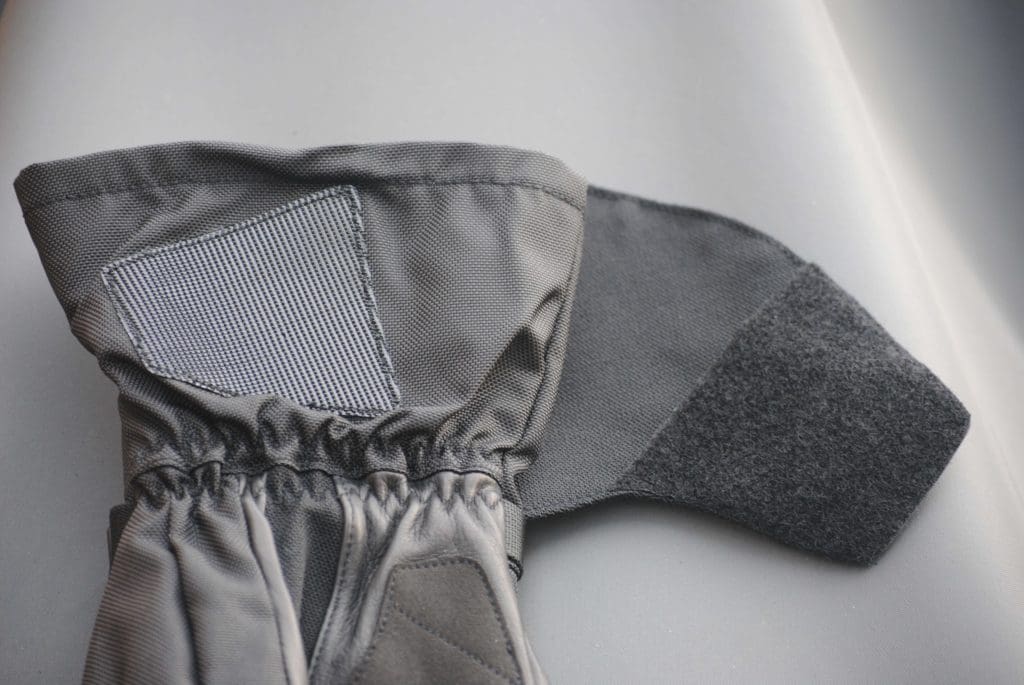 Once the glove is adjusted, the retention factor is excellent. It feels great on the hand and does not become a hindrance to tactile responsiveness.
My only complaint on the fit is that they feel a bit bulky. This may be because It is the first pair of gauntlet gloves I have ever purchased and I may need to adapt from a short glove to a glove that is designed to go over my riding jacket.
Road Testing
I wore the ICON Patrol Waterproof Gloves on a cold day. It was 0 degrees Celsius (32 degrees Fahrenheit) but I did not care, I needed to get out for a ride. It was early in the fall for a snowstorm, but nonetheless, Mother nature had her mindset and we got 18 inches of snow.
I was sure that my riding season was done. A week went by and the snow that was still very present on the front lawn of my house and the roof of my shed was nowhere to be found on the streets of Calgary… as mentioned earlier, I just purchased my 2018 Aprilia Shiver 900 and I wanted to go out for a rip… I got geared up and headed out for a ride.
The gloves were great. I did not feel like I was wearing a new pair of gloves. Although they were new, they felt like they were broken in from the factory. The gloves were very warm, even in this cold weather. I installed a set of aftermarket heated grips on my bike and I did not turn them on once during my ride.
I met up with fellow writers and riders Jim Pruner and Jennifer Angelina for a meeting and then off I went. I rode for a better part of the afternoon. I tried out the gloves in the city and on the highway. They performed very well. My hands did not get cold and did not get fatigued. I was able to use the controls on the bike without any issues and the grip from the goatskin in the palm of the glove really gave me the feeling of being in control.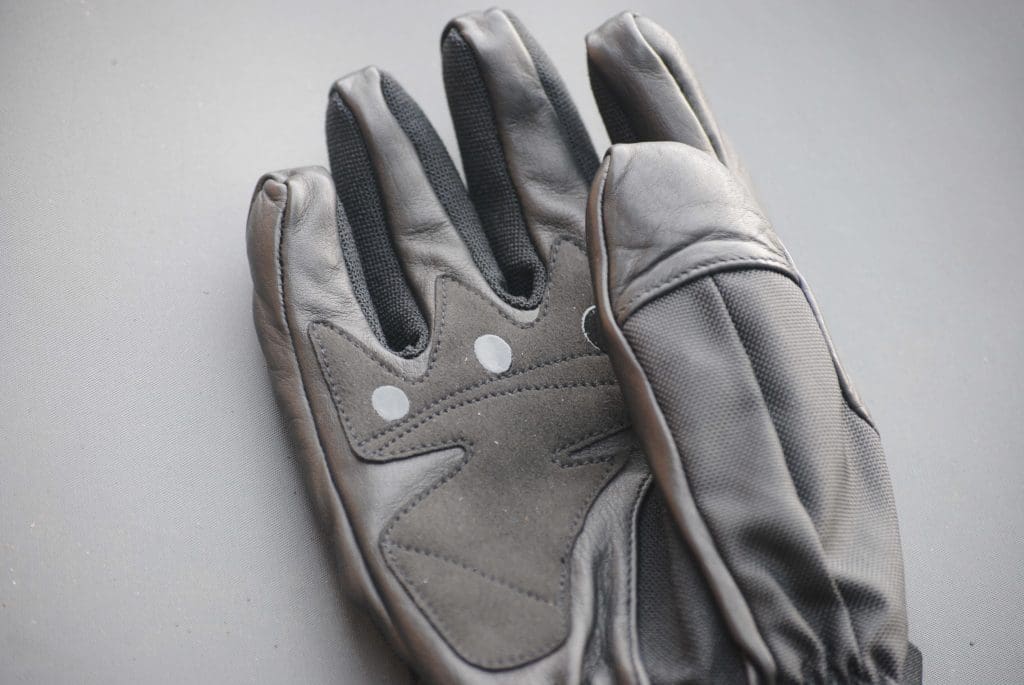 A few days before finishing this article, the weather in Calgary changed again and it warmed up considerably. I rode into work at my regular job on Monday morning. It was 7 degrees Celsius (45 degrees Fahrenheit) in the morning and it went up to 15 degrees Celsius (59 degrees Fahrenheit) in the afternoon for my commute home.
The gloves still felt comfortable; however, they were a bit warm. My commute is about 30 minutes, I rode a bit more because it was a very nice afternoon, so about 50 minutes on the bike from my work to my home. At the end of the ride, my hands were quite warm and were just starting to sweat.
Conclusion
I have very few negative things to say about these gloves. They are very well constructed, very well priced, and they are made of good quality materials.
The ICON Patrol features construction choices that make it a worthy pair of gloves. The co-molded knuckles, the goatskin palm with added grip are a start. It also includes the shield wipe on the left index finger as well as the pre-curved design. All this comes with a 1-year warranty.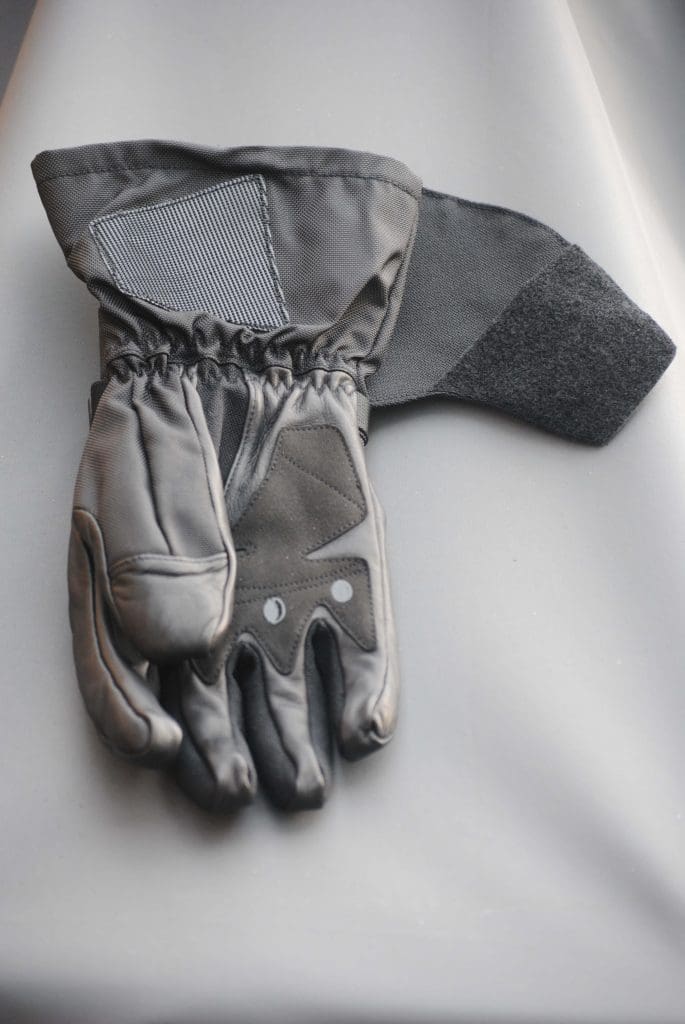 The gloves look amazing. I love the aggressive styling and the use of different materials in the manufacturing process. They are available in multiple sizes from small to XXXL.
In colder weather, these gloves are amazing. They are designed to keep your hands warm and they do so very well. In warmer weather, they are a bit warm. I would not wear these gloves in the heat of summer. I believe that this would not be very comfortable.
The fitment of the gloves is good; however, make sure that you check the ICON website and check out the size chart before ordering. They fit a bit small, so be cognizant of that. I recommend these gloves. They are good solid gloves and you do get a lot for you money.
Pros
Comfortable
Stylish
Waterproof
Well Constructed
Affordable
Cons
Bulky
Cold climate use only
Specifications
Manufacturer: ICON
List Price (2018): US $75.00
Colors: Black
Sizes: S, M, L, XL, 2XL, 3XL
Review Date: October 2018