ICON 1000 Women's MH1000 Jacket Review Summary
Review Summary
Well-placed armor, plenty of pockets, a luxurious removable liner and a mix of textile and leather make the ICON 1000 MH1000 appealing for any rider or passenger who is part of the anti-pink movement. Although super-stylish and comfortable while off the motorcycle, the cut of the MH1000 is slightly smaller than average. This jacket is best suited for a woman with a smaller chest.
Pros
Roomy" cut in torso and arms (if you size up)
Retro styling
Lots of storage
Full suite of CE Level 1 armor
Cons
No room for larger chests
Might need to size up one size
3.5
Average, With Drawbacks
ICON 1000 Women's MH1000 Jacket Image Gallery
Throwback! The early 60s meets mid-80s or something like that. Belstaff meets Barbour meets M65 Field jacket. The MH1000 jacket from ICON 1000 is the definition of Vintage-inspired style paired with modern touches.
Cordura denim lends itself to the rugged look, with black leather accents on the shoulders and arms reeling the jacket back in towards the sleek and sexy side of riding. Don't like the olive green? It comes in grey, too! No pink anywhere to be found (if brighter colors are your jam, check out ICON's Wild Child jacket). The warming vest liner is shiny and gold, which adds a welcome touch of luxury without being too "girly."
Fit & Feel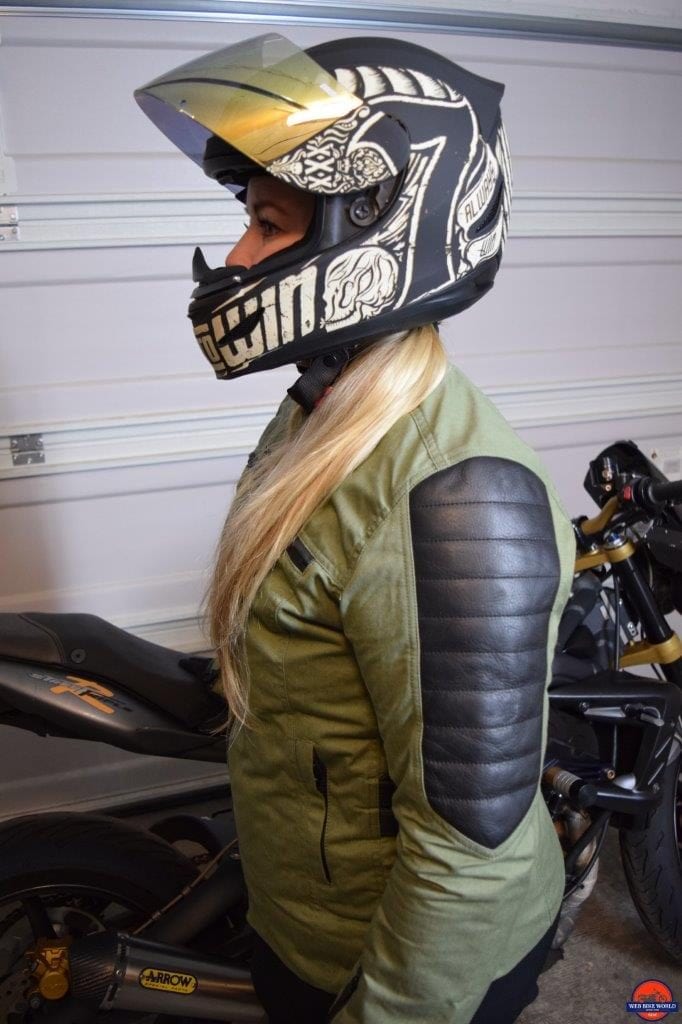 Once you've sized up (one size only), this jacket has extra room for anyone who isn't a supermodel. It has a wider torso and hips, and wide arms, making it quite comfortable off the bike. The waist adjusters (more on those below) allow a custom fit for those with an hourglass or pear figure. With the straps at the tightest setting, it felt comfortable at the waist and roomy in the hips and shoulders.
For reference, I tested the XL jacket and I usually wear a size 8-10 top and 12-14 pant.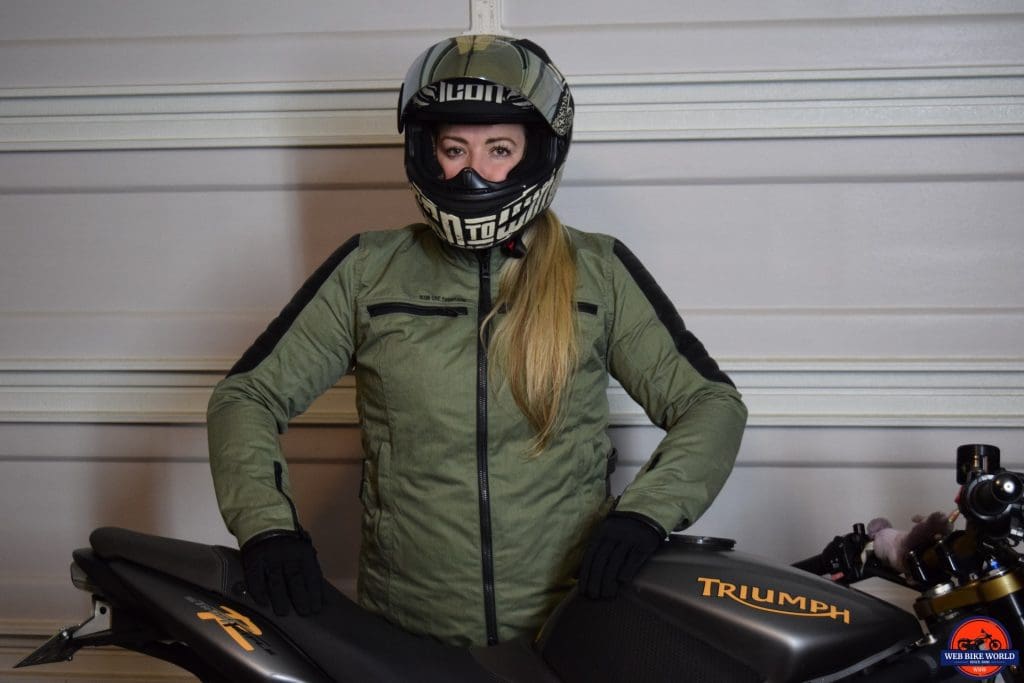 The arms are attached to the jacket in a standing/relaxed position, and lifting my arms up and forward (think Frankenstein) put a strain on the seams by the armpit that was slightly uncomfortable.
Thankfully, I own sportbikes, so my arms don't have to lift in order to reach the controls. If you ride anything but a sportbike with low-mounted clip-ons, you might feel restricted reaching for the controls if you don't size up. I've had reports from other women that sizing up released the strain on the seams and allows for riding in all positions.
Fastenings, Storage, & a Fun Surprise
Main Zipper
As usual, ICON 1000 uses a premium-quality YKK zipper for the main front closure. It feels rugged and strong and won't rust over time.
Wrist Double Zipper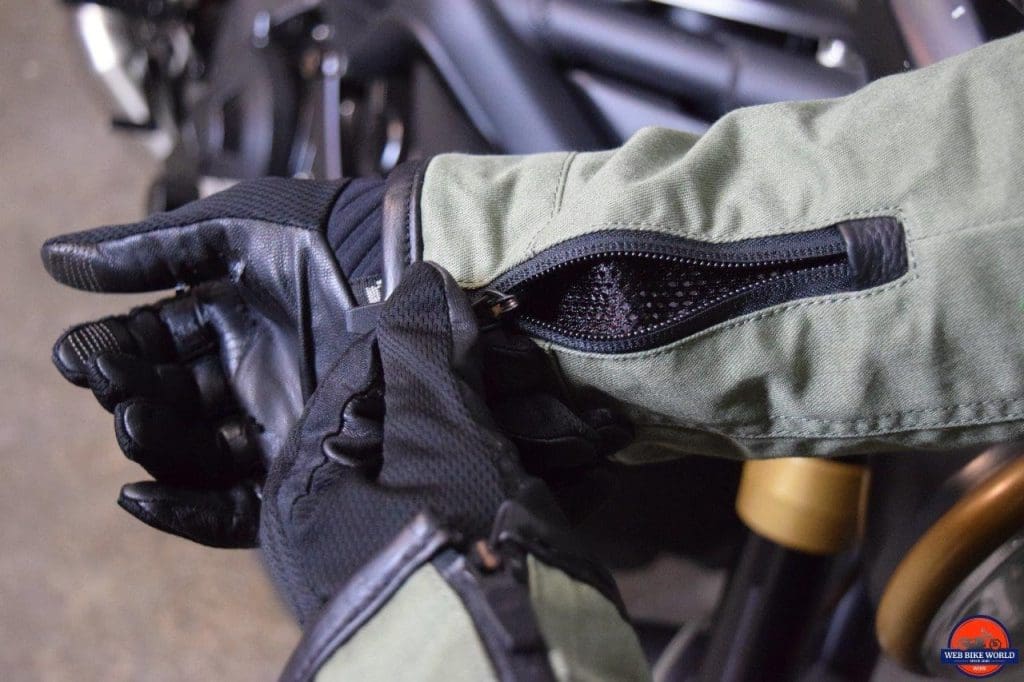 Dual YKK zippers are featured in the cuffs, allowing you to ride with the wrist completely closed, or back-zipped to expose the mesh for lower arm ventilation without compromising the snug fit around the wrist.
Waist Snaps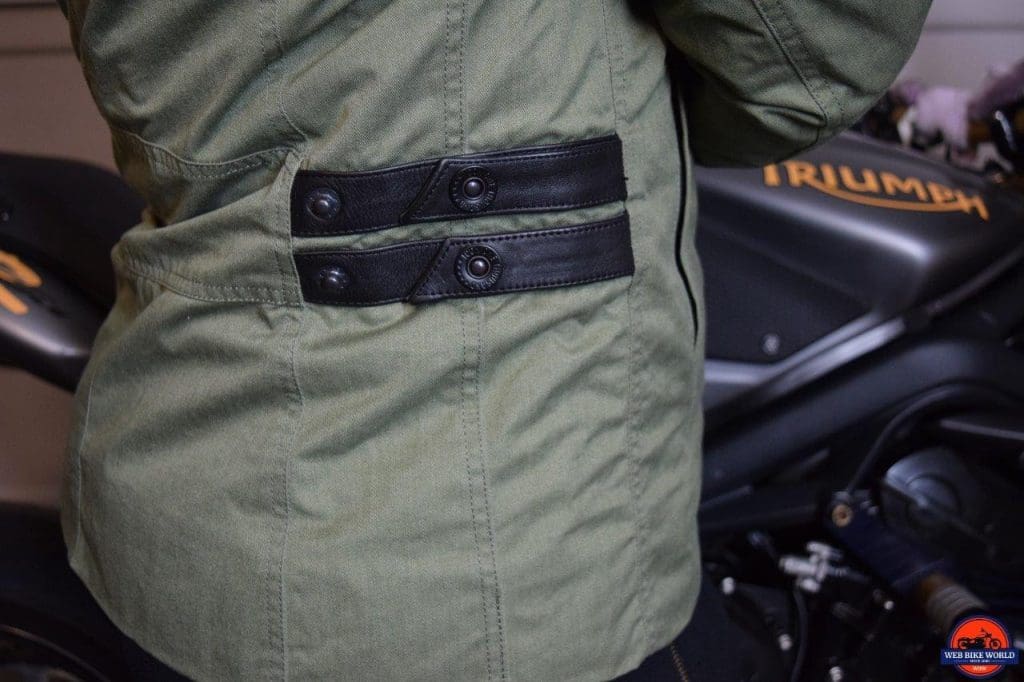 Leather and metal snaps make up the simple-but-functional waist adjustment straps. These will get the job done and are easy to use, even with gloved hands. Had too much for lunch? Just let the snap out one position.
Pockets
The MH1000 has ample storage, meaning you can carry a wallet, cell phone, chapstick, extra gloves, personal protection, and that awesome t-shirt you found at Buffalo Exchange in your pockets. No purse or tank bag needed. Ask me how I know.
Lining, Ventilation, & Wind Resistance
Liner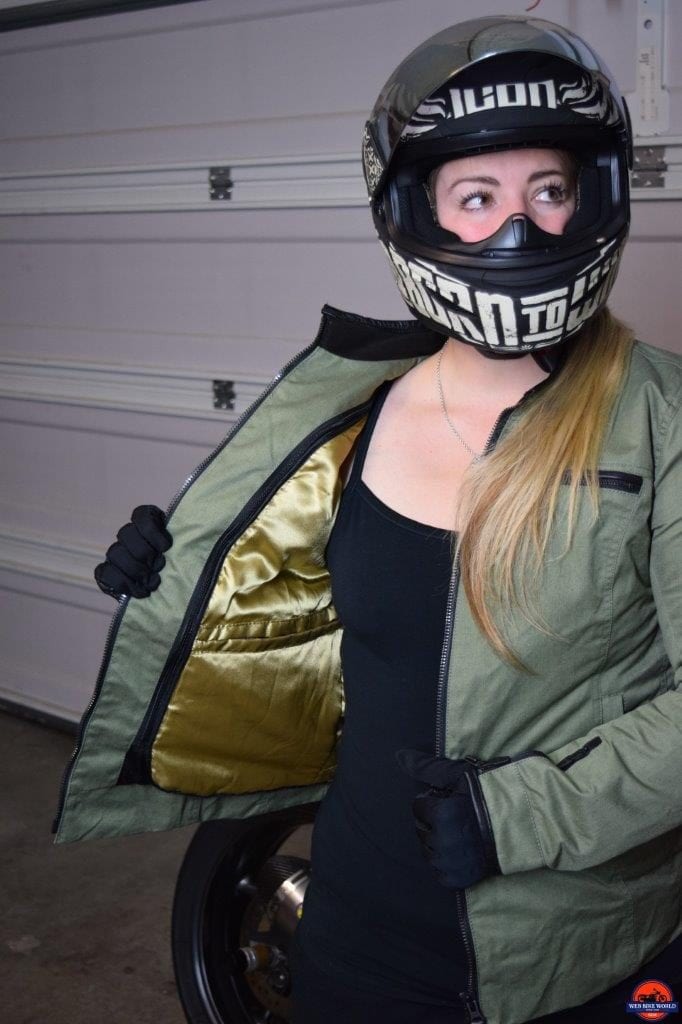 The smooth satin vest liner is removable. Awesome and unexpected surprise – it's gold! The liner makes the inside of the MH1000 feel super luxurious. It's a nice contrast to the rugged military-esque look and feel, almost like you're hiding a little sexy secret underneath your armor. It does add a good level of warmth and wind resistance in the torso.
Ventilation
Cordura denim makes this jacket warm, but still more breathable than full leather. There are two zippered vents in the chest area, allowing major airflow when the temp rises. There's also a lot of room for a hoodie and/or warming layers underneath if it's "really, really" cold.
Wind Resistance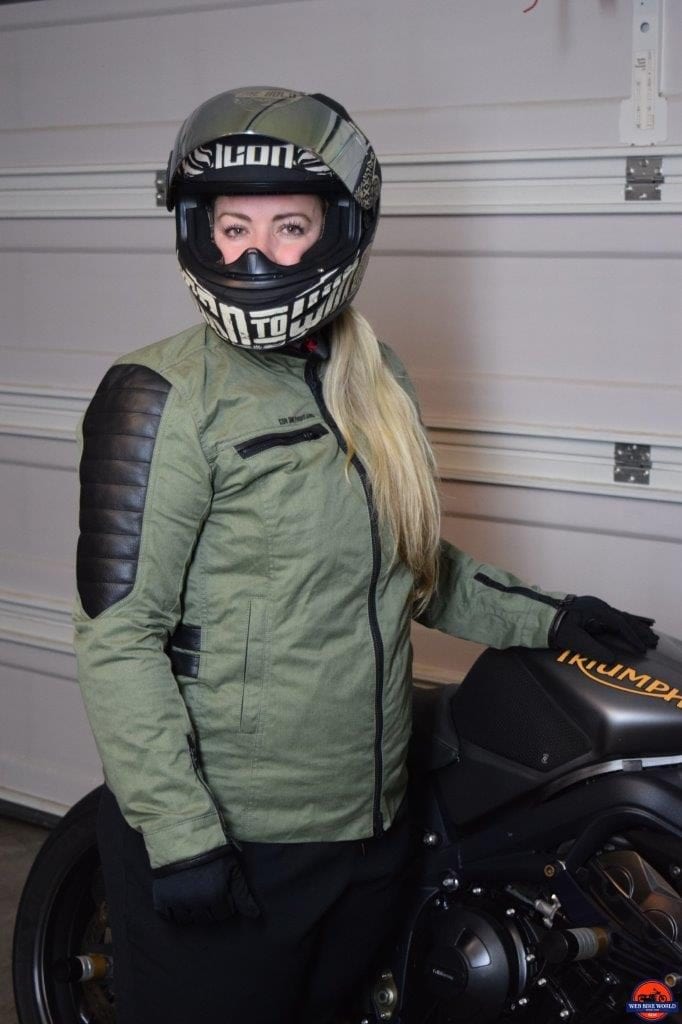 Moderate to cool temps are where this jacket will perform best. It does stop a significant amount of cold air from coming through in winter at around 35F.
What you are wearing underneath will greatly determine the jacket's ability to keep you warm or cool, as the material does allow minor air flow. Humidity is also a factor to consider. I might choose this on a hot dry summer day with a cooling layer underneath. I do not recommend the MH1000 for a hot humid summer day.
Protection
Impact Protection
ICON 1000 uses CE level 1 D3O in every garment. The MH1000 is no exception. It comes with a full suite (elbows, shoulders, and back) of the bright orange armor that is comfortable, lightweight, and conforming to the body while offering up a significant amount of protection in case of a get-off.
Abrasion Resistance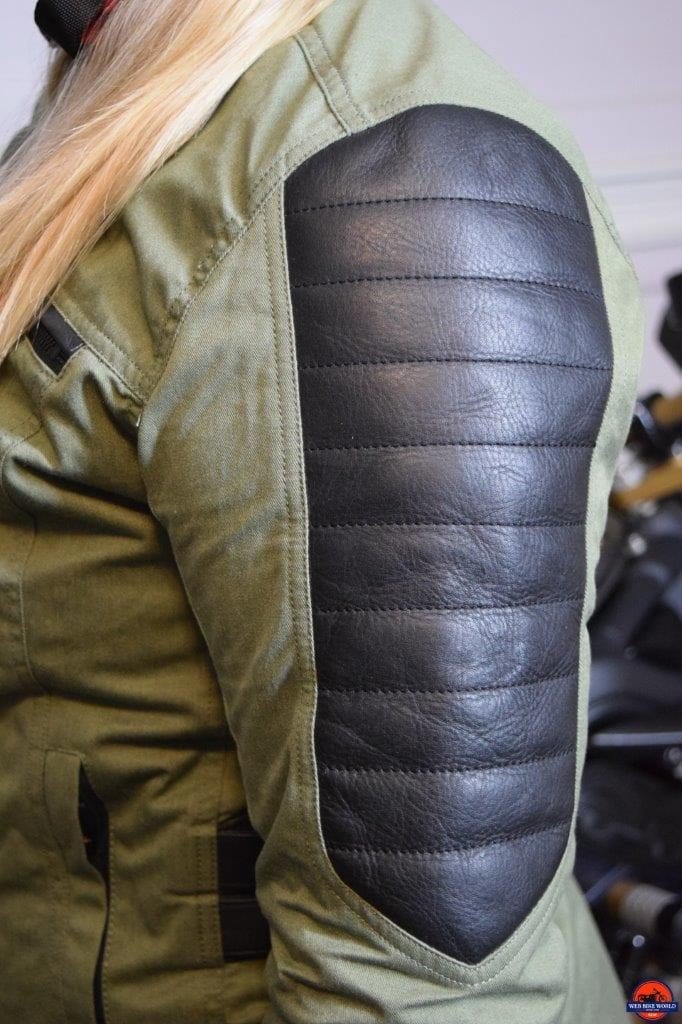 As with any Icon, the abrasion level (measured in time) for this material would be slightly less than leather.
Cordura denim has a great reputation for surface-street speed abrasion resistance, protecting you in circumstances like commuting, a ride to the coffee shop, and scooting around town. The leather on the sleeves is an added bonus because it doesn't just look cool, it's in a major impact zone. That makes the MH1000 higher on the protective scale than a full denim-textile jacket. Feel free to roll on the throttle and make your great escape from the city.
Care
Wipe the outside of the jacket with a damp cloth. Because of the leather details, I don't recommend washing this jacket in any other way. Condition the leather once a year, or as needed, depending on how often you wear it. Factors that affect the longevity of the jacket will include the amount/frequency of UV exposure, relative humidity, where it's stored, etc.
Going MH1000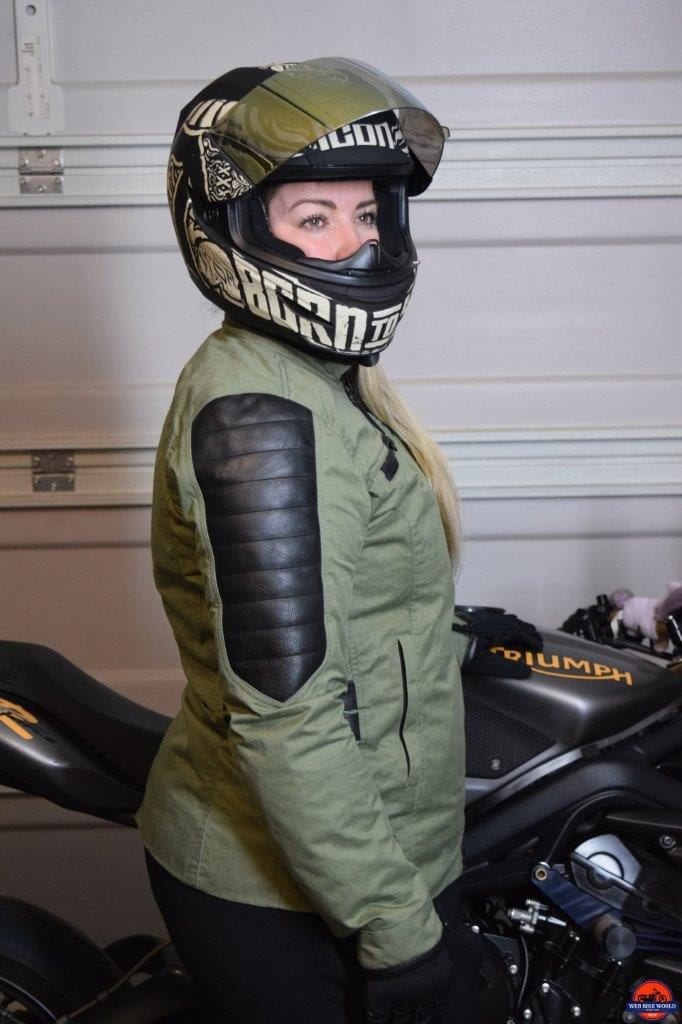 If you're looking to make a nod to all things vintage while riding, this rugged jacket will play the part better than anything you could find at your local military surplus store. The MH1000 is only traditionally feminine where it counts, like adjustable leather waist straps and princess seams in the chest. No frills. Play the part, get the job done, and get back to civilian life.
Pros
"Roomy" cut in torso and arms (if you size up)
Retro styling
Lots of storage
Full suite of CE Level 1 armor
Cons
No room for larger chests
Might need to size up one size
Specs
Manufacturer: ICON 1000
Price (When Tested): $275
Made In: Vietnam
Alternative models & colors: Grey
Sizes: XS – 2XL
Review Date: April 7, 2019