SB2 Wild Child Jacket Review Summary
Review Summary
At under $200USD, the Icon Overlord SB2 provides ample impact protection and moderate abrasion resistance for the aggressive street rider with style to spare. If crazy graphics and bright colors are not your jam, there's a stealth version just for you. Winter weather (and the rider carrying extra holiday weight) is this jacket's only kryptonite.
Pros
More hi-viz (and much cooler) than hi-viz
No frills
no fuss styling
Most comfortable in the riding position
Sub $200
Full suite of CE level 1 armor
Superhero-inducing emotional response
Cons
Not for winter weather
Not for wet weather
Aggressively fitted, might need to size up
Wild Child Jacket Image Gallery
I'm not one to shy away from that which is bold, so when ICON introduced the Overlord SB2 Wild Child, a full textile sport-specific jacket featuring turquoise/purple/magenta ombre with a zebra/ tiger stripe overlay… I was all in.
For reference, I'm wearing an XL in the photos and am a US women's size 10/12 dress. I originally tested the jacket at 6000 ft elevation in the throes of winter.
Look, Fit, & Feel
Aesthetic
Clearly living up to its name, the Wild Child makes an extremely bold statement in both color and pattern. The colors are so vivid, they help make the jacket look and feel high-quality (think high-end motocross jerseys). If nothing else, it does the hi-viz thing better than hi-viz.
These colors do not blend into the surroundings, no matter what type of road you are on, and that makes all the difference when it comes to being seen. In other words, pink is safer (in the daytime)!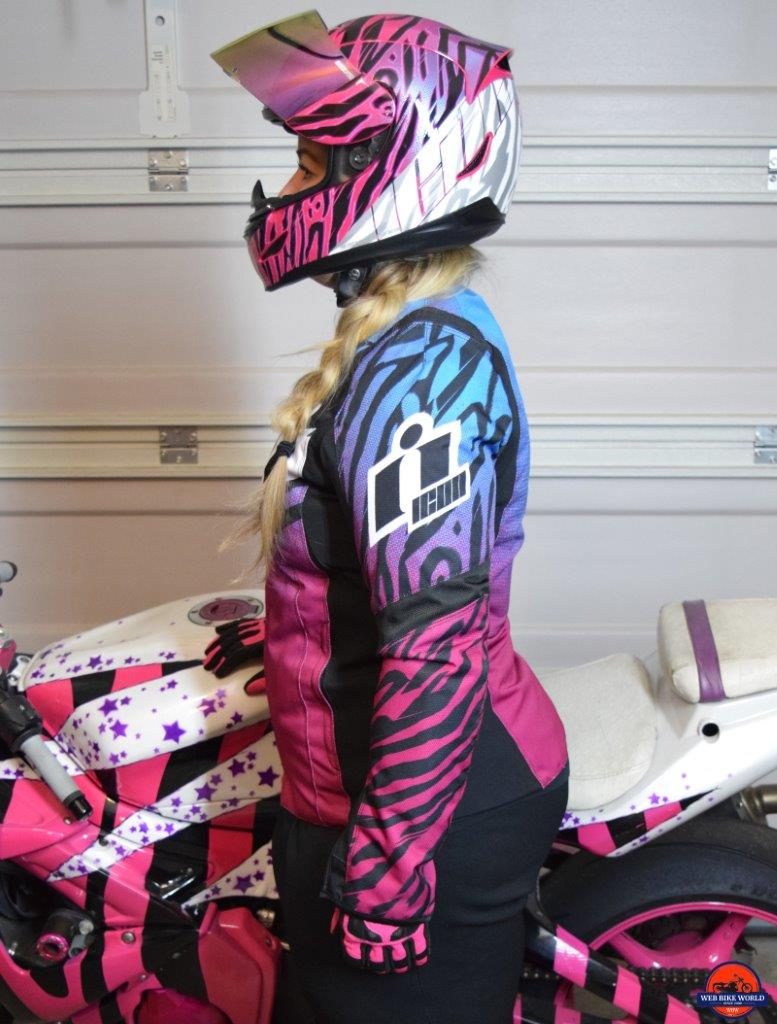 Fit
ICON calls the cut and style an "attack fit", which means more streamlined and tight-fitting to the body. I found this classification to be 100% spot-on. Ballistic nylon, both smooth and accordion style (as often found in race-level apparel and one-piece suits) is strategically placed above, behind and underneath the shoulders and elbows to increase mobility.
There wasn't an inch of room to spare in the torso or arms, but even so, it did not feel binding or constricting. Rather, it felt almost custom-tailored, especially if asked to stay put in a crash.
Feel
Appearances aside, I won't ever be attempting any championship dance moves in the Wild Child. The jacket felt best while sitting in an aggressive riding position, which is exactly what Icon's "attack fit" is all about.
Two features the Overlord SB2 Wild Child will never have are flapping arms and blimp-back effect, even at high speeds. With the vest liner installed, this jacket will hug you tightly and give you just enough flexibility to move around on the bike.
Fastenings, Storage, & a Fun Surprise
Main Zipper
The main zipper up the center of the jacket is ICON's standard super-tough YKK. The teeth are rugged and the zipper pull is large enough to use even when wearing gloves. Because of the super-snug attack fit, getting the initial "connection" at the base of the jacket is a bit tricky but becomes second nature after a few fumbles, if any.
Wrist Double Zipper System
Dual YKK zippers are featured in the cuffs, allowing you to ride with the wrist completely closed, or back-zipped to expose the mesh for lower arm ventilation without compromising the snug fit around the wrist.
ICON did-away with snap closures at the wrist with the first reintroduction of the Overlord several years ago and the no-frills/no-issues theme rings true even today. Without snaps at the wrist, the cuff stays flush and snug, reducing the chances of failure under pressure and leaving more options for riders to choose from various glove styles.
Pockets
Smaller YKK zippers are used to secure both waist pockets. The internal lapel pocket features an easy snap closure, which makes earbuds a possibility without fishing the cord through a separate port. There are two more internal mesh pockets (in the waist area) without zippers or snaps so you can get your items easily.
This isn't the type of jacket you'd wear if you wanted to carry a ton of stuff along on your ride, but it does give you enough room for the necessities: a cell phone, a fat wad of cash and a lipstick.
Oh, and don't forget to look for the Saint Christopher (patron Saint of the traveler) medallion, which comes standard – and cleverly hidden within a tiny pocket – in every ICON jacket and vest ever made.
Lining & Ventilation
Liner
The Overlord SB2 comes with a silky-smooth zip-in/out vest liner which might help with keeping your core slightly warmer on a cool evening, especially because there's not much room for a hoodie underneath the tailored fit. The liner does not keep you warm in true winter weather.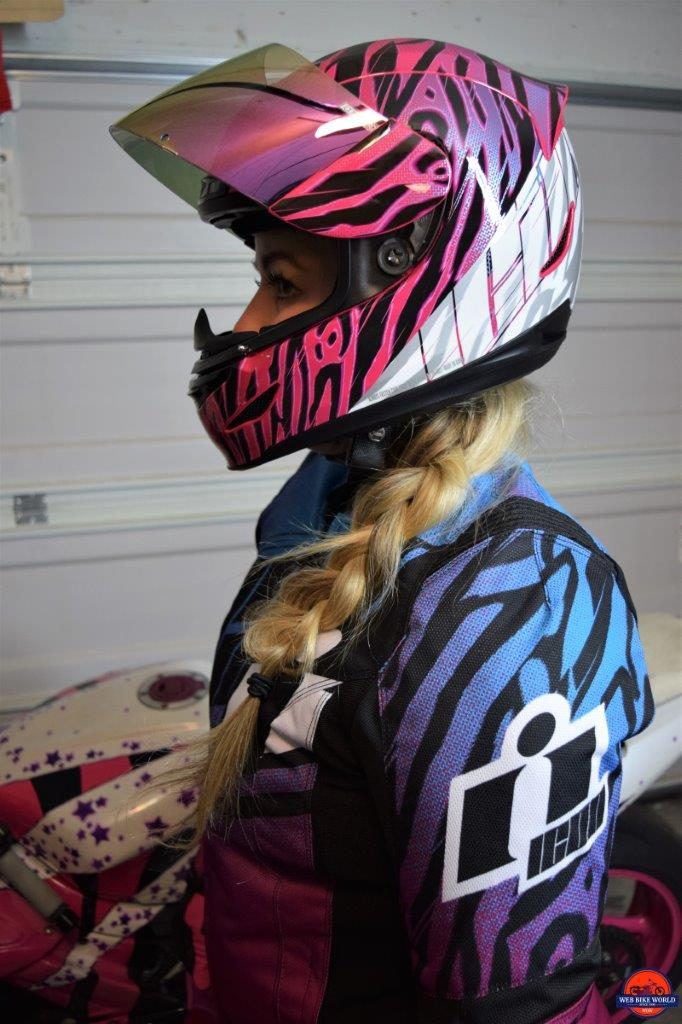 Ventilation
The core and arms of the jacket feature pinpoint laser perforation so small you might doubt it produces any airflow at all. Surprisingly, the perforation helps air easily move through the textile chassis, leaving you with a cooling effect as opposed to a blast of wind. As with anything else that has thousands of tiny holes in it, the ICON Overlord SB2 Wild Child is not weatherproof in any capacity. Wear in the winter at your own risk!
Protection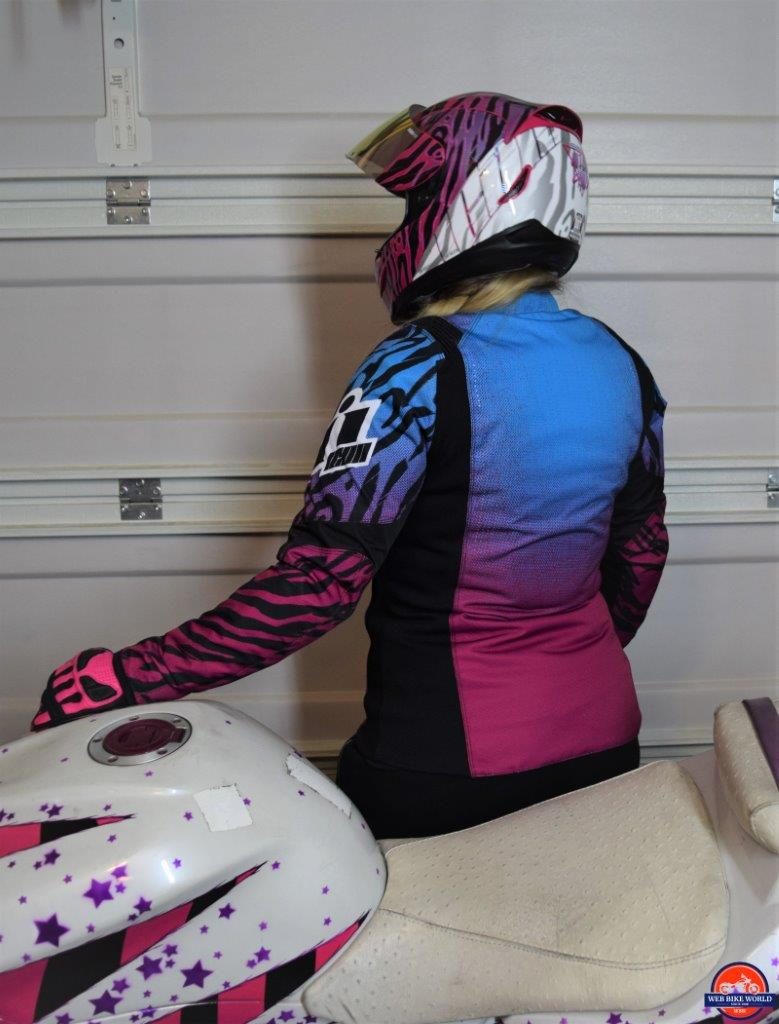 Impact Protection
Always impressive is the full gamut of CE level 1 rated D3O armor that comes stock in every ICON jacket. Shoulders, elbows and even your back are protected by a flexible and energy-absorbing armor that is both comfortable to wear and strong in case of a crash (upgrading to level 2 can be done for $80). The armor is also easily removed, thanks in part to its flexibility.
Abrasion Resistance
The Overlord SB2 has a 100% textile chassis. It boasts the thickest/strongest material in initial impact zones (shoulders, elbows), a more "slippery" nylon over slide zones (trunk, back), and stretchy ballistic nylon in the areas least likely to incur an impact or extended slide (armpit, underarm, waist). I would categorize this as moderate abrasion resistance for the modern street rider. This material, combined with the attack fit profile, should hold up to a decent tumble or slide at surface street speeds.
Care
With the armor removed, just throw the SB2 in the washing machine on cold for a quick refresh (no dryer, though, so plan ahead). The jacket is sublimation printed (aka infused) so there's no need to worry about graphics "peeling off" in the wash.
I didn't get to wear the jacket long enough to test UV longevity, but I would assume that sun exposure will probably cause fading over time. I already rue the day.
Taming the Wild Child
I am looking forward to wearing and testing this jacket more often and for much longer rides in warmer weather. I can't help but feel like a superhero in this ensemble. Plus, watching drivers stare is entertaining (hey, at least they see me!).
Overall
Such a bold aesthetic won't appeal to everyone. Don't like magenta? The good news is, if the other features appeal to you, this exact model comes in 5 different and unique color combos to appease almost anyone. The stealth rendition (all black, ghost logos) along with four bold-and-bright versions in various colors and graphic themes all retail for $195USD.
With an industry-leading armor package included and more attitude than any other aggressive sport-style jacket, the Overlord SB2 is surely worth its weight in gold… er… tiger's blood.
Pros
More hi-viz (and much cooler) than hi-viz
No frills/no fuss styling
Most comfortable in the riding position
Sub $200
Full suite of CE level 1 armor
Superhero-inducing emotional response
Cons
Not for winter weather
Not for wet weather
Aggressively fitted, might need to size up
Specs
Manufacturer: ICON Motosports
Price (When Tested): $195USD
Designed and Developed In: Portland, Oregon
Alternative models & colors: SB2 Wild Child – Orange, SB2 – Red, SB2 – Hi-Viz, SB2 Stealth (All $195USD)
Sizes: XS – 3XL
Review Date: 1/21/2019