Two riders from Wales and Oregon have travelled the length of the Americas on lightweight Husqvarna 650s in an attempt to show adventure touring doesn't need to be on juggernaut 1200s.
Lee Clark and Phil Barnes, left Portland, on September 30 and have recently finished their trip of more than 30,000 miles (48,000km), visiting 14 countries and living out of the panniers on their minimalist bikes.
They say they chose the Husqvarna TR 650 Terra motorcycles because of their light weight with the goal of "promoting eco tourism".
While I applaud the long-distance adventure ride on lighter bikes than the Bavarian behemoths most people chose, I don't understand how it promotes eco tourism. However, if it saves a little fuel and doesn't scare the native fauna as much, then good on them!
I love the Terra, but it was unloved by so many who sought multi-cylinder juggernauts for their adventures, so it has been dropped from the line-up.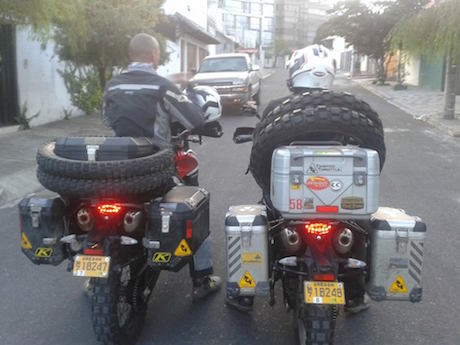 You can still get second-hand models in Australia, however they seem to want up to $9000 for them even though they cost $8995 (+ORC) when they were introduced a few years ago.
The TR650 is learner-approved as it is powered by a BMW-derived single-cylinder engine with 48hp (36kW), the same as the BMW G 650 GS. However, the throttle plate restrictor can be removed if the owner shows the dealer their open licence. Cost is a $10 part and labour.
That lifts the power to 58hp (43kW) which makes it more powerful than anything in its class, except the 690 KTMs. It's also plenty for most applications, especially adventure riding.
Changes to the BMW engine include lighter pistons, new ECU, modified cams, bigger valve diameters and increased compression ratio, requiring 95RON fuel, so I'm not sure how they coped with low-grade US and South American fuels.
Despite the power boost, fuel economy is a frugal 4.3L/100km at 120km/h which gives a range of better than 350km on a 14-litre tank. You can squeeze 400km out of the tank if you stay under 90km/h.
It also has strong Brembo brakes and Sachs suspension which stood up to the rigours of this long tour from Orgeon all the way to Tierra del Fuego at the southern tip of South America.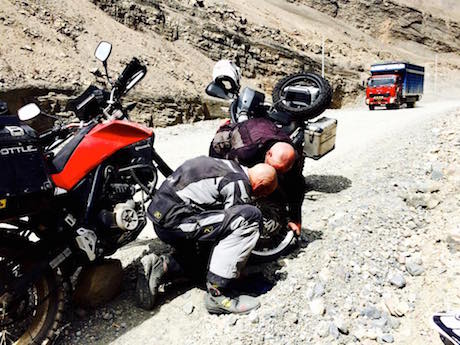 As conscious global citizens, Lee and Phil say they are aware of the impact of irresponsible tourism and the use of fossil fuels but they also enjoyed the thrill of speeding down an open road, while having a bike light enough for lots of off-roading.
Their journey took them through countless mishaps, adventures, and challenges.
Moments after crossing the border into Guatemala, sudden food poisoning found Lee unable to remove his helmet in time and Phil had to rinse out his helmet as Lee rolled in agony on the side of the road.
Costa Rica graced them with a case of chickengunya, similar to dengue fever, requiring multiple trips to the hospital.
Despite the setbacks, kindness reigned wherever they went and the hospitality and generosity of many strangers led them to surprising places. They stayed on the railway platform in Machu Picchu, explored an organic farm and farm-to-table restaurant, met a fellow Portlander who writes for Outside Magazine in Patagonia, and dog sat on the coast in Chile.
Their trip finished on March 11 in Chile where they sold their bikes to other adventurers.