Have you ever been in the market for a motorcycle and found the sales man condescending, uninterested, ill-informed, pushy and male?
Yes, that's right – salesman. There are very few saleswomen in the motorcycle industry, which is unfortunate as they may be little more sensitive to customers.
The two archetypal salesmen are the young skater and the pushy "professional" salesman.
The former is probably more interested in riding his sports bike or motocrosser than talking to you. He calls you "mate" or "buddy" and he knows nothing about the "old fart" bike you may be looking at.
The pushy salesman attacks you as you walk in the door and tries every sales pitch to sell you something right now.
While many dealers are now getting their act together, there are still too-few genuinely interested, friendly, respectful salespeople in the industry.
Those who are seem to be the most successful. You can tell the successful dealers – they have plenty of staff, plenty of stock, lots of demo models and heaps of customers!
So, drawing on our own shopping experiences and with the help of an industry veteran, we have put together this list of 10 top tips for motorcycle salespeople and dealers.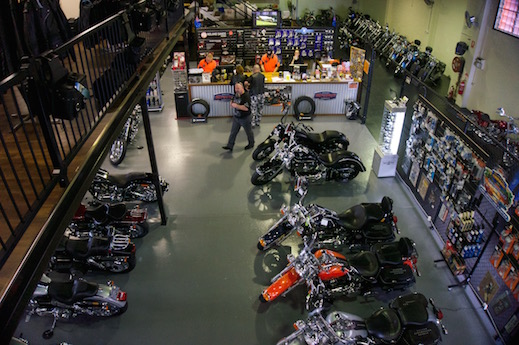 1 Offer test rides
An American industry survey has found that the best-selling motorcycle brands are those that offer test rides. We customers are not going to buy an expensive luxury item without throwing a leg over it first.
2 Don't call me mate
I'm not your mate. This is a business transaction and let's keep it that way. Be friendly, but not overly familiar. Remember, you could be dealing with the CEO of a major company. Every customer deserves respect.
3 Don't ignore me
By all means, let me browse around and don't attack me the minute I walk in the door, but if I start looking around for a salesperson, you better be ready to talk and not chatting with your mates.
4 Respect your female customers
Don't assume that a woman in a motorcycle store is there with her male partner! Women buy motorcycles, too. Don't talk down to them and show them a pretty little pink scooter when they are asking to see a mean, black sportsbike.
5 Don't use sales "ploys"
For example, don't ask "what will it take to do business today?" A motorcycle is not a necessity, but a luxury. We're not buying tomatoes that will go off in a few days. We are considering a major purchase and need time, not pressure.
6 Don't withhold brochures
They may cost a bit, but a glossy brochure is a valuable sales tool. Customers love to take them home and show their partners and friends to get their opinion. Motorcycle companies wouldn't spend a lot on photography and high-quality printing if they didn't work.
7 Offer us a drink
We will stay longer if you offer us a free cold or hot drink. we may have just come in off our bikes out of the cold/heat and need a refreshment. It also starts a conversation going.
8 Know your product
We love bikes and study them on the internet and in magazines, so we have a good idea of what we want and all its technical details before we even step into your dealership. Often we may know more than you! So you'd better brush up on the technical details. If you don't know the answer to one of our probing questions, don't lie or we'll catch you out.
9 Let us sit on the bike
Before we ask to test ride the bike, we will want to sit on it. Ten seconds later we still won't have much idea of how it feels, so don't ask. Leave us alone for a few minutes to feel the ergonomics and allow the seat cushion to settle under our weight.
10 Don't talk changeover prices
When it comes time to do the deal, tell us what you are giving us for our trade-in and how much the bike will cost. Don't talk changeover prices, because then we get confused about whether we are being screwed on the trade or the new price. And be ready to throw in a first service or accessory to clinch the deal.
Now find out how you can be a good customer and score a top deal!