Take a Honda VTR1000 Firestorm V-twin, shoehorn it into a ride-on mower and watch the grass fly! That's what a group of British redheads did recently in Spain and they came away with a Guinness World Record.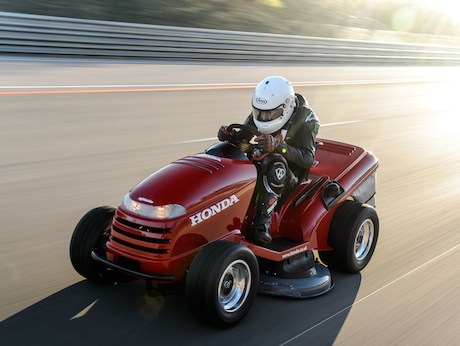 Honda UK's British Touring Car Championship partner, Team Dynamics, built the 109-horsepower "Mean Mower" which was piloted by TopGear Magazine scribe Piers Ward. They took the motorcycle-powered machine to  the IDIADA Proving Ground in Tarragona, Spain, and set a record of 187.6km/h.
The Mean Mower's top speed was measured through a 100m speed trap and the two-way record setting run was overseen by official timers from the Guinness Book of Records.
The basis for the machine is a Honda HF2620 Lawn Tractor, but with a few extra bits and pieces. They include a completely new fabricated chassis, custom-made from carbon-steel, the 1000cc engine from a Honda VTR Firestorm motorcycle and bespoke suspension and wheels from an ATV. It also features a six-speed transmission, custom-made Cobra sports seat, Scorpion exhaust system, and a Morris Minor steering rack. The fuel tank, oil cooler and secondary radiator are concealed in the grass catcher. The machine weighs just 140kg and can go from zero to 100km/h in four seconds, which isn't far behind a Porsche 911.
To be considered a mower for the purposes of the record books it also has to be able to mow! So the Mean Mower" has cutters powered by two electric motors and will cut grass at speeds up to 24km/h. Imagine cutting your suburb lawn in one minute flat!