Honda Rincon 680 In-Depth Guide
The Honda Rincon 680 is an all-terrain vehicle(ATV) manufactured by the Honda Motors Co. since 2003. It weighs 600lbs, has a 38 horsepower 675cc engine(was 649cc from 2003-2006) and can reach a top speed of 63MPH. The Honda Rincon 680 has an independent rear suspension and a generous seat height of 34.5 inches making it comfortable to ride for extended periods of time.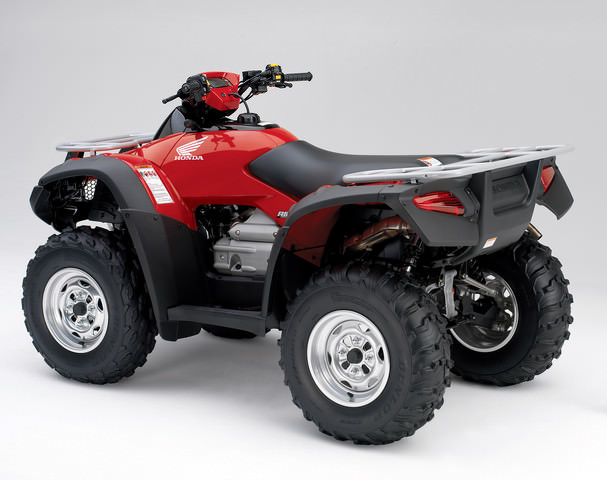 If you enjoy taking your sport ATV off road you'll appreciate the peace of mind in knowing the Honda Rincon is built by a company that strives to develop low-emission technology for future motorcycles, ATVs, scooters and personal watercraft. The 2009 Honda Rincon ATV sports an independent double-wishbone suspension in front AND in the rear, most ATVs go with a swing-arm in rear.
This model meets the same level of ride comfort we've all come to expect from the Honda Rincon lineup of all-terrain vehicles. The 2009 Honda Fourtrax Rincon model ID number is TRX680FA and it's available in red, olive, blue and the trademarked NaturalGear Camouflage graphics.
Honda Rincon 680 Specs
Model Type: Utility
BASE Price: $7,999.00
Engine Type: Single-Cylinder
Number of Cylinders: 1
Honda Rincon 680 Top Speed: 63mph stock with rev limiter
Engine Stroke: 4-Stroke
Valve Configuration: OHV
Honda Rincon 680 Engine Size: 675cc (649cc on 2003-2006 models)
Honda Rincon 680 Horsepower: 38HP
Carburetion Type: Fuel Injected
Transmission Type: Automatic
Honda Rincon 680 Oil Capacity: 3.1 quarts w/ filter change
Oil Type: Honda HP4 or similar 10W40 ATV oil
Number Of Speeds: 3
Honda Rincon 680 Seat Height: 34.5 inches
Primary Drive: Shaft
Reverse Gear: Yes
Front Tire Size: 25 X 8-12 inches
Rear Tire Size: 25 X 10-12 inches
Front Brake Type: Dual Hydraulic Disc
Rear Brake Type: Hydraulic Disc
Wheelbase: 50.8 inches
Honda Rincon 680 Weight: 600lbs
Honda Rincon 680 Fuel Capacity: 4.3 gallons
Honda Rincon Oil and Filter Change Information
Warm the engine to operating temperature
Let engine cool for 3-5 minutes
Remove 17mm oil plug bolt from the oil pan
Drain old oil into a drain pan
Remove and replace oil filter(optional)
Re-install drain plug and tighten to spec(25NM)
Add 3 quarts of HP4 or similar 10w40 oil
Check dipstick and add a little more if needed
Regularly changing the engine oil of your Honda Rincon ATV will prevent premature engine wear and help it last longer. You'll need a drain pan to collect the old oil, some shop rags to clean up any oil spillage, a socket set preferably with torque wrench, download a Honda Rincon 680 manual(optional) and fresh oil and filter.