It's the early '80s and 12-year-old me is in deep trouble. My parents were livid. One minute I'd been fooling around on a Honda CT110 'Postie' bike, and the next I was being screamed at for risking my own death and breaking the law. All I knew was that I'd been riding up and down some dirt roads on a friend's farm in country New South Wales, north west of Sydney, having the time of my life. Then in a moment of childhood inspiration, I'd decided to take to the nearby public road 'to see how fast the bike could go'. 30 seconds later, there's me doing 90 km/h (55 mph) on a 60 km/h (40 mph) public road in a t-shirt, shorts and thongs and with five more years to go before I could even think about getting a licence. As for a helmet, and registration? Absolutely not. And I don't even want to think what would have happened if a cop had caught me.
The wind blast was so strong, I had to squint which also had the interesting effect of making it almost impossible to see where I was going. And the tears from my young, innocent eyes were streaming backwards into the hair above my ears, making it all cold and wet.
If I had stopped and thought about anything for more than a nanosecond, I may have realised that the farmhouse was in fact on the hill above the road, so my cnot-very-delighted parents sat and watched in horror as the whole event unfolded in front of them.
That is, they watched until my sheer velocity took me toward the horizon and out of their view. Welcome to the fantastic and dangerous world of the Aussie 'Postie Bike.'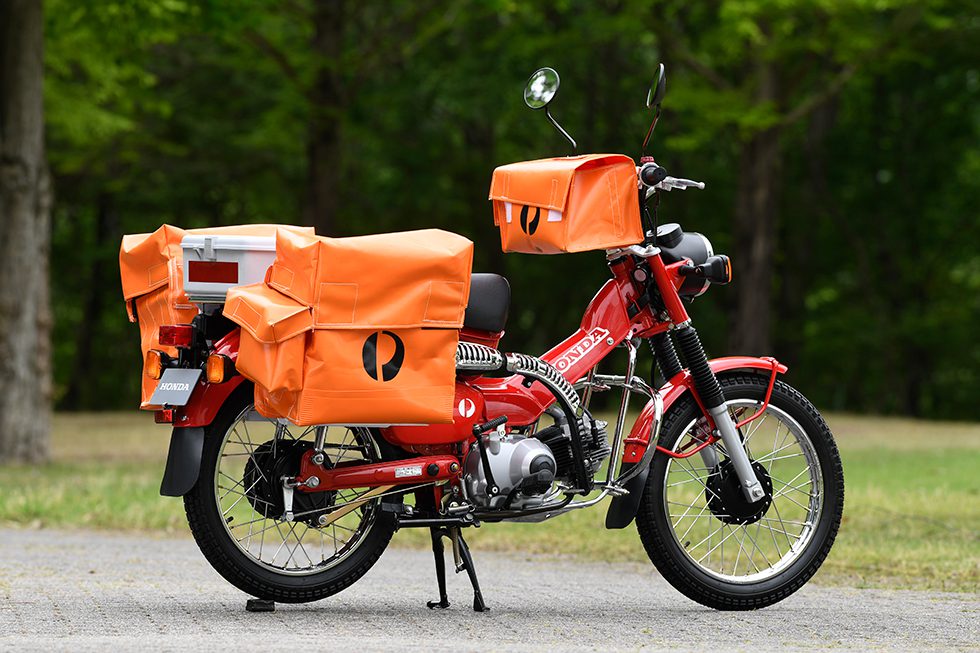 Photo courtesy of thepostiebike.com
Snail Mail
But let's start at the beginning. The legendary Honda CT110 'Postie' bike is a dual-sport or 'Trekking' bike (yes, you read that correctly) that commenced production in Japan in 1980 as a replacement to the company's CT90. Somewhat surprisingly, the platform was designed by Honda as a tool for hunters, fisherman and outdoorsmen to traverse mild off road routes and to also be used as a kind of safe and gentle commuter.
With a massive seven horses at the crank, the bike was sold in many countries including the USA. But it would be the Aussies and the New Zealanders off-roaders that would really take to it. And this would come about in a rather unusual way. See, some smart little public servant drone in a down under government department decided that they'd be a great tool for the postal staff to speed up their deliveries and to also increase their hauling capabilities. Which is all good and well, but how did regular yobbos like me end up trying to kill themselves on them?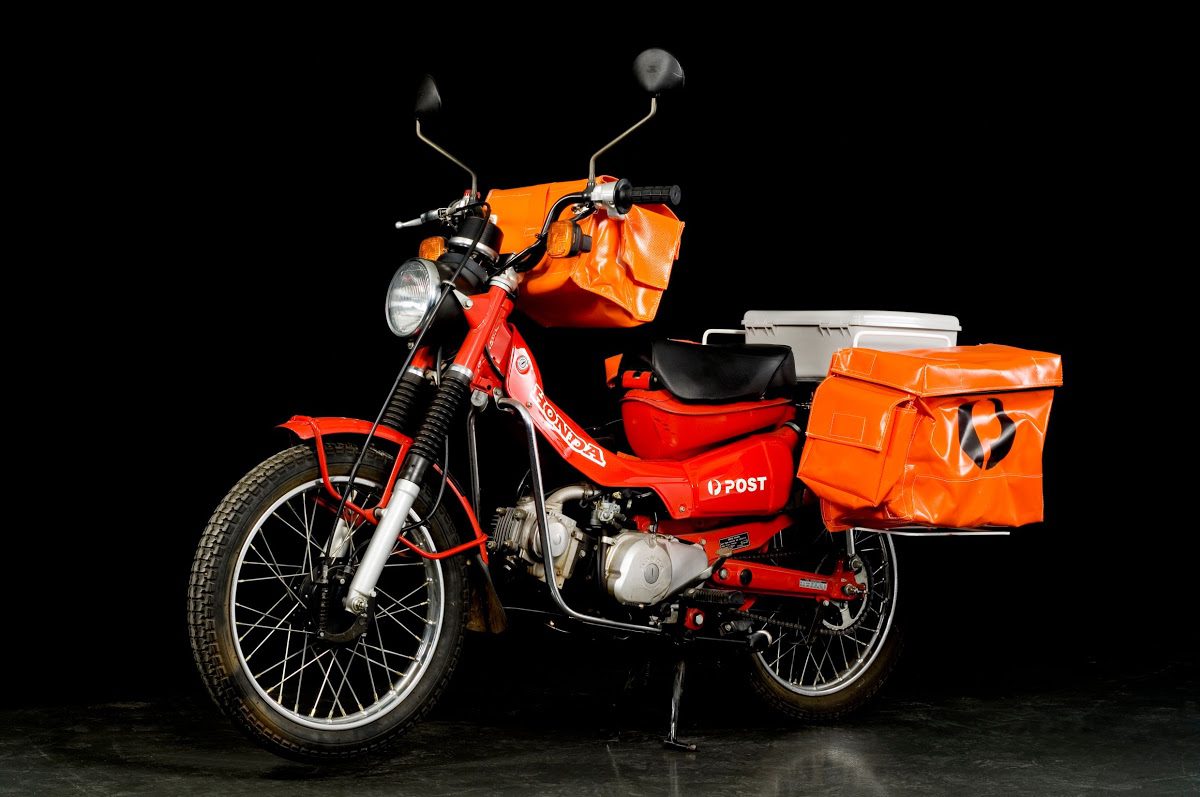 Photo courtesy of thepostiebike.com
Post Master General
The answer is simple. After a very comfy, non stressful life trundling around local neighbourhoods delivering gas bills and letters from Aunty Beryl, the well-serviced, nigh on unbreakable and hard-ever-thrashed Hondas were retired in remarkably good condition and sold as ex-government vehicles at rock-bottom prices to whatever lout, miscreant or local hoodlum with a unemployment cheque could afford them. Bungee strap a plastic milk crate on their rear luggage rack and – hey friggin' presto – you had the world's most uncool daily.
And while I can't be sure of the specific details on what type of CT I was tearing around on as a pre-teen, they were delivered in three distinct flavors. The straight CT110 had a semi-automatic four-speed transmission and a centrifugal clutch. The bikes sold to Australia and New Zealand Post lacked the dual range sub-transmission of the standard bike and there was also a CT110 AG model that ran 6 volt electrics, presumably so that farmers wouldn't risk setting their sheep on fire with the full 12 volts.
It's also interesting to note that the bikes were not available for purchase by the general public directly from Honda until 2009. The fact that they were somehow kind of rare and yet still managed to leave such an impression on the general population is a real testament to their cult status. Honda Australia still sells a CT110X model, too. But as before, their Aussie website clearly states that 'the Honda C110X Postie is available to registered Australia Post contractors only and cannot be sold to the general public.'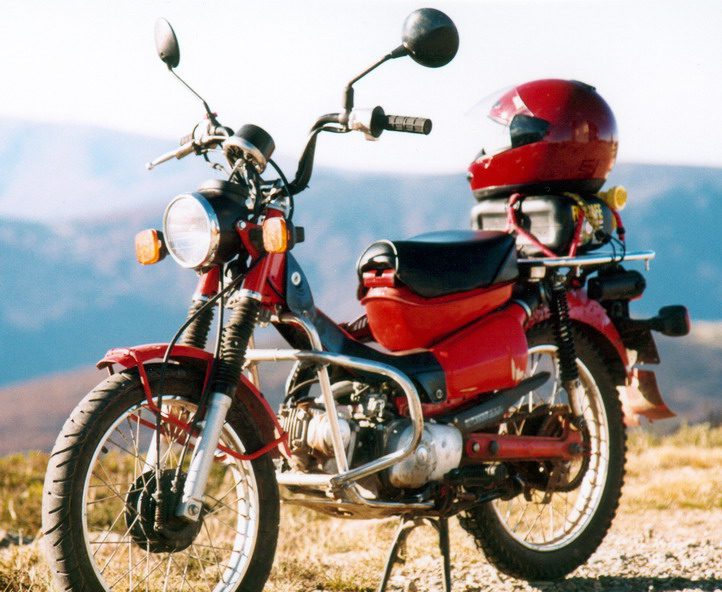 Photo courtesy of Wikipedia.org
Local Deliveries Only
And when I wasn't running from some imagined cops on one the Posties were a common sight all over Australia, usually being used in summertime for skint teens and 20-somethings to make runs down to the local shops for a chocolate milk, sausage rolls or to pick up a few beers which were definitely not consumed right outside the bottle shop before the owners headed down the beach for a sunset dip. How the striped, faded beach towels stuffed into the milk crates at the back didn't get blown out at the first sign of a bit of wind is an aerodynamic conundrum that Australia's best engineers are yet to solve.
It'd be an interesting exercise to speak to some traffic cops from back in the day as to what they thought of the phenomenon and how exactly they would approach the average Postie bike rider. Being the absolute lowest bar for a road-going, privately-owned vehicles, the chances are that if a cop was to pull one over for shits and giggles, the chance of collaring the rider for not having a licence or a regulation helmet must have been sky high. Indeed, the centrifugal clutch system made it a piece of piss to ride, as my 12-year-old self would no doubt testify.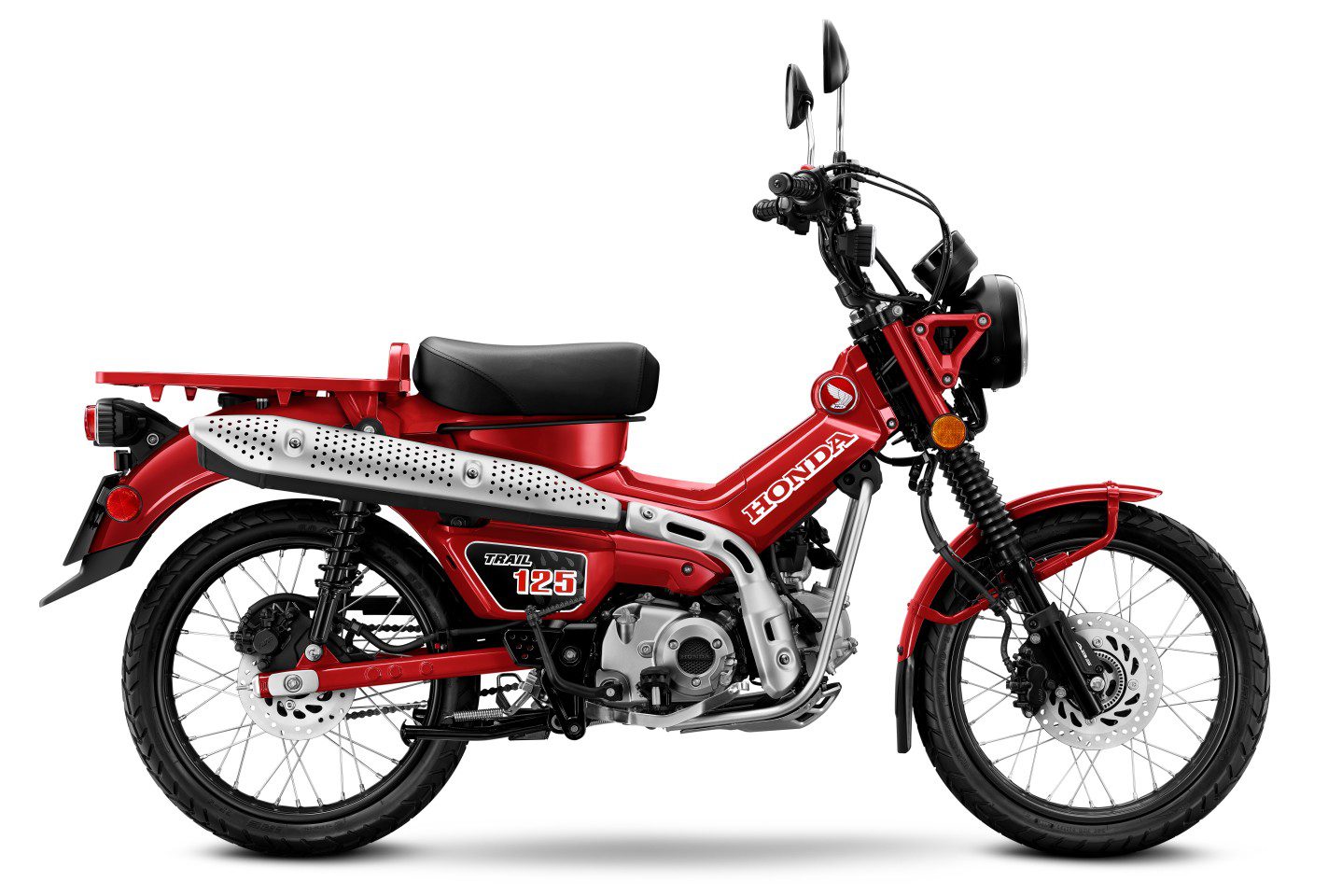 Photo courtesy of Honda
Red Letter Day
A quick scouring of Sydney's local classifieds reveals the secondhand market is still going strong, with a whole heap of old Posties available from ones that look like they have been stolen and dumped in the ocean for a few hundred bucks to immaculate originals at around the four grand mark, it's great to see that the legend is alive and well.
You'll also be glad to hear that despite ceasing production in 2009, Honda announced in 2020 that the CT125 would be sold as a replacement (see above). As you'd expect, they have gone to much trouble to update the design, equipping it with modern ABS and a whole bunch of other mod cons that somehow manages to sterilise the legend just a little.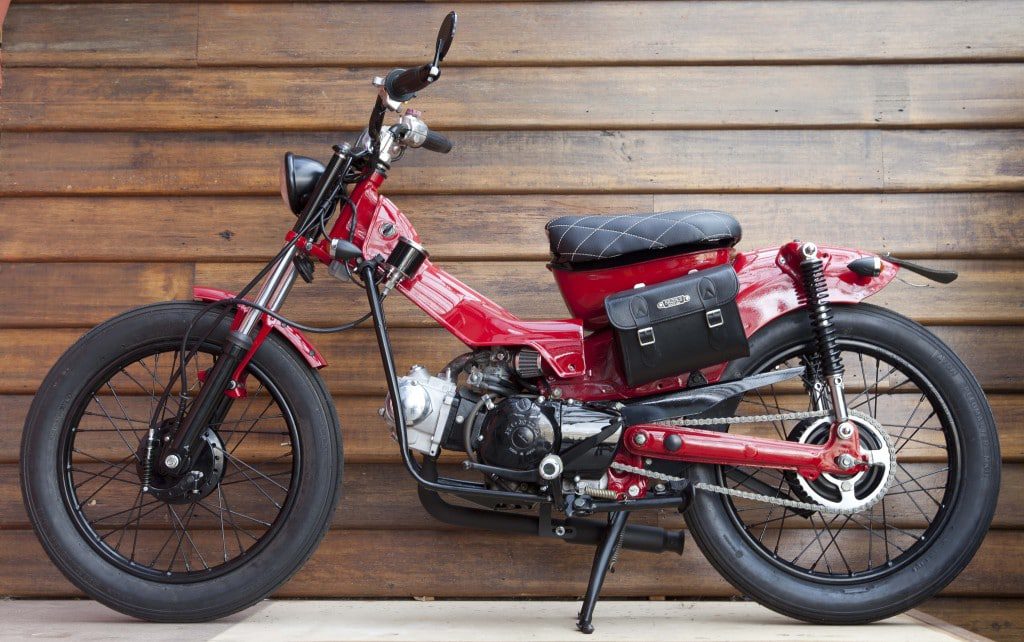 Photo courtesy of MotoFomo.com.au
As a riding experience, it won't surprise you to learn that the bikes were pretty mild affairs. The semi-step-through frame was a clear hat tip to their moped-ish influences and as with many of Honda's bikes, they were designed to be as vanilla and brutally functional as possible. If you rock up for your first ride expecting some kind of life-changing retro experience like a Vespa or a '60s two-stroke, you'll be sorely disappointed. Remember, they were being issued to postal workers who just needed something to replace their old bicycles. The quieter, innocuous and easier they were to ride, the better.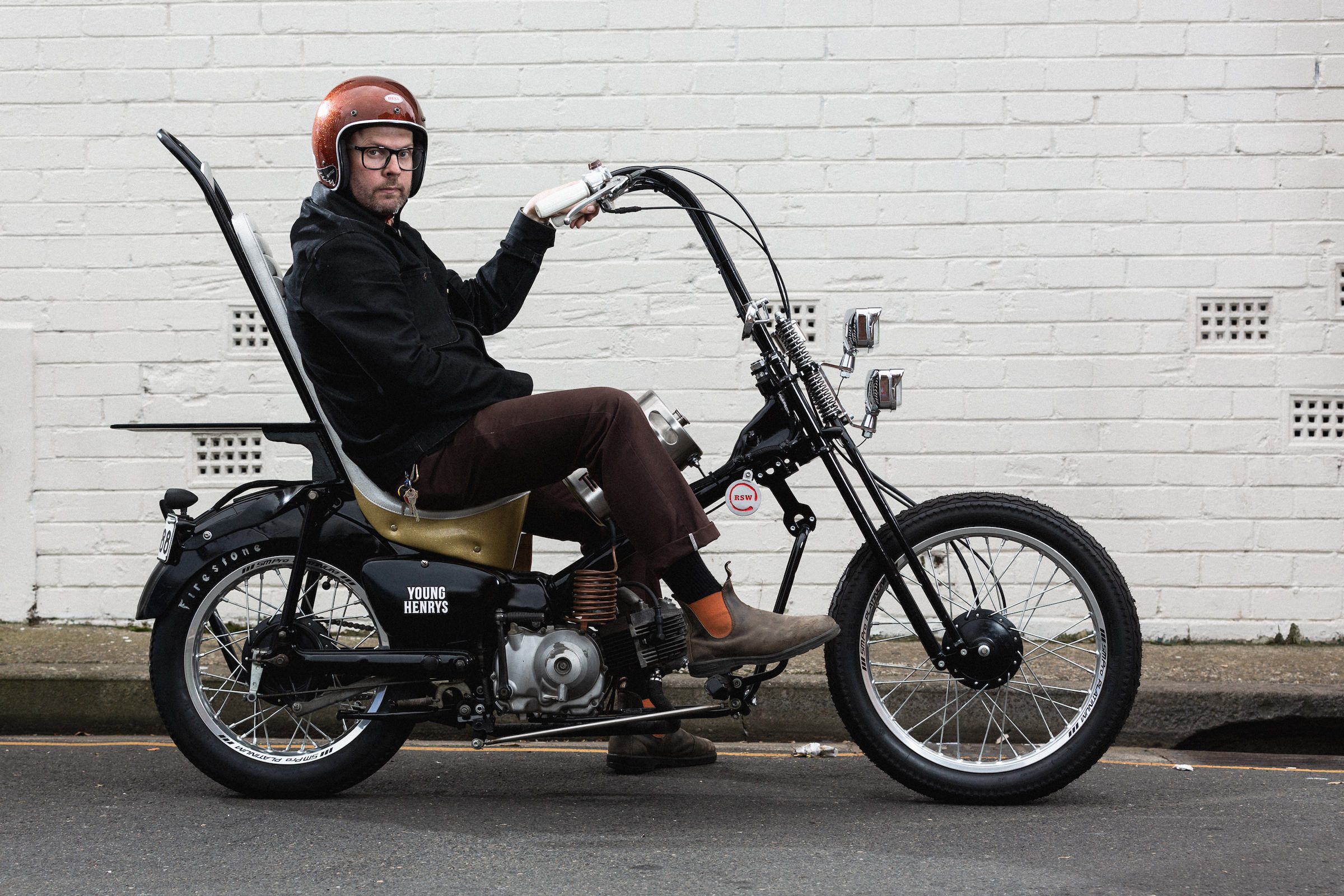 Photo courtesy of Silodrome.com
Post Modern
But thankfully that 'am I awake yet?' experience was soon to be rectified come the wave of custom craziness that's circled the world in the past decade. And while I can't be sure that some 1990s speedy-loving genius didn't attack one with the tools to see just how fast the little buggers could go, there was a definite trend around 2015 or so for Aussie Custom shops to soup the CTs in a very 'what's the worst possible candidate for a custom bike ever' kind of a two-finger salute to coolness. How very Aussie.
Proponents were led by a Melbourne outfit wittily titled 'Post Modern Motorcycles' (Geddit?!). Owner Jim Clarke delighted in mimicking the very serious custom styles of the time, creating incredible custom bikes that simultaneously inspired without taking themselves too seriously.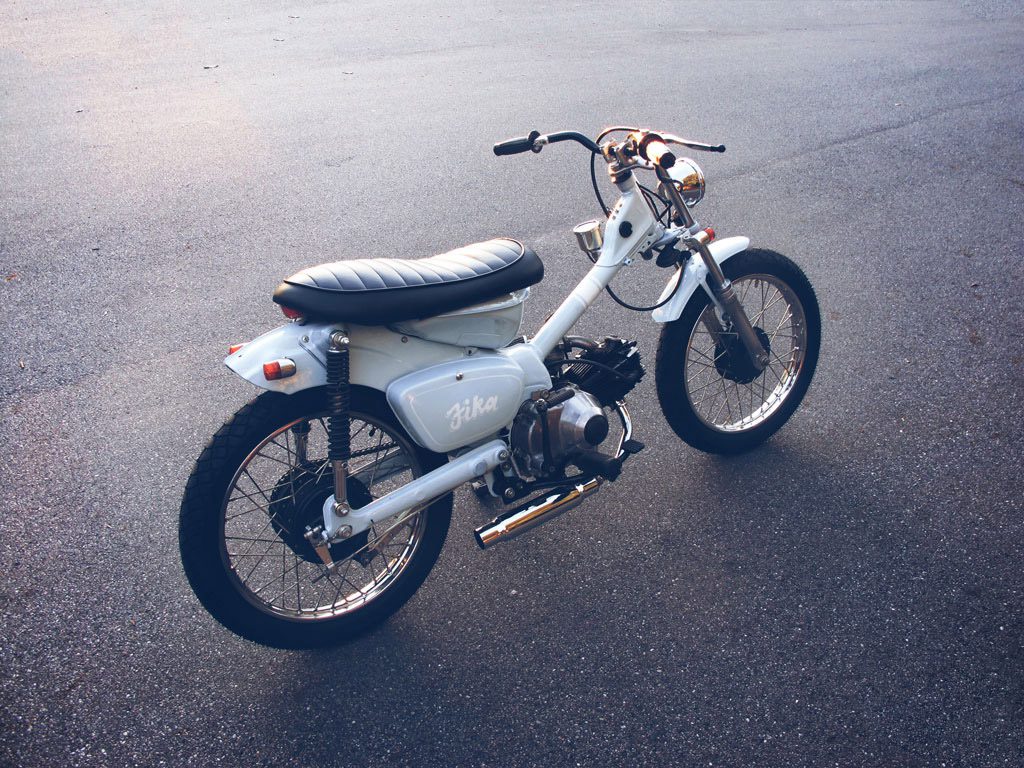 Photo courtesy of lanesplittergarage.com
With 20/20 hindsight, it's all too easy to rationalise the Postie's cult status into one thing or another, but it's important to mention that, like the AMC Gremlin or England's Morris Minor, sometimes a vehicle that is really rather wrong can also be so very right.
And that thought becomes even more relevant in today's consumer space where an increasingly large amount of products are researched 'till the cows come home to ensure that they are as bland, functional and safe as possible. It's nice to know that sometimes, it's perfectly OK to be a little crap.