Honda has filed patent diagrams for a leaning three-wheeler with two front wheels.
While the company has never made three-wheeler motorcycles, Honda Goldwings have been popular donor models for trike conversions and wacky contraptions such as the Wedgetail featured in the main picture above.
However, the patent diagrams are apparently for a smaller motorcycle powered by a 750cc parallel twin engine.
It will not be a leaning scooter with two front wheels like the new Yamaha TriCity, Piaggio MP3 or Peugeot Metropolis.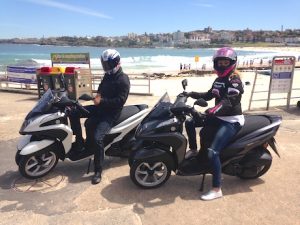 Yet it will have a similar front suspension set-up as the Yamaha and even uses the same term "parallelogram". On the Yamaha, this allows the scooter to track well on cobbled roads and even ride with one wheel up on a kerb without any bar kickback.
But the Honda won't be a scooter. It will be a motorcycle and will be powered by the popular and versatile NC750 parallel twin engine. The liquid-cooled, four-stroke, eight-valve SOHC engine has 40.3kW of power and has been used in several Honda bikes and scooters including the Integra and NC750X adventure bike.
One of the advantages of trikes is that you don't have to put your feet down when you stop. Even though the original Piaggio MP3, launched in 2006, was a leaning three-wheeler, it had a lock that you could flick on when it stopped so you could keep your feet up.
The Yamaha TriCity doesn't include this, but it will be interesting to see if the Honda incorporates this handy feature.