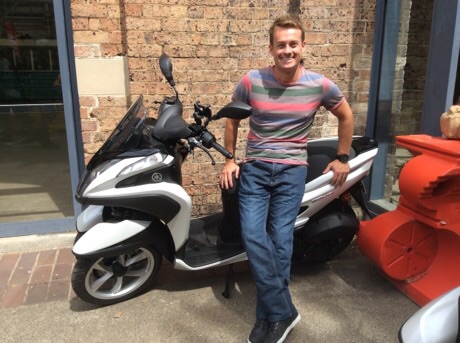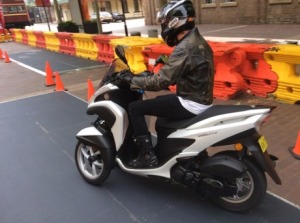 The Yamaha Tricity three-wheel leaning scooter costs just $4299 and comes with $60 capped-price servicing.
Yamaha Motor Australia spokesman Sean Goldhawk says they are targeting a wide range of buyers from students to grey nomads who can put it on the back of their caravan or buy it as a second bike for the city.
It is powered by a new 125cc single-cylinder engine with continuously variable transmission (no gears of clutch lever), linked disc brakes, light 152kg wet weight and, of course, three wheels.
The two front wheels move independently so the scooter leans through corners like any other scooter or bike. The wheels are cantilevered across four telescopic forks. Yamaha calls it parallelogram suspension and it means the scooter will track well over cobbled roads and even ride with one wheel up on a kerb without any bar kickback.
The handlebars are wider than the wheels, but still narrower than most scooters for lane filtering – where that's legal!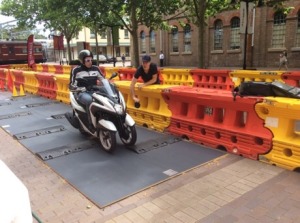 Sean says the scooter's light weight and low-friction internals of the efficient engine give it fuel economy of 40km per litre, so range from the 6.6-litre tank is about 250km. Sean says it will only cost about $10 to fill, making it appealing to commuters and students.
The Tricity does not have the lock-out system of the other three-wheeler scooters where, at low speed, you can flick a handle that locks the wheels so it sits upright when stopped. "We didn't think that was necessary. It only adds extra weight and complexity, so we don't have it," Sean says.
Sean says they are not competing directly against the more powerful and heavier other three wheeler scooters. "This is much lighter, cheaper and economical, and it's much easier to manoeuvre around the city and into parking spaces," he says.
Like the other three-wheel scooters, the extra contact patch at the front provides greater lean grip for heightened cornering confidence, it also improves braking performance.
The left brake lever activates all discs (220mm at the front and 230mm at the back), while the right lever only activates the front brakes. Sean says that it is an easy fix to un-link the brakes if riders prefer; just detach a cable on the right lever!
I wouldn't bother, because the brakes are simply awesome with dual discs up front almost overkill for this size of scooter.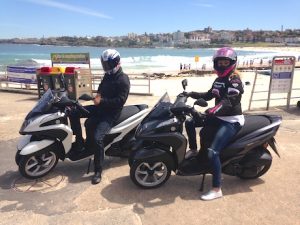 The press launch was held at the Sydney Technology Park in a gymkhana set-up to highlight the scooter's maneuverability, lean angles, braking performance and even wet grip. We then headed out on to the bumpy streets from Redfern down to Bondi, South Head and back again.
When riding the Tricity around the city, you no longer have to worry about looking at the surface of the road as it will take on potholes, manhole covers and steel plates without bump steer or slipping. You can even ride up and over a gutter at a slow pace to park your bike without having to find a pedestrian access ramp. It's all thanks to the parallelogram front suspension, as well as the 14-inch front wheel.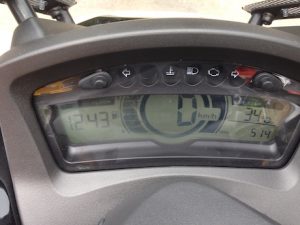 The instruments are quite comprehensive with a full digital dashboard with a fuel gauge, speedo, odo, two trip meters, ambient temperature, oil trip, belt trip and clock.
The riding position is comfortable and the soft seat slopes forward for short people to get their feet on the ground at the lights. Pillions have fold-out pegs and a comfortable seat with good grab handles.
There's no parking brake, so be careful to park it on a flat surface or it may roll off its sidestand.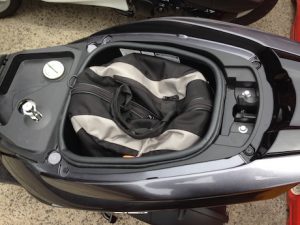 You can fit a full-size helmet under the seat and there is a grocery bag hook on the front fascia, but no glovebox. It comes in white or grey with Yamaha DNA anti-theft microdot in the paint which have insurance advantages. Build quality is typical of Yamaha, although the plastics are hard and cheap as it is built to a price.
In NSW you can ride the scooter without having to do the full licence training.
Yamaha ambassador, racing car driver and TV presenter Grant Denyer was on hand to give the scooter a go.
"It's a ripper concept. It's kind of weird, but it's more stable in more varied conditions," he says. "Whatever keeps you upright in more circumstances in better. I was surprised at the angles you can approach obstacles on the road. There is no need to square them up."
Grant says he is considering the scooter for his wife who wants to learn to ride.
"I'm looking for something that is easy to learn on and safe as the mother of my child," he says.
Yamaha Tricity
Price: $4299
Warranty: 2 years, unlimited km
Engine: fuel-injected, single-cylinder 124.8cc
Transmission: CVT, belt drive
Brakes: dual 220mm discs, single rear 230mm disc
Suspension: parallelogram cantilever and telescopic forks, rear unit swing
Tures: 90/80-14; 110/90-12
Seat: 780mm
Wheelbase: 1310mm
Clearance: 120mm
Wet weight: 152kg
Fuel tank: 6.6L/100km