"Here you go, Mark, I trust you," says Gordon Wallace as he tosses me the keys to "Goldie", his beloved Honda CB750K1.
He's not only a brave man, but a man of passion and great knowledge in what makes grown men go weak at the knees. Stick around and he will dispense some invaluable advice if you ever wanted to restore the bike of your dreams.
But back to me. I've ridden quite a few of my boyhood wet-dream bikes and did my first "ton" on a Kawasaki Z900. But I've never got the chance to ride the venerable CB750, the world's first superbike.
So I was extremely excited and a little nervous when I got the keys to Goldie. However, I wasn't disappointed. Yes, it steers like a ship and it brakes like it has silk pads and satin discs, but the smooth and lusty engine vibe and its four-pot symphony – oh that glorious woof under power and bark on the overrun – is just magnificent as you can hear in the video. I simply want – no – need one!
So how do you and I go about fulfilling our boyhood dreams?
Well, a bloke like Gordon is a great place to start. He's become somewhat of an expert in restoring CB750s and other Japanese motorcycles of the '70s and '80s. There's not too much he doesn't know. And he's kept perfect records of every bit of work and part number on an Excel spreadsheet. He even bought a computer for his backyard workshop just to record the data.
Gordon is the same age as me. Born in 1957, he started riding motorcycles at the age of 15, although he didn't get his learner's licence until the day he turned 17. I can beat that. I'd been riding since my teens and didn't get my licence until 25! It's just what we seemed to do back in the day.
And we both hooned around on big superbikes like these in the early '70s.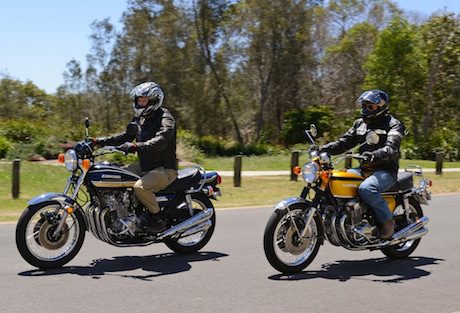 Gordon's first bike was actually a little Suzuki 90cc scrambler, but he quickly progressed to bigger bikes. He even has a scrapbook of them all, so meticulous is he. The scrapbook says 31 bikes and counting.
He owned several British bikes before being bitten by the Japanese bug with a gold CB750K1. He followed that up with a Kawasaki Z900, Suzuki 1100 Katana, Kawasaki GPZ1100 etc. All the big names!
Like many riders of our age, there ensued a break brought on by family and work commitments.
The busy construction project manager spent the next couple of decades handling multi-million-dollar projects and hundreds of staff in a high-pressure work situation.
As a release, he returned to motorcycles in 1997 with a modern Triumph. But all was not quite right.
"I realised that modern bikes do not require tinkering," says the qualified carpenter and self-schooled mechanic. "I needed something to take me away from the week's work. I call it shed therapy."
So he bought a Honda CB750 as a "tinker project".
"I restored it and sold it and number two came from a paddock in Ormiston. After restoring this one my best mate (A Z900 man) in Sydney swapped me for one of his, a Kawasaki Z1B900. I pulled it apart and placed my Gordon mark on it.
"As I was accumulating Honda parts from swap meets and a few Honda 4 Club friends, I decided to keep building Honda 4s to use up my parts."
Gordon builds the bikes himself, getting all the bolts and chassis parts re-silver zinc plated and having the frame and tanks powder-coated by professionals.
He suggests that if you want to get into restoring old bikes you should go for something that everyone loved back in the day; a bike that is appreciating in value now; a complete bike with no parts missing; and something you love!
He says the internet and eBay have been a great help in sourcing parts for restoration and getting advice on the rebuild.
Gordon sells the bikes when he is finished and they fetch in the mid to high teens, but that really just covers the cost, not his thousands of hours of time.
To Gordon it's a labour of passion and commitment to a "mission". He says once he sets out to do something it becomes a mission he must complete.
"Goldie" is his third CB750/4 K1 that has a very special place in his fleet. The decision to build it was based on a picture of Gordon with his original gold CB750 that his wife, Linda, used on the invitation to his 50th birthday party.
"A picture of me back in the seventies on my faithful well-used cb750 k1 gold bike. This was the seed to build it," he says. It took him just over two years to restore.
"I tried to make this bike as close to original Honda specification as possible," Gordon says. "This bike has become the 'bloke magnet' as whenever I take it out, everyone seems to have a Honda story."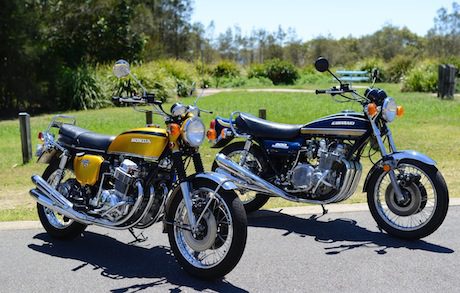 Gordon says it is a good reliable bike that he could ride to Sydney if he had to.
He has since built two more Honda CB750s which he has sold and is up to Honda number six, another K1, which he will eventually sell. A couple of FJ Yamahas have also slipped into the shed which he plans to sell.
"I have no interest in showing bikes, but in bringing something back to life. That's my joy," he says.
"I like to keep myself occupied in my shed as my wife had to give up riding with me in 2007 due to a spinal operation. It's a bit of a man cave; old carpet, TV, iPod and lots of good oil smells. The grandkids also like to visit. They could be the next generation of bike builders."
Gordon can be contacted on email.