Honda, BMW and Suzuki have recalled several motorcycles and scooters over issues including shaft lock-up, brake failure, engine stalling and electrical failure.
In al instances, owners should contact an authorised dealer to arrange to have their bike inspected and repaired for free, if necessary.
The Honda VFR1200F and VFR1200X have been recalled to fix an "incorrect assembly procedure at the factory" where the driveshaft bearings can overheat, deteriorate and fail.
"If left unrepaired, the bearing surfaces may 'break up' and may cause the shaft to lock up whilst riding." the safety notice says.
BMW Australia has recalled the C 600 Sport and C 650 GT scooters over a front brake hose issue. "Due to the incorrect positioning of the abrasion protector, the flexibility of the front brake hose may be impaired. This can result in the brake hose suffering damage and may lead to a loss of brake fluid. The stopping power of the front brake could diminish, dependent on the amount of brake fluid lost," the notice says.
Owners can call the BMW Group Australia Customer Interaction Centre for free on 1800 813 299 to check if their scooter is affected.
Suzuki Australia has recalled several models over an engine failure.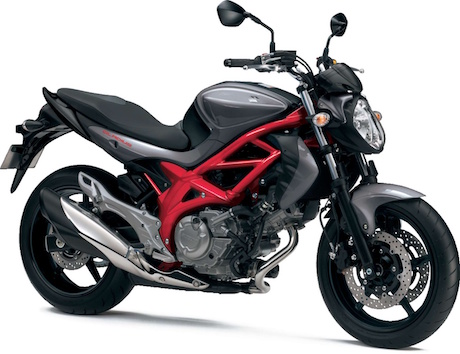 They are the SFV650, DL650, GSR750, GSX650, GSF650, GSX1250, GSF1250 and AN650 motorcycles with various VIN numbers. You will have to check with your dealer to find out if your bike is affected.
The defect notice says the tappet hardening surface may wear due to contamination causing tappet and camshaft wear.
"In the worst case scenario this may cause the engine to stop running."
This follows recent recall of the SFV650 Gladius over a tank breather hose issue.
Suzuki Australia has also recalled the DL1000 V-Strom over improper routing of the wiring loom which may cause "scuffing" and lead to some connectors becoming corroded.
"If the defect occurs this may lead to electrical failure and, in the worst case scenario, this may cause the engine to stop running, or the engine may not be able to switched off."
In the final recall notice, Suzuki Australia has alerted owners of the UK110 to a possibly defective headlight bulb filament.
If it fails, it could cause a short circuit, possibly causing the engine to stall.
Recall notices are issued by the manufacturer through a voluntary industry code under the ACCC.
Despite hundreds of recalls by various automotive manufacturers, none has ever been mandatory.  All have been issued by the manufacturer.
While any recall is not good news for the manufacturer, it shows that they are largely diligent in fixing problems.
If you believe there is an endemic problem with your bike that should be recalled, contact the ACCC on 1300 302 502.
To check whether your motorcycle has been recalled, click on these sites:
• Australia
• USA
• UK
• Canada