Harley riders on their way to Cairns for the 23rd annual national HOG Rally this weekend have been told they have nothing to fear from the police.
In a carefully orchestrated media opportunity, three of the top cops from Townsville police were on hand when several motorcycle media arrived in a convoy at the local Harley dealership, Sun City, this afternoon on their way to report on the rally.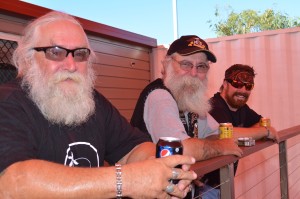 Acting Inspector Adam Muir, Senior Sergeant Ian Wilkie and Detective Inspector David Nixon were present, along with a highway patrol officer and his pursuit vehicle and an officer on a police motorcycle.
Ian admitted the VLAD laws caught them by surprise and there was some police confusion and public misconceptions shortly after. "The legislation came out quicker than we are used to," he says. "There were some concerns among riders that they would be targeted but as time goes on they now find they haven't been."
He and other senior police have been addressing social rider groups such as the local chapter of HOG to explain the laws and confirm that legitimate groups should not be concerned. He says they have only been targeting the Rebels, Odin's Warriors and Renegades who have been declared outlaw gangs by the legislation.
"In the early days, a group of HOG members made some panic calls to us," he says.
Members of the local HOG chapter I spoke to confirmed that they had not been targeted and had been told by the police that riders would not be harassed on their way to the HOG Rally.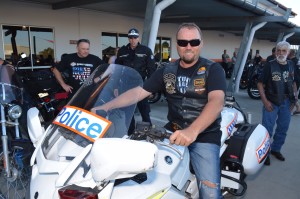 One member, "Shag", said they bad only been pulled over once by police since the VLAD laws were introduced. Another member, Ray Wilson, confirmed the police had rung them to say that no riders would be hassled going to or from the rally.
The media group has been riding Harleys from Rockhampton over the past couple of days and has not seen an overt presence of police vehicles on the highways. However, Acting Inspector Adam Muir said they would be patrolling to ensure that riders are "riding safely".
Sun City Harley-Davidson dealer Marc Storey took the opportunity to show the media around his two-year-old store. He has thoughtfully provided a free camping area and showers for riders passing through, not only for the rally, but any time of year. He has also provided a premises at the rear of the property for the HOG chapter.
"Customer service is very important. People like to do business with people," Marc says.