When the co-founder of New Zealand's oldest motorcycle tour company recommends a road as one of his favourites you know you are in for a crescendo to finish your Kiwi tour.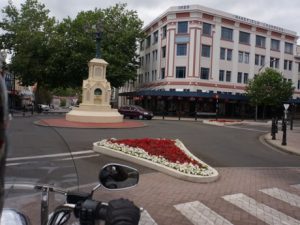 Day 14 of our Hobbit Odyssey motorcycle tour of the North and South islands on a Harley-Davidson Road King starts in beachside Wanganui.
They love their bikes here and have special parking bays in the main street and have been holding the Southern Hemisphere's Isle of Man each Boxing Day around the town cemetery.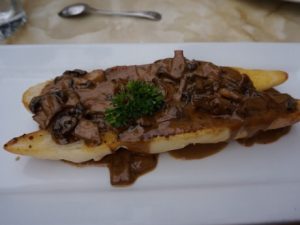 We do a quick tour of the city, grab brekky at elements (try the creamy balsamic mushrooms on a garlic demi-baguette), pay just $1.66 a litre for fuel – the cheapest yet – and head off on Highway 40 north.
Te Waipounamu Motorcycle Tours co-founder Peter Colwell has recommended the route for today which consists of Highway 40 followed by a volcano and lake detour.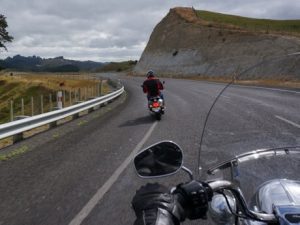 We know we are in for a treat as the road leaves the river and starts to climb into the lumpy hills and we start seeing motorcycles and even a Vespa out to play on a Sunday morning.
Like so many Kiwi roads, it's an absolute feast of every type of corner you could imagine and then some.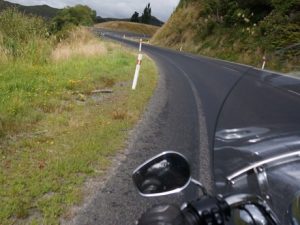 About 80km later we arrive in Raetihi and I'm physically and mentally exhausted. Just as well as the next 40km are fairly straight. It not only gives me time to recover, but also take in the views of snow-capped Mt Ruapehu, the biggest mountain in the North Island at 2797m.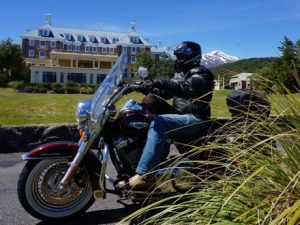 At National Park Village, we wheel right on Highway 47 toward Lake Taupo with Ruapehu following us. We make another right up to Whakapapa Village and the famed Chateau Tongariro, built in 1929 in the shadow of Ruapehu and still as grand as ever.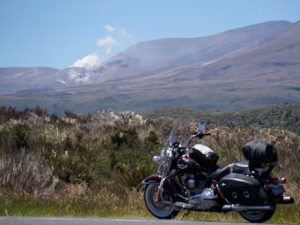 Back to 47 we continue on to the lake where the road twists and winds over the mountains with the active Mt Tongariru smoking. They've been doing a lot of roadworks in this area and there is a ton of gravel still on the road.
Despite a 50km/h speed limit, one Subaru goose charges through and hurtles a bit rock straight into my shin. Where there are no roadworks, the road is riotous fun as it rides the lumpy ridges of this beautiful area.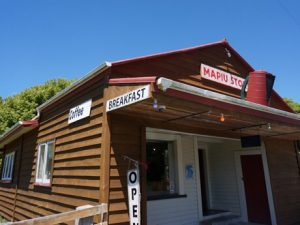 At Taumarunui, we rejoin Highway 40 and the fun continues with more bikes whizzing past in the opposite direction. We fly straight past a small and insignificant cafe at Mapiu and I get a tap on the shoulder from Mrs MBW, so we u-turn for lunch.
Just as well because Margot makes all the food herself and her lamb and mint pie is delicious as is the salmon salad. She's not busy today, but says it is usually very busy on the weekends and holidays and a couple of bikes roar past and blow the horn. It's obviously a fave for the bikers.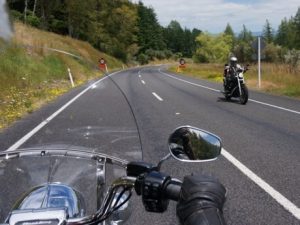 Still the fun continues, but eventually it peters out when Highway 40 turns into 3 and the traffic heading toward Hamilton slows us down.
We continue on through the back roads north but there is a lot of traffic, so we settle into the rhythm of this long ride.
Finally we turn toward the coast and our overnight stay at Raglan. We immediately know we are in for a suitable crescendo to our tour when we see the mountain ranges between us and the coast and the endless line of riders coming back.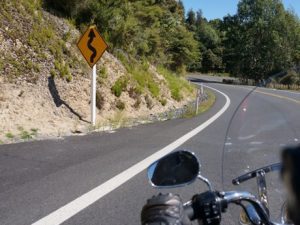 Then we start to climb and squirm over the hills on beautifully smooth asphalt with locals moving out of the way for the bikers.
Raglan is a lovely little seaside town overrun with Hamilton riders out for a day of fun. They are parked everywhere, including the median strip and the cops just don't seem to mind.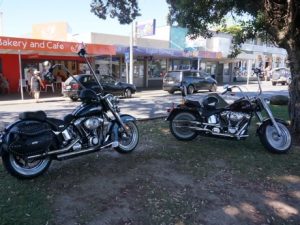 It's also our sad final destination after 450km today and more than 5000km over the past two weeks. We hope you've enjoyed our trip and are inspired to head over the Ditch and do it yourself.
Tomorrow we ride back to Auckland to return the hire bike to Auckland Harley.