If anything symbolises the majestic beauty of New Zealand, it's Mt Cook as viewed across the azure waters of Lake Pukaki.
The last time I'd seen this view was in winter with bleak skies, a black lake and a mysterious snowy peak veiled in heavy mist.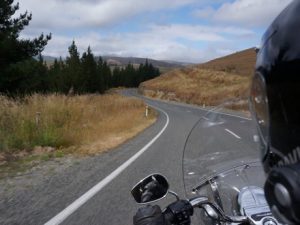 But on the 10th day of our epic Hobbit Odyssey circumnavigation of the country by Harley Road King, the weather played its part in creating idyllic postcard conditions for the iconic scene.
We start our day under thinning clouds and gusty winds as we wind down from Larnach Castle, high atop Otago Peninsula to wind along the shores of Dunedin's port for a fuel top-up before heading north.
"Where are you headed, miss?" the servo attendant asks Mrs MBW who answers "Geraldine."
"What did you do wrong," he retorts!
Hopefully he's joking.
Traffic is thin everywhere on the South Island, even in a big city like Dunedin and we are quickly climbing the hills out of town and up along the spectacular coastline.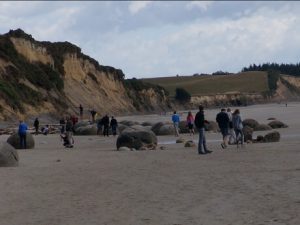 At Moeraki Boulders we grab a very strong and tasty coffee and a delicious bowl of chowder for morning tea before venturing down on the beach to check out the mysterious perfectly round boulders resembling massive canon balls.
From here, it's a short run up the coast highway to Oamaru, a large city with an historic sector of Victorian buildings, highlighted by the Steampunk Museum of Jules Verne-styled steam-operated contraptions and well worth the visit.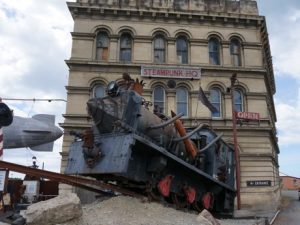 The coastal highway hasn't been very exciting, but the scenery is interesting enough as we turn inland for a massive detour through many lakes and power stations generating most of the island's power.
This route runs in the opposite direction to the popular Alps 2 Ocean Cycle Route and we see many cyclists on our ride.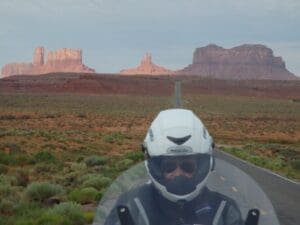 At Duntroon, we stop for lunch with a scrumptious yet eclectic salad mix that includes smoked chicken, strawberries, rockmelon, capsicum, tomatoes, grapes and greens.
The road runs alongside the Waitaki River to our right and cliffs to our left with Maori rock drawings that are worth a quick stop. These are perhaps the straightest roads we have done so far, so where Lake Aviemore begins, we take a detour off route 83 to the other side of the lake which is far more interesting.
Here we are stunned to see s
everal dead wallabies on the road! The Australian emblem has been introduced for hunting and now Canterbury farmers are trying to cull their numbers as they are ruining crops.
There are also many families camped here by the crystal clear waters and the speed limit is just 50km/h, but it's a far more interesting route.
We soon return to the main road that carves through barren valleys, giving us our first glimpse of the snow capped peaks that include Mt Cook. At Omarama, we turn right and head toward the mystical peak.
Now the lakes are almost an iridescent aqua blue and at the Mt Cook viewing carpark at the bottom of Lake Pukaki, the water almost looks like paint. It is simply surreal.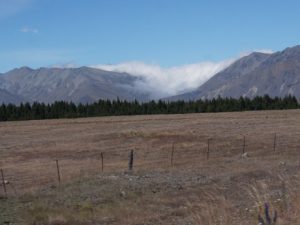 Despite snow-capped mountains and the aqua lakes, the surrounding countryside is a barren and almost desert-like wilderness.
At Lake Takepo, the five-star motels are crowding out the beautiful lakeside town where tourists mob the cute historic lakeside Church of the Good Shepherd. Today an Asian couple is tying the knot here with the most perfect background to ever grace a wedding album.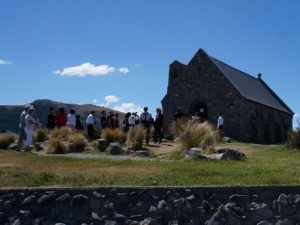 Heading now toward Burkes Pass the looming mountain range is shrouded in heavy mist and the min-blue sky suddenly disappears.
The temperature plummets, the winds blow hard and our spirits sink just a little. We really are sunshine junkies!
At Fairlie, we take the inland scenic route which presents the first absorbing ride of the day. This lumpy and paddock-patterned countryside is carved open by a road that runs over its contours like a ribbon furled over a patchwork bedspread. It's more than enough to shake off the grey sky blues and satisfy my thirst for engaging riding.
Geraldine turns out to be a quaint and artistic country town with plenty of attractions including an historic car and machinery museum, trendy restaurants and arts and crafts shops. A pleasant stop after more than 400km of spectacular scenery if somewhat unspectacular roads.