Hinkley Triumph Motorcycles
Hinkley Triumph Motorcycles have a rich and interesting history, despite being a fairly young company. The classic Triumph brand led the performance motorcycle market from the end of World War 2 until the late 1960s, when the Japanese absolutely conquered the market. Almost the entire British motorcycle industry collapsed before a relentless onslaught of Honda 450 Black Bombers and 750 Fours, and Kawasaki triples. By 1972, even the once mighty giant of the motorcycle industry, BSA went belly up. A merger with Norton was tried, but even that couldn't save them. With BSA out of the picture, and since BSA owned Triumph, that left Norton owning Triumph. In late 1973, Norton announced that they'd be closing Triumph's legendary Meriden factory to move all Triumph production over to their own factories, to cut production costs. It made business sense, but it also cost jobs. The Triumph workers revolted, and barricaded themselves in the Meriden plant, not allowing any motorcycles to leave for months. They'd just started the 1974 model year run, so very few 1974 Bonnevilles or TR7s were built. It was well into the 1975 model-year that the strike was settled by Norton agreeing to allow the Triumph workers to buy-out the business, turning it into the worker-owned 'Meriden Co-Op'. They were hopelessly undercapitalized from the start, and struggled against a tsunami of technologically-superior Japanese bikes, not to mention an anti-business socialist government that refused to help. The Meriden Co-Op struggled along, producing fewer and fewer Bonnevilles until they finally called it quits in 1983. John Bloor, British developer-billionaire, swooped in and bought the whole show out of receivership. He had plans to reopen as a thoroughly modern high-end motorcycle brand, but that was still several years off. Enter Les Harris, a successful American entrepreneur in the motorcycle parts business, and huge Triumph fan. Bloor sold the licensing rights to Harris to the classic Bonneville, who then hand-built Les Harris Bonnevilles in the US from 1984 through 1989. By 1990, the gleaming new state-of-the-art factory in Hinkley, England was done, a new line of modern sport bikes were designed, and Bloor was ready to launch the new brand, Triumph Motorcycles, Ltd. They wisely designed their engines around two component-sets, one a 250cc and the other 300cc. This allowed them to launch in 1990 with a wide range of engines including 750 and 900 Triples, and 1000 and 1200 Fours. It wasn't until 2000 that they got back into the Bonneville business with the retro-styled Triumph 800 Bonneville. It's grown over the years, in both displacement (now 1200cc) and power (now as high as 96 horsepower).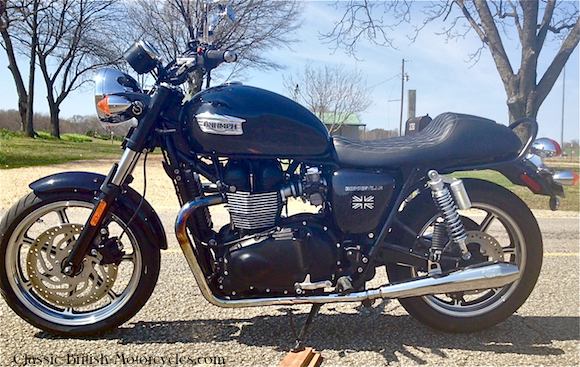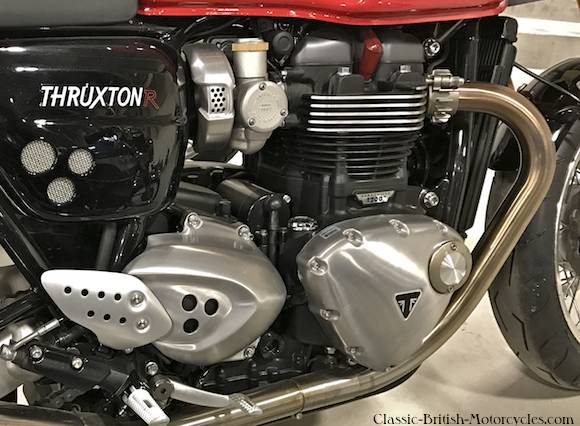 ---
Hinkley Triumphs YEAR-BY-YEAR
---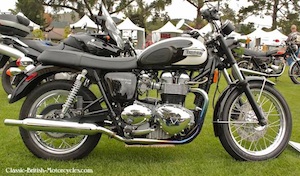 ---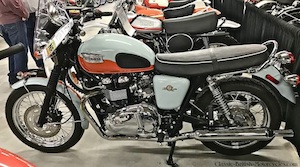 2009 BONNEVILLE 50th ANNIVERSARY
The Bonneville debuted in 1959 with orange & creme paint. 50 years later this special edition commemorates the Bonnie's 50th Anniversary with the same paint scheme.
---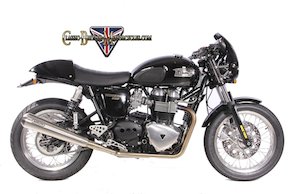 Classic styling, modern mechanicals & electronics, razor-sharp handling, classic Triumph looks, and a little Cafe Racer attitude thrown in for good measure.
---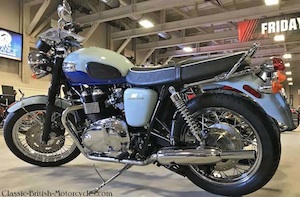 2010 BONNEVILLE
This is a 50th Anniversary model of the 1960 Bonneville, which carried the same paint scheme.
---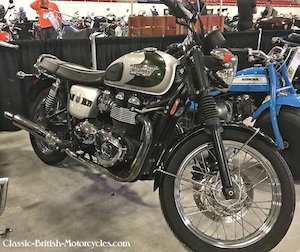 2012 BONNEVILLE
Special commemorative edition celebrating Triumph's 110th Anniversary.
---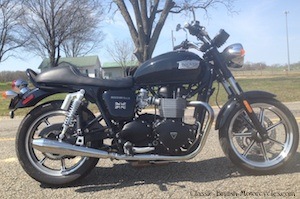 2014 BONNEVILLE Triumph's classic Bonneville, and black-and-chrome.
---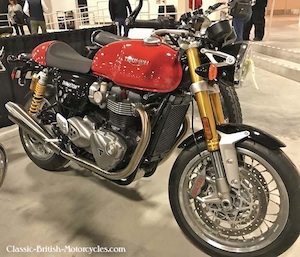 2016 THRUXTON
Triumph's hottest Bonneville twin has now grown to 1200cc & 96hp.
---
Check out these TRIUMPH MOTORCYCLE BOOKS
---
---

Triumph Motorcycles: The art of the motorcycle
---

The Complete Book of Classic and Modern Triumph Motorcycles 1937-Today (Complete Book Series)
---

Triumph Motorcycles: From Speed-Twin to Bonneville
---

Triumph Bonneville and TR6 Motorcycle Restoration Guide: 1956-83
---

British Motorcycles Triumph (Little Books)
---

Triumph Motorcycles in America
---

McQueen's Motorcycles: Racing and Riding with the King of Cool
---

Triumph Motorcycle Restoration
---

Illustrated Triumph Motorcycles Buyer's Guide: From 1945 Through the Latest Models (Illustrated Buyer's Guide)
---

Tales of Triumph Motorcycles and the Meriden Factory
---

Hinckley Triumphs: The First Generation (Crowood Motoclassic)
---
For more like these, visit our
---
---