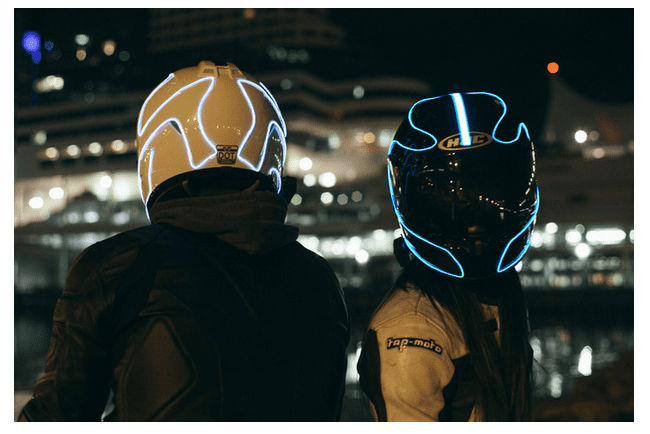 Originally, I had written a very extensive article about helmet lights with LED strip lighting. The entire story included more than just LED lighting. I wanted a chance to cover the entire world of flexible lighting. Since the LED lighting showed that there was way more than enough awesomeness to put into one article, I never had a chance to talk about another affordable way to pimp out virtually any motorcycle helmet (or anything really) you want to by using the EL wire. More to come on that later…
What exactly is the EL wire?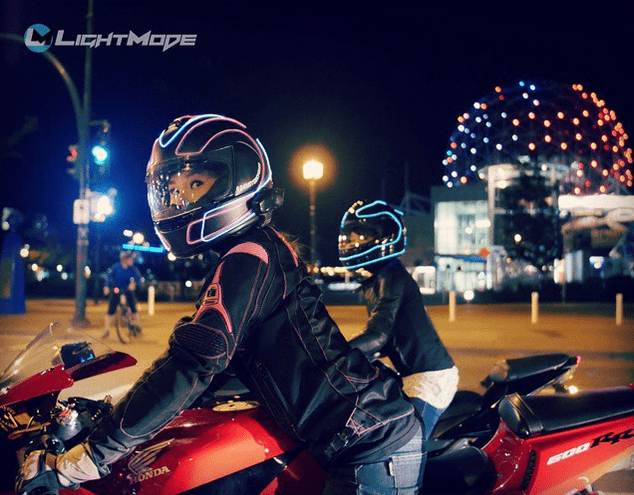 EL wire also known as Electroluminescent wire. It is probably one of the simplest solutions for adding light within a project. EL wire is a very thin copper texture that is flexible and gives off a very bright glow along the whole length of the article. When looking at it, it is not unlike a chemical glow stick.
It is also waterproof, very cool, can be sliced to any size or length that you may want, and as long as each one of the joints are properly isolated, it will not wind up shocking your body through the electricity that goes through it. Each one of those (along with its more than passing resemblance to the piping on one of the Tron outfits) make it a very popular choice for light up costumes, clothing, and many other accessories. Since it is very energy efficient, EL wire is also used for lighting indoors, and in different types of vehicles.
EL wire does require an alternating current source, which means that you will need to connect to a transformer. Usually a small battery powered box that can be tucked away somewhere on your project, or inside your costume, making it harder to be noticed. Greater lengths of EL wire will require you to use more power.
How does EL wire work?
EL wire is layered with a phosphor that is also wrapped with a very thin wire that is made up with a copper wire.
The wire is protected by a layer of PVC sheathing, and another PVC sheathe is used to color the light that the wire produces.
Once an alternating current is applied to The core and also The wrapping wire, it then excites the thin layer of phosphor that separates The two, which in result causes it to glow brightly.
What can I make?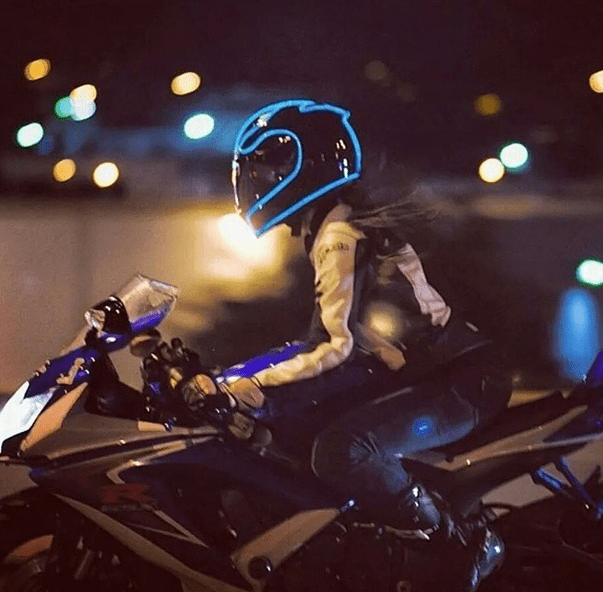 EL wire is almost a miracle when you look at it because it is so simple, that you can pretty much slap it on anything. Yes, that means you can sew it into your clothes, and go full Tron Guy. There are mane more subdues uses for it as well.
For instance, you can line a bag with EL wire, wrap The handlebars or top tube of a bicycle. You simply tuck the wire into the corners of a small box or container, a drawer, a display case, or even The engine compartment of your car. Personal experiences have taught me that you can also make cat wear using EL wire sort of like a collar, but my cat does not like it.
If you want to get just a bit more technical, you can hook multiple strands of EL wire up to a sequencer, which is a micro controller that turns All The strand on and off according to a program.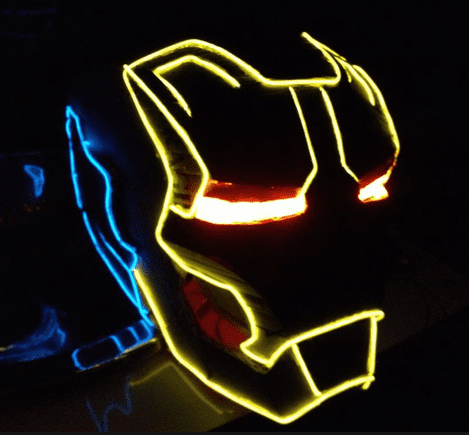 If you enjoy the smooth look of EL wire, but you find that it is too wiry, be aware that you can also buy EL tape or EL panel. Both of these work The same way as the EL wire, and provide The same continuous, even The illumination. The only difference is that EL tape does come in thick flat band, and the EL panel is sold in 10cm x 10cm squares. Like EL wire, they both can be cut down to a certain shape or size, for what you are working on.
How do I Get started?
EL wire is also sold in a large amount at commodity prices, so if you search around you will find EL wire available at hundreds of stores worldwide. You can also find EL wire in tons of colors and with many different effects to choose from. Personally for helmet lights and if you are just starting out with EL wire, I would recommend that you start with a starter kit. You may wind up paying an extra dollar or two, but you will get a little peace of mind, knowing that you have the right transformer, and you will also know that you are dealing with a company that you can trust.
Has anyone experimented with EL wire before? I would love to hear about any project's that you may have created.
El wire vs LED tape?
Supporting Kickstarter Projects
The images above are from a Kickstarter Project called Lightmode Helmets. Being  a supporter of crowdfunding – where the customers and market gets to choose who gets funded- I wanted to show my support here and recommend that you check out the crowdfunding project. It's great to watch the direction of modern innovation 🙂
Here is the promo vid:
Light up the night.
Here are 50+ insane helmet light designs you can use for inspiration.