Debate over a "ludicrous" ban on helmet cameras in the South Australian Parliament last week was adjourned along party lines.
Shadow Minister for Police, Emergency and Correctional Services, Stephan Knoll introduced his Private Members Bill in Parliament on Thursday, June 22, 2017.
(Scroll to the end of this article to read the full text of his speed.)
However, debate was adjourned as the Labor Party is seeking a national road rule agreement to amend the ban.
Road Safety Minister Peter Malinauskas says they want a national approach, rather than a "hotch-potch" of state rules.
Riders have been fined in South Australia, NSW and Victorian for using helmet cameras while there is no ban in Western Australia or Queensland where a previous Police Minister actually encouraged their use and last year the ACT ratified the legality of helmet cameras and Bluetooth units.
Malinauskas says the states are now working to agree on a national rule "so riders know exactly where they stand".
"While we welcome the Opposition's support for our effort, we think it's got to be done in a way that doesn't compromise the safety of motorcyclists," he says.
He confirmed that NSW has been nominated as the lead legislator to trial new legislation before introducing it nationwide.
Meanwhile, Malinauskas suggested riders attach cameras "in a way that is compliant with the manufacturers' recommendations".
He says incorrect attachments could lead to neck and brain injury in a crash.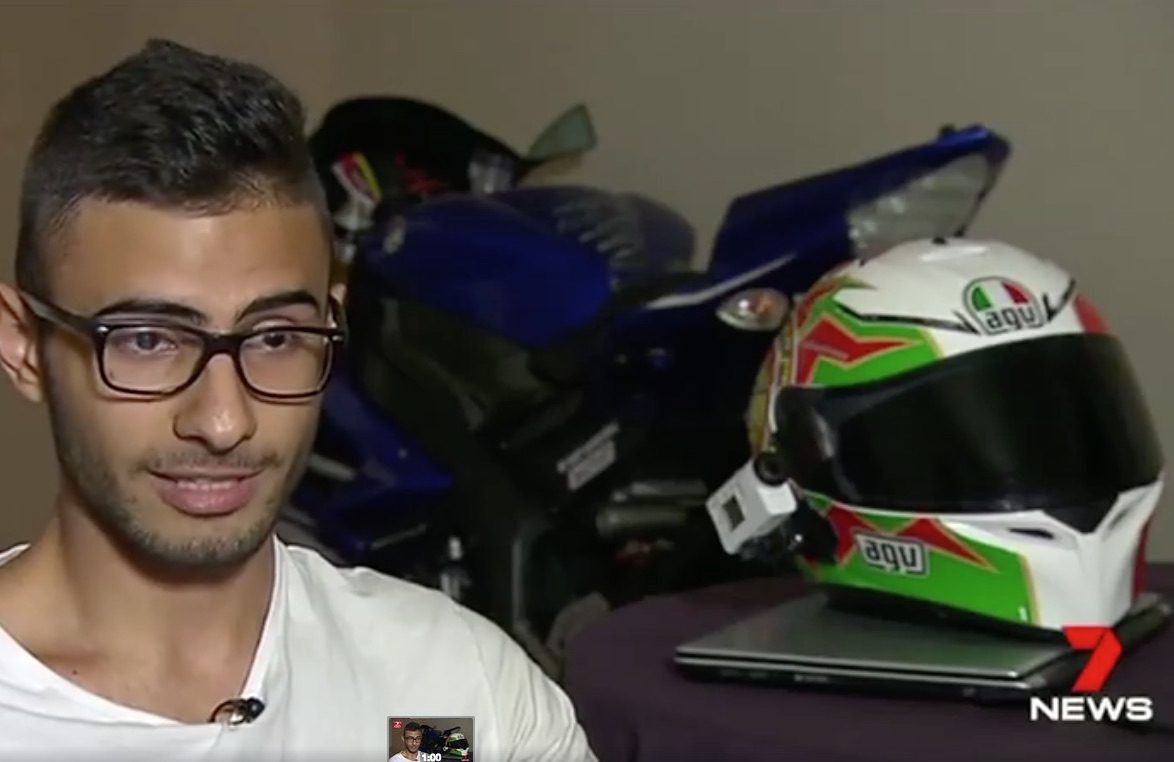 The SA Bill follows an incident in February 2017 when Adelaide rider Eric Aria was warned about wearing a motorcycle helmet camera.
Eric went to the Sturt Police Station to submit video of drivers cutting him off in traffic but was instead given an official warning for an "illegal helmet camera".
Eric welcomes the moves to legalise helmet cameras nationwide.
"It would be great for riders safety for insurance and also reporting to the police," he says.
The issue of the legality of helmet cameras stems from police interpretations of the Australian Design Rule AS1698 on helmets that says nothing can be attached to a motorcycle helmet and that a helmet shell cannot be modified such as by drilling holes.
However, now that helmets do not need to have Australian specification and Euro-approved helmets are allowed, it has heightened confusion among riders.
The UNECE 22.05 rule now includes a clause which effectively places the onus on a manufacturer to ensure that any attachment fitted internally or externally to a helmet is safe, this effectively moves the responsibility to the point of sale.
Riders would welcome a national rule change so they can ride across state boundaries without risking a fine.
Private Members Bill speech: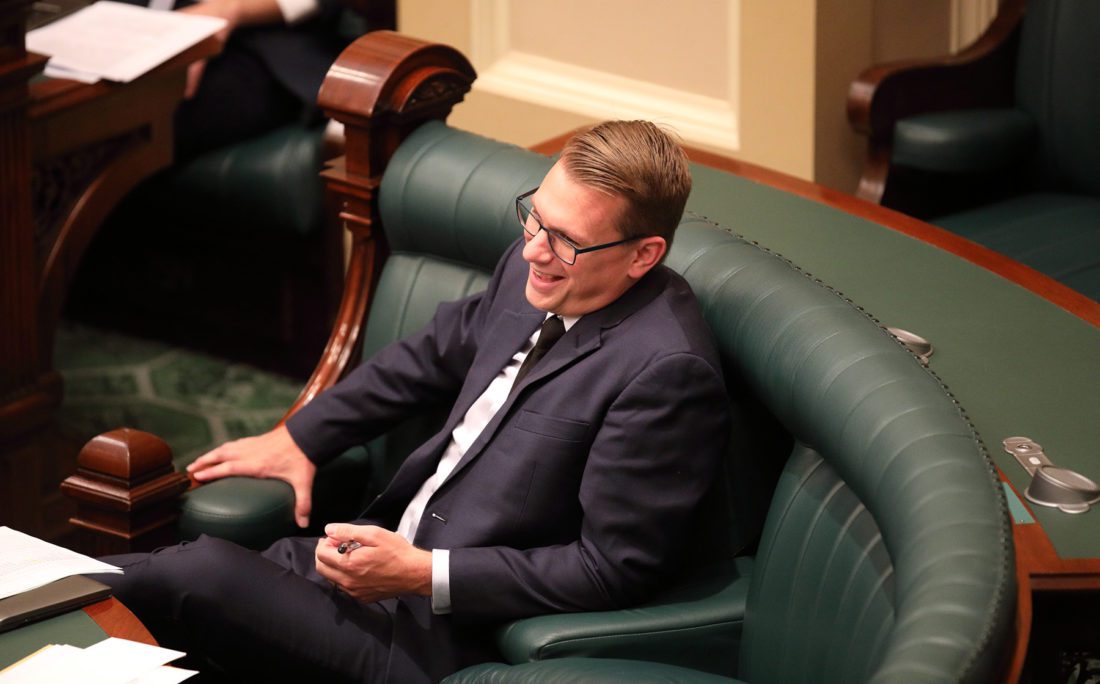 First off, there is a road safety benefit attached. It encourages compliance by all road users. It encourages compliance by those who are wearing the cameras and it encourages compliance by everyone they come into contact with. It is a measure that essentially takes advantage of the new technology that has come about in the last few years and allows that to complement the existing road safety rules so that we can move ever closer to having a safer road for everyone. The reason this is important, especially for cyclists, motorcyclists and scooter riders, is that they are at greater risk than other road users. We have seen sickening footage of cyclists, and motorcyclists especially, having accidents and having a greater propensity to be involved in an accident because they are more difficult to see and are far less protected than other road users. This measure helps to give them comfort that there is evidence there for them in the event that something does happen.

That brings us to the second point: the wearing of these cameras and the keeping of this footage can be used as evidence in a situation where road rules have been broken. Again, that is important because it is a longstanding principle that the more people we can prosecute for doing the wrong thing the more we can encourage people to do the right thing. A greater conviction rate, or a greater understanding in the community that if you do something wrong then you will be caught, will help to encourage compliance with the Road Rules. That is extremely important. It can be important for insurance purposes, especially when, in the absence of an absconded third party, that evidence is there to help support an insurance claim—again, a very important measure. This amendment is simple. It does not pretend to be anything other than that, but I can tell you that the feedback since we announced that we were going to move this amendment has been quite strong. It may not be important to those of us who use cars or public transport, but it matters to those who are most vulnerable on our roads. It matters to cyclists and it matters to motorcyclists and scooter riders because they are the ones who see their friends getting involved in accidents. They are the ones who get on their bike and get on the road with a sense of fear and trepidation. If this measure goes any way to providing them with some comfort and some greater confidence, then I think that it is indeed a very good thing. By letting this grey area of law hang over the heads of otherwise law-abiding road users, this government is taking the easy path and continuing to subject these road users to the ambiguities of the law. Where I find it most frustrating is that we have heard comments by people, such as, 'This is not illegal.' I would like that to be told to Eric Aria, who received a police caution and was threatened with a fine over the use of wearing a camera. He does not think that it is legal. Certainly the police he went to visit did not think it was legal. Absent some sort of directive otherwise, this is the only way to ensure that the use of these cameras is legal. So, it is an extremely important measure in that regard. The minister was very quick to come out and say, 'We're not going to support this motion,' which I find quite frustrating because in the same breath he said it was a good idea, said it was very worthy, said he agrees with the concept but then says, 'We are not going to support your bill.' It is extremely frustrating. The minister went on to say that there's a national approach being led by New South Wales and that they are looking into this issue.

The first question I have is: how long does it take to look into this issue? It is not like this is something new. Mobile cameras like GoPros have been around for a number of years now, and our legislation needs to keep up with the realities of people on our roads. This is the second thing that I find frustrating with the minister's answer. He says, 'No, no, there's potential evidence from overseas that the wearing of these things may increase the severity of an accident when an accident happens.' If that is the case, why does the police minister allow his own police to use them? If they are unsafe and this needs to be looked at a nationally consistent approach, why are our police using them? Essentially, we have a situation where the minister thinks it is a good idea, the minister lets his own police use them, but he cannot bring himself to support our idea. To my mind that is rank partisanship. That is the worst excesses of partisanship in this place, and it is a position that is going to hurt the riders of South Australia simply because the government cannot bring itself to agree with an opposition idea. The other part is that this law has already been enacted along extremely similar circumstances in the ACT. Certainly that parliament did not see the need to wait; in fact, the Legislative Assembly decided in its wisdom that they were going to act to end this ambiguity.

The bill allows for a very clear interpretation and understanding of what is acceptable and what is unacceptable for cyclists, motorcyclists and scooter riders. The bill itself talks about 'frangible mountings', a term that I have become a little more familiar with. It says that 'the device is affixed to the helmet by means of a frangible mounting'. In layman's terms, it means it gets stuck onto the side. Proposed subsection (4)(b) of the amendment bill states, 'The frangible mounting is affixed to the helmet in a manner that does not penetrate or fracture the outermost shell of the helmet.' Essentially, that helps to make sure that there is no ambiguity around the fact that you cannot screw a camera in, you cannot nail a camera in, you cannot affix the camera in any way if you are going to ruin the structural integrity of the helmet. It is extremely clear. Having said that, every attachment that I have seen to date is as simple as double-sided tape in some fashion with some adhesive sticking to the helmet. What I am also given to understand is that the ones that are used and the ones that I have seen are actually designed to break off in the event of an accident. Again, it is extremely clear about what is legal and what is illegal, and consideration is given to the safety implications. But here is the point for me. There was some discussion around, 'How are we allowing riders to do this if it potentially makes them less safe?' I would contend that it does not. Even if it did, we are not forcing riders to use them. All we are doing is giving back a small centimetre of freedom to people to do what they want. The rider gets to choose what they feel is more safe or less safe for them. The rider gets to choose whether they want to wear these things. The interesting thing is that in this place we take away liberty metres at a time, but we only ever give it back in inches and centimetres. If this measure helps to give back the briefest of centimetres back in freedom to the road users of South Australia, then it is worthwhile. The amendment also allows other communication devices, if they attached to the camera in the same way, which could help facilitate training of motorcyclists and could help facilitate ensuring that when inexperienced road users get on the roads they are able to be in contact with more experienced road users, especially for motorcyclists and young and inexperienced motorcyclists traversing more difficult terrain, either at night or on windy roads. This is the part that I found extremely interesting: there is a tourism element to this. What could be better than having a cyclist or a motorcyclist riding around the beautiful landscapes of the Barossa Valley, GoPro stuck to their helmet, videoing the beautiful landscapes in my electorate and around country South Australia and then going home, posting those videos to social media and providing a birds-eye view of the beautiful landscapes in South Australia? It helps to give people and the family and friends of those who post those videos, a real understanding and a real look at the true beauty of our state. This is not a small tourist measure. Motorcycle tourism is worth an estimated $350 million to the Australian economy, and that excludes the sales around bikes, petrol and accessories— $350 million is the conservative estimate of what motorcycle tourism means to the Australian economy. Allowing these road users to show to their friends the fantastic and wonderful places that they have explored, and the beautiful landscapes that go along with that, can only enhance South Australia and our economy and is something that we really need to look at. It is an extremely important part of this amendment. For those in this house who would like to give back some small measure of freedom to road users in South Australia, to those who would like to give back some small measure of comfort to motorcyclists in South Australia, I would suggest that we support this piece of legislation. It does not purport to do anything other than it does, but for those tens of thousands of road users who would love the opportunity to have the ambiguity taken away, they would certainly appreciate it. They are vocal in the way that they express their views. Since we announced last Saturday that we were going to introduce this, the positive feedback I have received has been quite startling. On behalf of those people, I implore this parliament to give back to them something so simple yet something that they deeply desire.