Heavycycles LED Brake Light Review Summary
Heavycycles LED Brake Light Image Gallery
Several years ago, we reviewed a prototype LED replacement brake light, custom made for us by Heavycycles.
It was the first of its kind — an LED "system" light that completely replaced the original reflector and bulb.
It was an engineering marvel, because Heavycycles used the entire plastic tail light housing, purchased as a replacement part from a local BMW dealer, to install the LEDs, the circuit board and the electronics.
It worked great and it still does — we had it on my old1984 BMW R100RS "Last Edition" before it was sold, and it's been on the 1986 BMW R65 "S" ever since.  It still works great and lights up the night (and day) with LED goodness, sucking down only a tiny trickle of juice while providing maximum output.
But it's obvious that it would be inefficient at best to source a replacement tail light housing and stuff it full of LED lights and customized electronics for every bike.
Heavycycles has since developed a relatively easy-to-install LED system board that replaces the original reflector and bulb for several different motorcycle makes and models, with more on the way.  They sent us the Ducati Multistrada version shown here, and I snapped a few pics and took some video to illustrate the installation.
LED light technology has also made some advances in the interim, and the new Heavycycles LED light is the brightest brake light I've ever seen — surely it is way brighter than any single LED replacement bulb could ever hope to be.
Part of the reason is something we've discussed in our other motorcycle LED replacement light reports (see the right-hand column for links); LED light is very directional when compared to an incandescent bulb, and the tail light reflectors used on motorcycles with incandescent bulbs are optimized for those bulbs and not for LED lights.
About the only way we've been able to equal or better an original incandescent bulb with an LED replacement was with the Radiantz LED 1.5″ lights on our old 1998 Triumph Thunderbird Sport (see article).  Those lights are big and powerful, but the T-Bird also had a dual bulb system, so the two big LED lights paired together were able to overcome the reflector issue.
The Heavycycles LED replacement packs the LED lights on a circuit board that's maximized to fill as much of the tail light assembly as possible.
The board shown here uses 64 bright LEDs and when it's stuffed into the rather small Multistrada tail light assembly, it definitely fills every available square millimeter with light.  There's probably no way that any more LEDs could be stuffed in there if you tried.
By the way, the LED boards are also available with built-in turn indicators for those who want to clean up the rear end of the bike by removing the stock turn signals.
The board comes with clear instructions and I suggest you follow them precisely.  Heavycycles uses 3 tabs at the top of the board; the brown ground to the turn signals, the yellow for the brake light and the black for the running (tail) light.
The instructions illustrate how to bend the female terminals over 90 degrees, but make sure you bend them the right way.  The LED-packed barely fits in the housing, so you'll have to bend the terminals over for everything to fit.  Be careful, take your time and have patience when working on any part of the tail light housing because it isn't the most robust piece on the bike.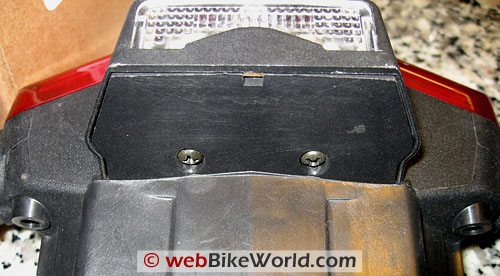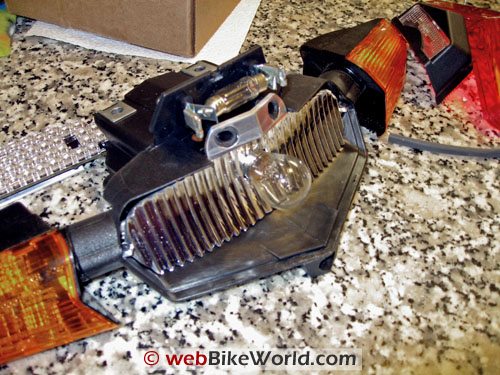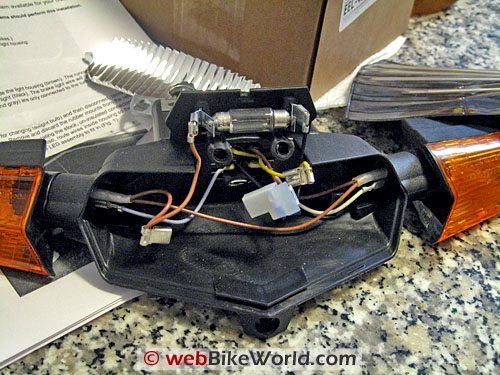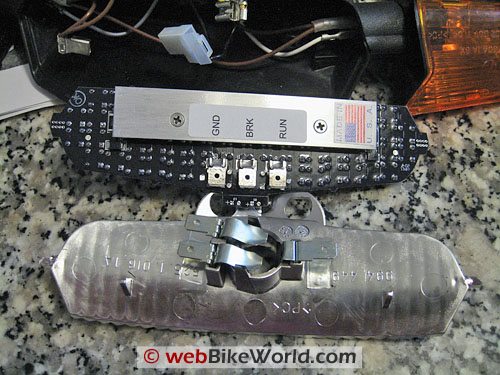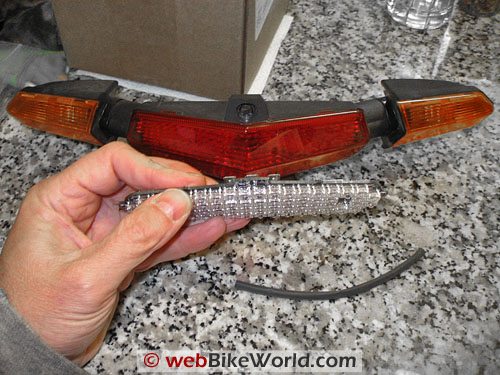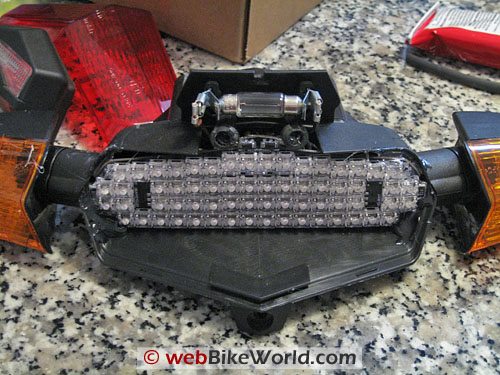 wBW Video: Stock 1157 brake light vs. Heavycycles LED replacement.
I did have to splice in a short brown wire to the left turn signal; I think Ducati ran out of wire on mine and it was about 12 mm or so too short.  But it's my understanding that this is unusual and most owners should not have to splice any wires inside the tail light assembly.
A length of heat shrink tubing is provided with the light and I suggest using it on all the terminals, because once everything is packed in there it's pretty tight.  Also, once you get it all together, it should never have to come apart again, what with the very long life span of LED lights, so you may as well do it right.
It took some fettling to get the board to fit correctly because it's made to fit as many lights as possible.  Heavycycles suggests using either "Goop" or or low volatility RTV silicone to seal up the board at the 4 corners.  I used Goop but if I had to do it over, I'd go with the silicone.  Goop leaves too many "spider web" strings around and it made more of a mess than I'd like.
Make sure that no Goop or silicone gets on the outer edges of the housing so that the red lens will still fit correctly when everything dries.
It took me about 40 minutes or so to remove the light assembly (easy on the Multistrada and I covered this in the Multi blog), slowly step through the instructions and do the deed.  I let the Goop dry for a few hours (the instructions say 24 hours) and put it back together and everything works perfectly.
Conclusion
The Heavycycles LED replacement brake light is BRIGHT, no doubt about it.  The center section of LED lights are illuminated with the running light, but when the brakes are applied, the rest of the LEDs come on and the entire board goes into light overdrive.
Heavycycles says "you'll need welding goggles so you don't hurt your eyes", and while that is, of course, somewhat of an overstatement, the light is definitely bright.
Yes, it's much more expensive than an LED replacement bulb, which can cost up to $25.00 or so, but you'll simply never get as much light out of one bulb, at least with current technology.  We're pretty much convinced that this is the brightest LED replacement tail light and brake light system currently available.
Of course, there's no guarantee it will stop a drunk from plowing into you at a stoplight, and you'll never know if it caused someone to stop when they may not have done so with another type of light, but it's nice knowing that you did everything possible to warn the dullards behind you that you're coming to a stop.
UPDATE:  Some specifications provided by Heavycycles that I forgot to add in the original post:
Constant current regulation circuitry – LEDs stay the same controlled brightness from 10v to 25v

Advanced electrical protection circuitry – Forward and reverse transient and over-voltage protection (think super surge protection)

Isolated run and brake light circuits – If you lose your running light power, you would still have a brake light, and vice versa (There are actually three independent brake light circuits on the all red taillight kit… highly fault tolerant!)

Simple, plug-and-play installation – Designed to fit neatly into original light assembly

Complete with OEM-type terminals – NO splicing of wires required

Comes with detailed installation instructions – A fairly well trained monkey with a screwdriver could install it

Fully coated and ruggedized circuit board – For extreme weather and vibration protection

Completely lead-free construction – Green!

Has a 5-Year warranty – Covers the whole circuit board assembly
Note:
  For informational use only.  All material and photographs are Copyright © webWorld International, LLC – 2000-2011.  All rights reserved.  See the webBikeWorld® 
Site Info page
.  NOTE:  Product specifications, features and details may change or differ from our descriptions.  Always check before purchasing.  Read the 
Terms and Conditions
!
Owner Comments and Feedback
Comments are ordered from most recent to oldest.
Not all comments will be published (
details
).  Comments may be edited for clarity prior to publication.
---
From "A.W." (4/10):  "I have a 2007 VRSCAW (Harley VROD) and have had one of Joe's (Heavycycles) tail lights for little more than a year.  I upgraded the stock light to the HD LED light as I was scared away by the Heavycycles' price tag.
Then I saw one in person at night nonetheless.  To say it was bright is a grave understatement.  We were with a group of of riders and several on VRODs, when side by side at night, the Heavycycles tail light made the other tail lights (many were LED) appear to be off.
Joe has perfected his system and it is awesome on my VROD.  He even went so far as to make the running light in the shape of the letter 'V', and then the entire thing lights up when you apply the brakes.
I recently had Joe upgrade my tail light to the "Vegas V", which makes the V flash when brakes are applied while the remainder of the LEDs stay full blast (here's the YouTube video).  I would tell others to just purchase this from heavycycles.com instead of wasting time and money, as I did, with several of the other alternatives in LED."
Other WebBikeWorld Motorcycle Lighting Reviews
wBW Motorcycle Lighting Reviews  Info