An "Iron Man" motorcycle helmet with information displays on the visor is no longer the stuff of Hollywood sci-fi movies.
British motorcycle helmet company Reevu – the first with a rearvision mirror – is the first company to release a commercially available helmet with head-up display (HUD).
Reevu Australasia general manager Cary Murphy says the helmet will be available here when the arduous ADR compliance is completed. He says it won't be this year, so hopefully early next year.
"It won't be expensive," he says. "It will be under $1000."
Head-up display has been around for some time in military jet fighters and BMW has had a system in their luxury models for some time and I notice even the new Holden Commodore has this technology. It screens vital information such as navigation directions and speed on the windscreen.
The Russians have also been working on a head-up display linked to a satnav for motorcycle helmets, but have so far only produced test models.
Meanwhile, Reevu will be the first to market with a workable helmet and they have secured all relevant internationally registered patents.
Reevu calls their head-up display "I" EYE Integrated Intelligent Helmet Invention. It's a cumbersome phrase, but what it means is safer riding for bikers.
It will forever change our ride. Not only will it be safer for recreational bike riders, but occupational health and safety officers are no doubt going to buy them for posties, police, military, couriers and others who ride for a living.
It may also mean the end of the pit board as racers will be able to access vital information right on the visors, without ever having to look anywhere but where they are going.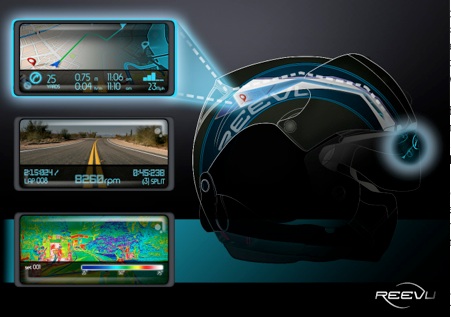 I've used the technology in BMW cars and it's not annoying or distracting. It means you don't have to look away from the road in front to see vital information such as navigation turns and speed.
The images are focused so that they look like they are on the road in front of you.
Current Reevu helmets are on the heavy side, but their coming flip-up helmet with rearvision is lighter which is surprising as flip-ups are usually heavier. It will be here in late September. They also have a lightweight rearvision adventure helmet with a peak coming early next year.
Cary says the HUD helmet will be even lighter despite the additional electronics and optical devices inside.
Cary isn't saying what is inside the helmet, but I suspect it will have a satnav, bluetooth, speakers and battery and all you'll have to do is pair your phone.
The HUD helmet will come in all styles – full-face, flip-up and adventure.
Reevu engineering team leader Markus S. says the compact Multiple Reflective Optical Systems MROPS is the invention that allows a functioning helmet to deliver information "without eye strain or unnecessary distraction to the wearer".
"Being able to integrate mobile communication systems in the form of a head-up display overcomes a number of issues in relation to the environment that a helmet inhabits," he says.
"Noise is an issue that visual electronic data overcomes and we have Invented, not only a functioning product but a product that has passed most of the world's international standards.
"The invention can be used by a number of helmet wearers, an example in diagnostic engine data or GPS capability, while the current product is for the motorsports sector.
"Further products are on the drawing board using the invention."
We're not sure what that means, but we'd love a helmet with noise-cancelling ability like those headphones you get to wear on airplanes.
Reevu marketing sales director Graham Steele says the invention takes their business into a $500 billion mobile communications market.
They are also negotiating with several companies to spin out the innovation into other business sectors.
"If you need HUD communications systems in an article of headgear we have the commercially viable answer," he says.