The world's only commercial available head up display (HUD) unit for motorcycle helmets is about to launch its second "slimline" generation and it's coming to Australia.
The UK-made Bikesystems BikeHUD ADVENTURE Gen2 arrives in March 2016 as a sleeker unit with improved technology that retrofits to any motorcycle helmet and marketing manager Michelle Coupe says they are looking for Australian and New Zealand distributors.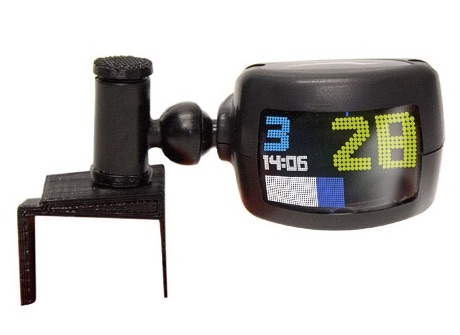 HUD systems in cars and now in motorcycle helmets are believed to be safer because they display vital information on a transparent screen in front of the rider/driver so they don't have to look away from the road.
One new application for a HUD system would be to monitor your speed at 30km/h while lane filtering without having to take your eyes off the traffic to look at your speedo.
The BikeHUD system combines critical data from the motorcycle together with smart phone information on to the transparent screen located just inside the visor of the helmet.
The unit can be positioned just to the left or to the right of your main view.
It is focussed so the rider doesn't have to refocus their eyes or look away from the road in front.
The system has its own forward and rear-facing cameras to eliminate blind spots and can interface with any existing Bluetooth sound system.
A clever function is the phone answering system. If the phone rings while you are riding, you will see who's calling and if you want to answer, just nod your head. If you don't want to be disturbed while you're out having fun on your bike, just shake your head to reject the call.
Apps from a smart phone for GPS information, advanced warning of hazards, safety cameras, weather and traffic etc. can also relay information to the rider via the display. You can tailor exactly what information you want displayed.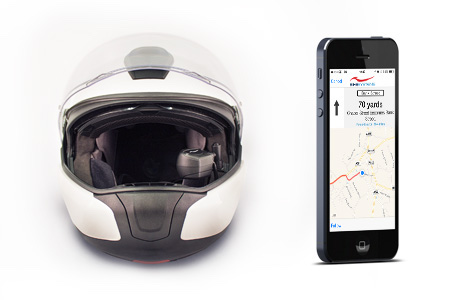 Other features of Gen2 include:
Display resolution is HD over the original 96×64 pixel.

Overall the unit is smaller by around 1/8

th

by volume.

The system is now wireless. Target battery life is 6 – 8 hours. There is also a battery booster that will allow for the unit to be run on a backup or alternatively re-charged while you are taking a break. For those heross who ride continuously for more than 24 hours without a break,

 you can run the unit under continuous charge from the bike. All bases are covered.

System now runs from your smart phone which gives multiple options for its implementation depending on what information you want to be displayed and how much installation you are prepared to do.

New accessory range including front and rear camera add-ons. Access/cancelling to rear camera viewing on BIKEHUD is via nodding/shaking of your head. Additional lifesaver sensors make you aware of numpties travelling just outside of your peripheral vision.
Several helmet manufacturers are poised to hit the market with fully integrated HUD helmets, but the BkeHUD retrofits to any current helmet. That allows the rider to choose the helmet that suits their riding purposes; road or off-road, open or full face.
Even racers have been adding them to their race helmets so they can keep an eye on vital bike telemetry and even their opposition who might be about to overtake them into a corner.
British Superstock racer Anthony Park says he is constantly looking through the bend when racing.
"I can clearly see my speed, what revs, without having to look back at the instruments. All this whilst still in the corner," he says.
We asked a compliance expert whether there would be any issues with fitting the unit to a helmet in Australia.
While he could not rule out police harassing riders, the unit should pass scrutiny as HUD is not mentioned in the current Australian Standard and the unit doesn't protrude from the helmet.
There is no price yet for the Gen2, but the Gen1 cost $489. Bikesystems is moving from an online store to retail outlets. Stay tuned for more developments.