Australia will get the Harley-Davidson entry level Street 500 motorcycle from India.
Harley-Davidson Australia marketing director Adam Wright has confirmed that the learner-approved bike will arrive here in February 1 and they will come from Harley's Indian plant "at this stage".
"That's what is on the current production schedule, but that could change," he says.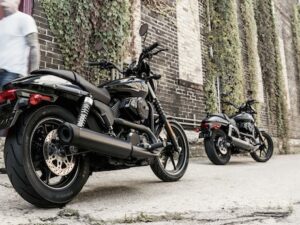 "The Street 750 has been selling like hotcakes in India and they have yet to start selling the Street 500. However, huge demand in India could force us to get the Street 500 from Kansas."
Adam also says the price will be between $10,000 and $12,000 rideaway, with final confirmation at the Melbourne Moto Expo in November.
He also confirms there will be no shortage of Street 500 supply and he hints about attractive finance deals to attract new customers to the brand.
In a car analogy, it sounds like the BMW 1 Series which started as a bit of a joke, but was designed to introduce new customers to the brand, hoping to retain them as they traded up to a 3 Series, 5 Series, etc.