An Australian-prepped Harley-Davidson Road Glide nicknamed Pepper has set an Australian land speed record and may also have claimed the title of the world's fastest bagger under 2000cc.
Harley-Davidson Australia & New Zealand PR manager David Turney says the achievement was "a fantastic achievement for all the guys, especially considering this is Pepper's first official event and on a very unfamiliar surface".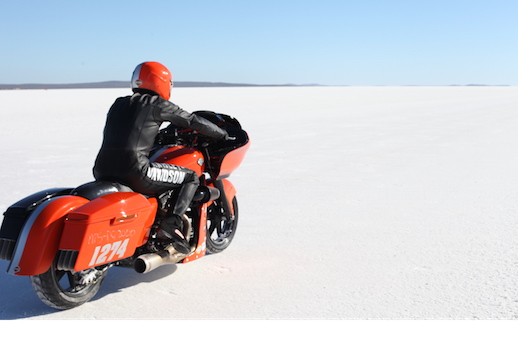 The 2015 Harley-Davidson FLTRXS Road Glide Special clocked 165.131mph (265.753km/h) at the 25th annual Dry Lakes Racers Australia (DLRA) Speed Week on the salt flats of Lake Gairdner in South Australia in March.
David says it took a while for the speed to be confirmed by officials, but he believes the bike can now also lay claim to being the fastest naturally aspirated bagger under 2000cc, even though that is not an official class. The record for the world's fastest bagger is held by Chris Rivas in the 3000cc APS-PG class, meaning the engine must measure between 2001cc and 3000cc and can feature an aftermarket chassis.
Pepper is far from that with standard windscreen and even panniers!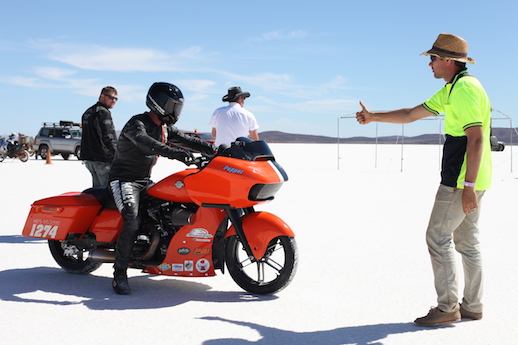 Pepper's first official race was in the 2000cc Modified Partial Streamlined – Push Rod Gas (MPS-PG) class.
It was piloted by modified bike drag racer Corey Buttigieg who claimed a piece of history as Australia's first and fastest bagger in the class.
Pepper also came close to the world record for the 2000cc MPS-PG class, 171.962mph set on the salt flats of Bonneville, USA, in 1996.
David now has his eyes set on breaking that record.
"We are very excited about the potential of this bike moving forward," he says. "We won't be stopping here. Dan and Corey have done a wonderful job but I know that they want more."
The result is the culmination of almost 12 months of design and engineering work for the team including Harley-Davidson Australia & New Zealand Technical Lead, Dan Lesnock and Buttigieg.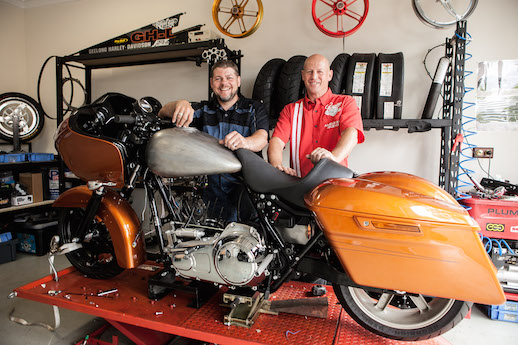 "Even up to the night before we hit the salt they were burning the candle at both ends to make sure we were as prepared as we could be," says David.
The pair has taken the Road Glide Special from a stock bike to a record-holding racer with the addition of H-D Screamin' Eagle performance parts forming the basis of the engine and driveline modifications while the chassis was only slightly modified for racing. The modifications meant that the bike's soul as a bagger was retained with even the saddlebags remaining functional.
Pepper's engineering includes: 
Screamin' Eagle™ 120RX engine
Screamin' Eagle™ Variable Pressure Clutch
PBI sprocket with RK Chain
Custom Wegner stainless steel headers
4-inch lengthened swingarm
Custom built lower engine fairings
OE front fairing lowered slightly on frame
Functional saddlebags with in-built air diffusers