A Harley-Davidson Road Glide Special with standard fairing and panniers has this week been attempting to set world speed records at Speed Week.
Named Pepper, the Road Glide is powered by a Screamin' Eagle 120RX engine and driveline. However, it has retained the standard panniers while other accessories are straight out of the Harley parts "bible".
But here's the really interesting thing: there have been no tweaks at all to the famous bullnose fairing!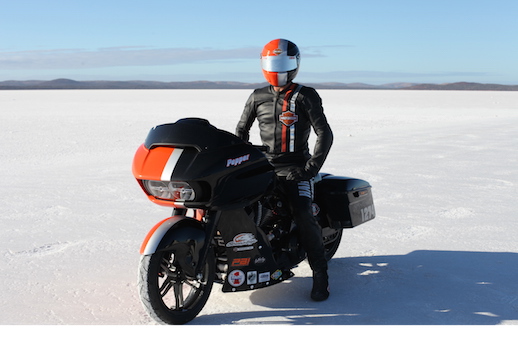 And why would you? The Project Rushmore production bike was designed in two university wind tunnels to reduce the drag coefficient, create less buffeting for the rider and provide high-speed stability.
We've tested the production Road Glide Special on the road and believe it is the best in their Touring family. It's also one of the best tourers on the road, with rock-steady high-speed stability. However, this salt flat run will be a real test.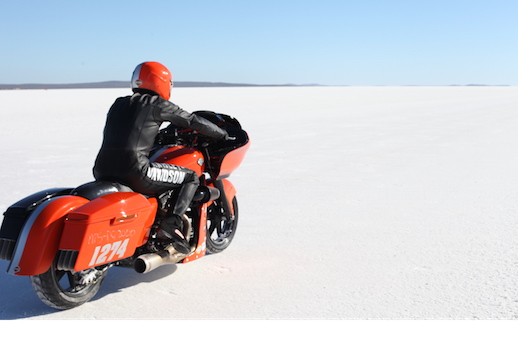 The 2015 Harley-Davidson FLTRXS Road Glide Special hit the salt at the 25th annual Dry Lakes Racers Australia (DLRA) Speed Week at Lake Gairdner, South Australia, in the Modified Partial Streamlined – Push Rod Fuel (MPS-PF) class.
There is currently no speed record in this class, but HD PR boss David Turney says the Road Glide would at least break misconceptions about baggers.
"Those hanging on to the bagger stereotypes of size, weight, power and agility, better get ready to see those misconceptions race past at speeds that'll surprise you," he says.
"The team has worked incredibly hard in an exercise that's included precision engineering, expert design and commitment. If the gods of speed are on our side, the world will see something very special."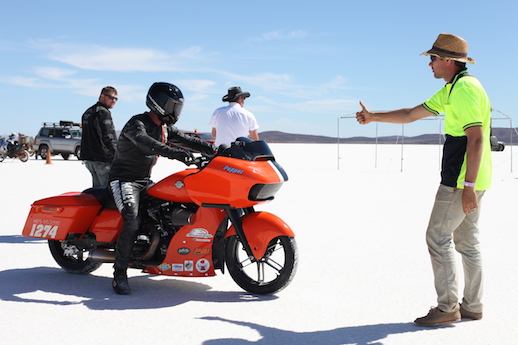 There is no word yet from Lake Gairdner on how it went, but we will have results to you as soon as we know more.
Pepper was secretly engineered and built over the past six months out of HD HQ in Sydney and a workshop in Victoria as a joint project with motorcycle drag racer Corey Buttigieg.
Corey, who races the world's fastest Competition Class Harley-Davidson V-ROD, will pilot the traditional liveried black, white and orange Pepper.