Australian riders may not be able to buy the new low-riding flagship Harley tourers available in other markets, but they will be able to get a factory lowering kit to meet their requirements.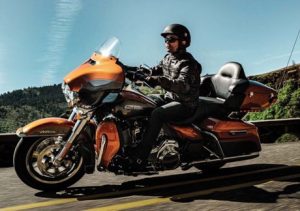 Harley-Davidson Australia marketing director Adam Wright says our market is too small to import the Ultra Classic Low and Ultra Limited Low. He says dealers queried him about the decision not to import the flagship factory-lowered models, but he says Australia only sells about 150 Ultras in a year and the volumes were too low to warrant the expense of bringing in a special model.
However, he says they realise 20% of their current customers are under 170cm, so they are developing a special factory kit hat lowers their touring bikes for shorter riders or those who want more confidence in maneuvering the big bikes at low speed.
He says the suspension lowering kit would include parts such as a new seat, sidestand and suspension adjustments and cost up to $2000.
Harley North American marketing boss Jen Hoyer says that while they know that 20% of their current customers are under 170cm, they don't know how many more customers they are missing because of seat height concerns.
However, there is a host of aftermarket companies that also make seats and parts to lower Harleys and keep even short HOGs in the saddle.
Meanwhile, Harley has returned the Road Glide to the 2015 line-up, updated the Softail brakes, added new colours and kept a lid on prices.