Many of you might be thinking, "What is an avid superbike racer and sportbike enthusiast doing testing a Harley Davidson?"
Harley is not exactly known for producing cutting edge sportbikes.
Well, I would be lying if I didn't say I also asked myself this exact thing.
That is until I did some research on the Harley XR1200.
Actually, even before getting to research my upcoming ride I was actually won over purely by the visual appearance of the XR1200.
The design is one that is muscular, clean and sporty with just the right touch of dirt tracker nostalgia thrown in.
Suddenly I found myself becoming more intrigued by this grey and silver motorcycle that is surely inspired by the highly popular XR750 racer.
Throw in the fact that I witnessed my first AMA Pro Flat Track this year at Pomona and the whole concept of what Harley-Davidson was trying to achieve with this model was becoming much more clear.
My first real hint of the sportiness of this machine however was during the pickup.
One of the fleet center employees mentioned to me how the XR1200 was actually being raced in Europe. Yes, you heard me right, I said Europe.
The European version taking to the track with Öhlins suspension components, Termignoni exhaust and wave rotor brakes.
Who would have thought this All-American machine would be making its debut appearance on track in Europe and not stateside?
Well, have no fear, the AMA has just announced the XR1200 will soon be racing here in the U.S. as well, in the AMA Pro Vance & Hines XR1200 Spec Racing Series.
This will be a five-race championship series, featuring specially modified Harley-Davidson XR1200 motorcycles.
Although I would not be taking the XR1200 to the track, and the version I was riding did not have the go-fast European modifications, I was still eager to swing a leg over the XR1200 and see just how good this bike is.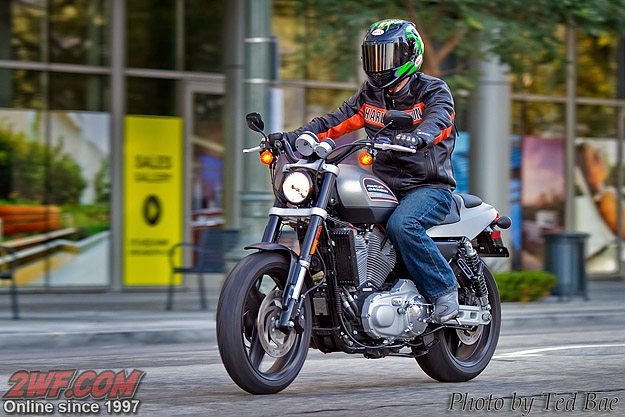 XR1200 Engine and Suspension
The XR1200 features a rubber-mounted 1200 cc V-twin with a 10:1 compression ratio that puts out roughly 90 horsepower at 7,000 RPM and 74 ft-lbs of torque at 4,000 RPM.
The XR1200 boasts performance cams, downdraft fuel injection, precision-cooled cylinder heads and a large capacity oil cooler.
A high volume 2-1-2 straight shot exhaust finished in satin chrome does away with spent gasses and, in my personal opinion, does it in a very attractive manner.
In an effort to save weight and improve handing, the XR uses a hollow cast-aluminum swingarm, a break from the traditional steel units found on typical Sportsters.
The XR also utilizes 3-spoke cast wheels and Dunlop Qualifier tires designed specifically for the XR1200. Sizes are 120/70ZR18 in front and 180/55ZR17 on the rear.
Suspension duties are handled via 43 mm inverted Showa forks which are non-adjustable and dual coil-over shocks in the rear with preload adjustment.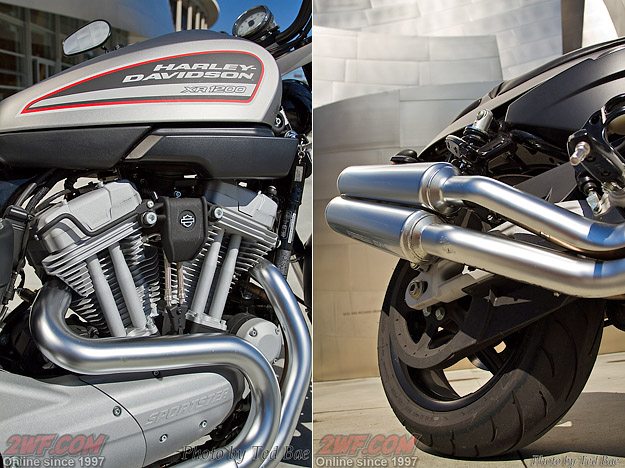 Controls and Ergonomics
The Harley-Davidson XR1200 weighs in at 580 pounds in running order and is brought to a halt with Nissin four-piston calipers and two 292 mm discs up front and a single piston floating rear brake.
Simple probably best describes the controls and cockpit on the XR1200. Sitting above the handlebar is an analog tachometer with a slightly smaller digital speedometer.
Harley-Davidson has gone with very basic controls and gauges to keep with the clean and retro look but I could not help being somewhat disappointed in this department.
I think a little attention to detail and some added elements of design could have gone a long way towards adding some style to what is otherwise a classic beauty.
I waited until very late morning to fire up the new beast making a home in my garage.
This is a Harley-Davidson, let's not forget, and surely the sheer volume of firing up the V-twin powerplant will be enough to rattle the windows and wake the neighbors.
Well, to my surprise, the XR1200 sounds a little on the mild side; not only by Harley-Davidson standards but in comparison to most motorcycles sharing the same displacement.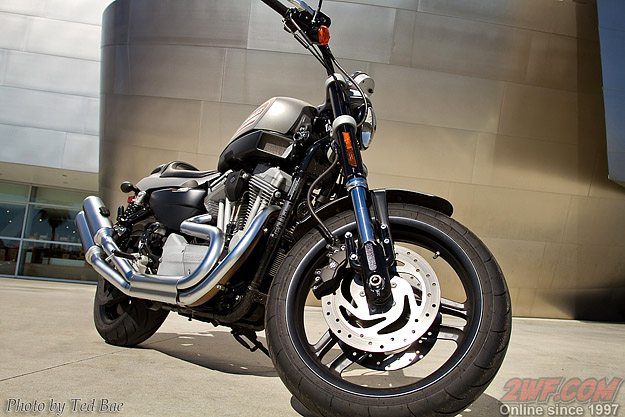 Handling
Getting the XR up to speed was not a problem with a healthy amount of grunt at low RPM. Torque is strong in the 3,000-5000 RPM range — as you would expect from a big V-Twin — but don't expect the motor to pull very hard at higher revs.
To keep the XR running strong, I was moving steadily through the gearbox to make up for the lack of high-RPM power. The XR1200 powerplant ran extremely smooth and the rubber mounted engine had no excessive vibration.
AMA Grand National Champ Scott Parker helped assist in the chassis and handling department during the development of the XR1200 and I would have to say this is one of the strongest areas of this Sportster.
The XR1200 is extremely well balanced and hides its weight quite well; it transitions with ease on the open road and, coupled with the comfortable ergonomics, was an extremely easy bike to get used to and to feel comfortable on.
The seat was comfy enough for long stints and the bars were wide and well placed with no uncomfortable bends at the wrists.
The XR1200 Utilizes a "split-rake" design to give the XR an assertive steering input while still allowing for a relaxed ride. While the XR will never be mistaken for a sportbike, there are benefits to this design.
The XR never felt twitchy or unstable during my daily rides or while cranking it over through some long winding canyon bends and I was grateful for the added grip of the Dunlop Qualifiers.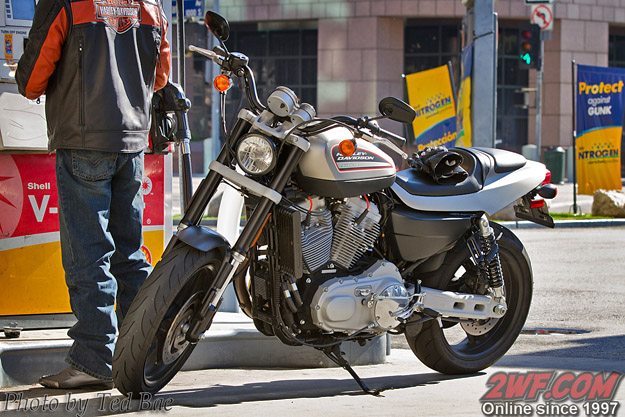 While the balanced chassis of the XR makes for an enjoyable ride, the suspension front and back does have limitations.
Contact with any significant potholes or square edge bumps tended to create some harsh transfers through the chassis.
The forks seemed to be blowing through the stroke too quickly and this was leading to some hard hits up front that could be felt throughout the chassis and handlebars.
This could also be due to the short amount of suspension travel; 4.9 inches in the front and 3.5 inches at the rear.
The wide clutch lever had a very classic Harley-Davidson feel to it and I actually liked the feel of the extra width at the lever. The clutch actuation was relatively light as well.
The 5-Speed transmission performed flawlessly but definitely feels quite mechanical, as if you can feel every moving part as you click through the gears.
Engagement was precise and finding neutral was an easy task even if the feel was not silky smooth.
A touch of the Nissin brakes is all that was needed to bring the XR1200 down from speed. Stopping power was impressive and the feel at the lever gave me the confidence needed to stop the XR in a hurry.
I've ridden a few Harley-Davidons in the past and the one thing that always scared me was their lack of stopping power. Not so on the XR1200, the brakes were definitely up to the task.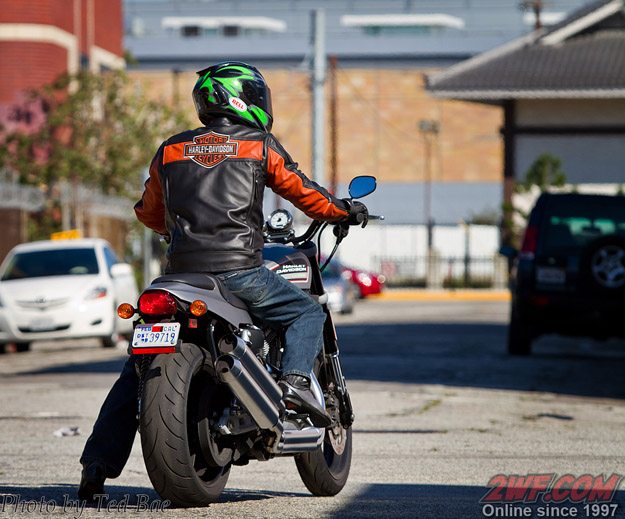 Accessorize!
Harley-Davidson has always been more than just the motorcycle; for many it's a statement. A way of life.
Wearing the Harley-Davidson Classic Leather Jacket (I think I might have been just as excited to rock this Classic Harley jacket as I was to ride the XR1200) and riding the XR1200 was a chance for me to experience this Harley-Davidson fraternity.
Lucky for me, I was able to experience it on a model as sports-oriented and capable as the XR1200.
Conclusion
When speaking to sportbike riders and fellow racers I often mentioned I was testing a Harley-Davidson to which I would receive some strange looks. I would quickly respond with, "you don't understand, this is not the Harley-Davidson you are thinking of.
This bike is freakin' cool, you need to see it."
The XR1200 is a highly refined and capable motorcycle but does have it's performance limitations.
Lacking adjustable suspension and producing low HP numbers, the XR1200 does not rival many of the European streetfighters on the market in sporting ability.
What the XR1200 lacks in performance numbers however, it more than makes up for with iconic styling and the pure roadside interest it attracts.
Harley-Davidson has designed a motorcycle with a wide appeal that attracts cruiser riders and the sport rider alike. Looking for an iconic classic that performs?  Then look no further.
2010 Harley-Davidson XR1200 Specifications
Engine
Engine: Air-Cooled Evolution
Displacement: 73.40 cu. in.
Bore/Stroke: 3.5 in. x 3.81 in.
Engine Torque: 73.91 lb-ft @ 4000 rpm
Fueling: Electronic Sequential Port Fuel Injection
Compression Ratio: 10.0:1
Transmission
Transmission: Five-speed
Primary Drive: Chain
Chassis, Suspension and Brakes
Length: 85.4 in.
Seat Height: 29.2 in. (laden); 30.5 in. (unladen)
Ground Clearance: 5.8 in.
Rake Steering Head/ Trail: 29.3-degrees/5.11 in.
Wheelbase: 59.8 in.
Brakes, Front: Dual 4-piston, fixed front
Brakes, Rear: Single-piston floating rear
Wheels and Tires
Tires, Front: 120/70ZR 18
Tires, Rear: 180/55ZR 17
Dimensions, Weights and Capacities
Fuel Capacity: 3.5 gal.
Oil Capacity: 2.8 qt.
Weight: 562 lbs. (dry weight); 580 lbs. (running order)
Colors
Vivid Black, Pewter Denim, Mirage Orange Pearl
Price
$10,799 USD
Publication Date: April 2010
More wBW Motorcycle Reviews  |  All wBW Motorcycle Product Reviews
Note:
 For informational use only. All material and photographs are Copyright © webWorld International, LLC since 2000. All rights reserved. See the webBikeWorld® 
Site Info page
. Product specifications, features and details may change or differ from our descriptions. Always check before purchasing. Read the
Terms and Conditions
!
Owner Comments and Feedback
---
From "J.W." (7/10):  "This is a very good and fair review. I bought my first XL Sportster 4 years ago , but its limitations on UK roads quickly became obvious.
I part exchanged the XL for the XR 3 weeks ago and have been very pleased with the bike so far.
Your review is correct in that the detailing of the bike could have been so much better, but the handling and braking are truly excellent.
I test rode a competitors machine (Triumph Tiger) which was undoubtedly a more accomplished motorcycle, but the XR had real character and to be honest was much more fun to ride.
At a time when many motorcycles are starting to become very similar in terms of specification styling and performance, the XR bucks the trend.
The engine retains the classic HD look and feel but the performance is much more up to date.
I would recommend a test ride."
---
From "G.M." (5/10):  "It's been a while since I have commented on an article, but this one piqued my interest.
Ok, let's face it, I have always been a Honda man. "Back in the day" (early seventies when I first got into motorcycles), I would not have been caught dead on or off of a Hoggly Davidson.
They seemed to be primitive, lumbering beasts, that were fine for Police Officers to ride, but the word performance simply never entered my mind in relation to HD.
I owned four Hondas, enjoyed each and every one of them (except that 100 Scrambler, it was a toy, but it taught me to ride) and then put up my helmet for thirty years when I got married.
Time and perspective changes some things. Watching HD raise itself from the dead and become the number one motorcycle seller in the world was impressive, and a source of good old fashioned American pride.
Who wouldn't be proud that an American company could perform such a feat?
Oh, and their bikes obviously improved a great deal along the way. I developed a respect for HD, the quality of the product, their enormous success, albeit I developed no personal desire to own one.
I once admired an entry level Sportster for its smaller size and classic design, but that's about as close as I ever came to being attracted to a Harley. And frankly, there are many, many Hardly Movingsons that I would never throw a leg over.
I have read recently that HD has sort of filled the "environmental niche" that they grew into with their come back.
Most baby boomers who bought HD's because they were getting older and wanted to get the MC their dad would never let them have, have done so now, and HD seems to be in some degree of trouble now, producing dozens and dozens of models in a niche that is filling up.
So one might wonder if HD is to fall on hard times again, and well, everyone is falling on hard times in these times.
Which brings us to the XR1200. "Adapt or Die" might be the theme for this bike. I have read several reviews of the XR1200, and this seems to be a really good bike. The styling is great!
I might disagree with the author's characterizing it as "classic" (Ok, it does remind us of the old 750, but who ever considered THAT bike "classic" Harley?), but it does remind me quite a lot of my fourth Honda, the 750F "Super Sport", a great bike in it's time.
The XR1200 is the first HD I would ever consider purchasing, and that means that HD is doing something right.
Motorcycles are about styling, performance, and doing new things that have not been done before, constantly changing and adapting to make better bikes. Kudos to HD for producing this bike.
If this is a trend, it just might save HD like the Taurus saved Ford. Regardless, this it a great direction for Harley to take, and I wish them great success with this bike."
---
From "A.M." (4/10): "As I was reading the article, I was thinking; neat, neat, neat, but racing???  Similar displacement sport bikes make about twice the horsepower and would weigh less riding two up.
Aside from a model-specific "race" where everyone pilots these boats around, I can't see the point.
As for being a sweet looking Harley; yup!  That satin chrome exhaust is something to behold."
Editor's Note: There is indeed a European race series for Sportsters, and AMA Racing announced in March 2010 that they have partnered with Vance & Hines and Harley-Davidson to present the XR1200 road racing series.
It will be called the AMA Pro Vance & Hines XR1200 Series.