Harley-Davidson has a range of retro-styled motorcycles and now has the helmet to match them with this Bell-made Bullitt Vintage Stripe full-face model.
There is no difference from a standard Bullitt helmet except for the traditional Harley orange and black striping and Harley branding.
You might expect Harley would add a premium price, but it costs a moderate $539 which is the same as a standard graphic Bullitt.
This Bell model has been around for a while, but this is an attractive new addition, especially for fans of Harley's retro models.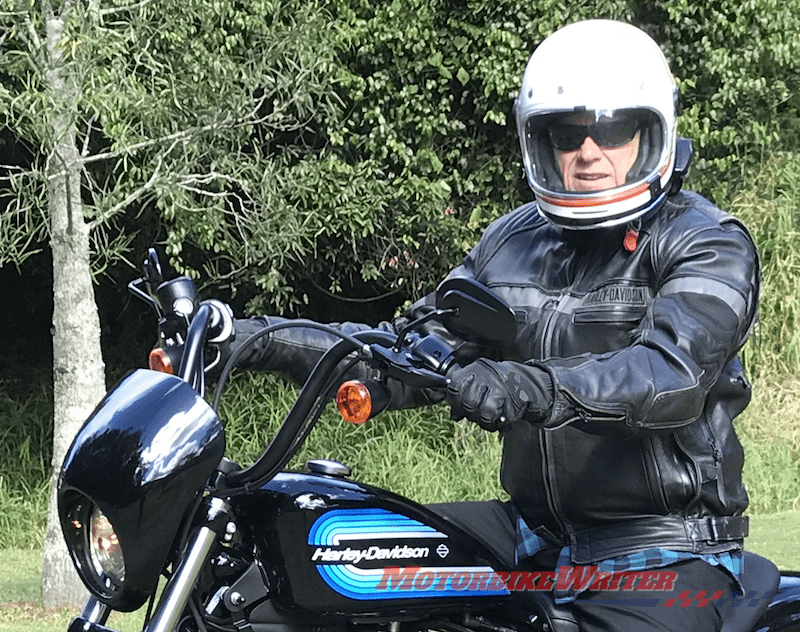 Vintage beauty
Beauty is in the eye of the beholder and I find it very attractive, even though it does look like something out of a 1950 sci-fi movie.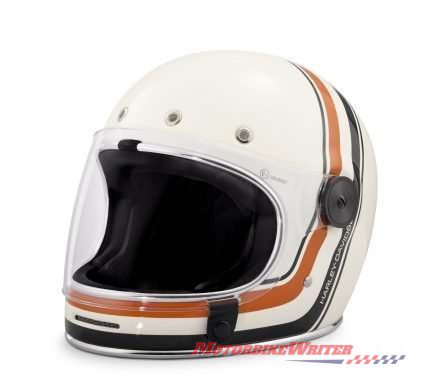 The low-profile vintage fibreglass helmet weighs 1.4kg helmet but feels light and very high quality.
Its paintwork is lustrous and glossy and it features attractive silver stripping around the base, visor aperture and four front circular air vents.
The Vintage Stripe helmet is ECE22.05 approved with a special sticker on the back featuring the Harley-Davidson name. You can legally remove that sticker if you want as the approval certificates are also inside. Click here for more information.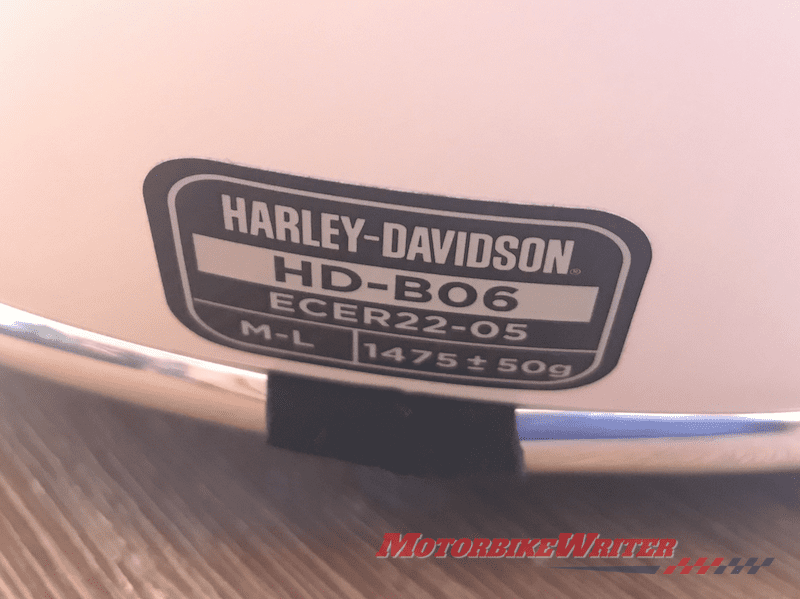 As for safety, it scored three out of five stars in the well-respected UK SHARP helmet rating site.
Comfortable fit
Vintage Stripe not only looks beautiful, it feels very comfortable.
The lining is firm, not spongey, but it feels soft and plush against your skin.
It is removable and washable with a perforated micro-suede interior, leather trim and 3D-cut cheek pads with speaker pockets.
Maybe my ears are in the wrong place, but with intercom speakers inserted in the pockets they are nowhere near my ears. I had to slide the speakers forward, but they are still in a comfortable position and not hard up against my ears.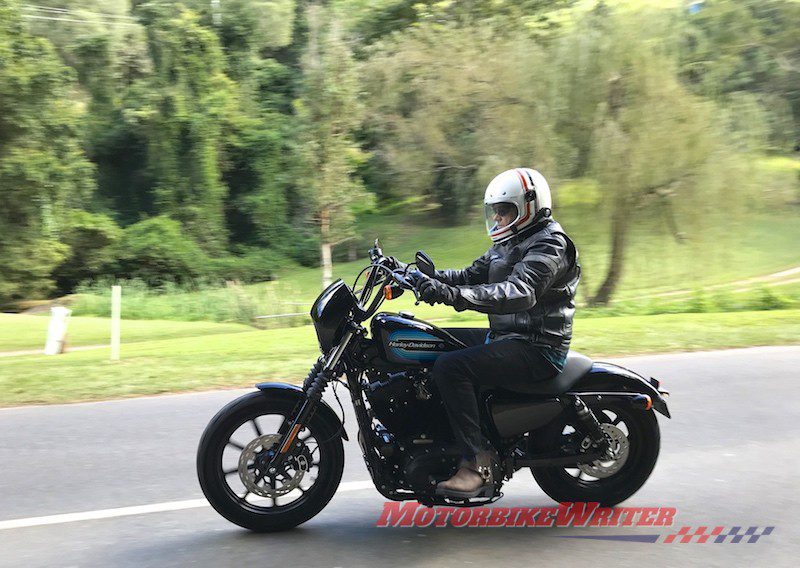 It features the standard double-D chin strap to effectively secure it to your head.
There is a good gap to slip your glasses in easily. However, there is no chin spoiler to deflect wind and noise, so together with the glasses gap it allows a fair bit of wind noise to intrude as well as your Harley exhaust.
We recommend wearing a good set of earplugs such as the Alpine MotoSafe from $29.95 that cut wind noise and still allow you to hear your exhaust and emergency noises such as sirens and screeching tyres.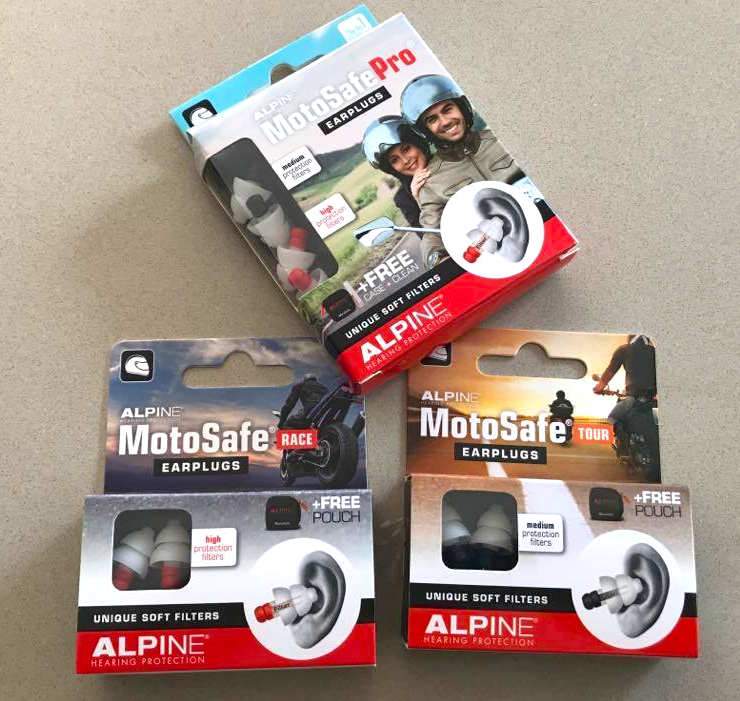 The chin gap also allows winter chills in, so wear a thick neck sock.
Also, the forehead air vents are not able to be closed, so I also wear a thin balaclava in winter.
I haven't worn it on a hot day yet, but it seems there is plenty of airflow. Only the chin vent is able to be closed.
Don't buy this helmet online. You must try it on in a Harley dealership first because the sizing may be different to normal. I usually take a small, but found a medium was best.
That's atypical of American-made helmets as I usually need to go down one size.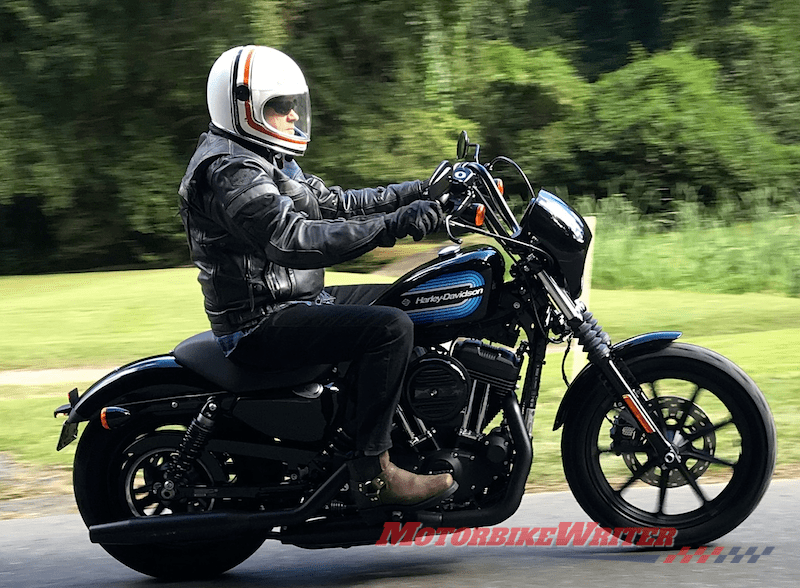 Visor concerns
The face shield is claimed to have an anti-scratch coating and UV protection.
The shield has been hit by a few stones and seems to have resisted any scratching.
However, its UV protection is limited.
I used a UV-sensitive wristband supplied by the Melanoma Institute of Australia to test its resistance to UV rays. The wristband is white when there are no UV rays and turns dark purple in direct sunlight.
The photos below show the wristband turned a mid-purple behind the visor.
This is important since the aperture is very wide.
That's great for visibility. In fact, it almost feels like you are wearing an open-face helmet!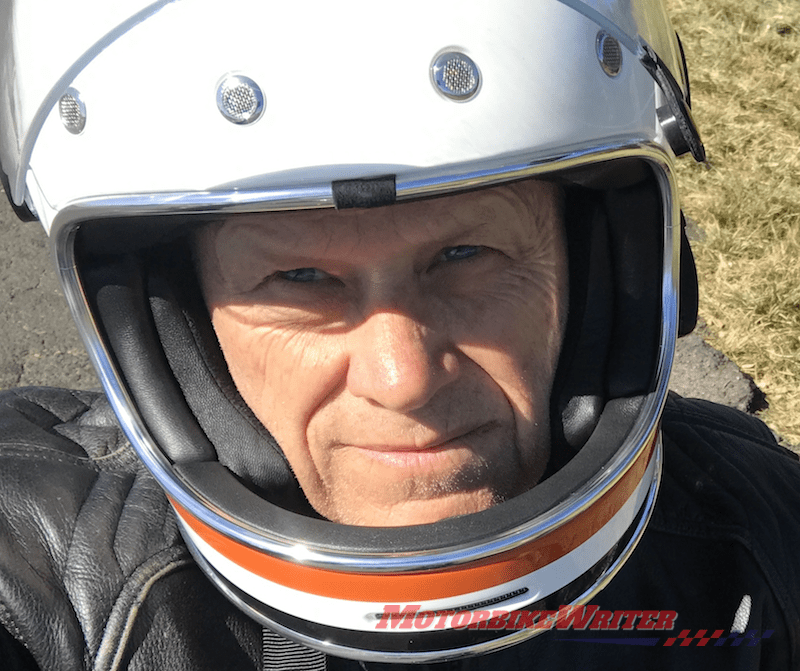 However, it uncovers a lot of your face to the sun and sunburn is a serious issue in Australia that riders should not ignore. So if wearing this helmet, ensure you wear sunscreen and a lipscreen.
The simple magnetic closure system with a magnet in a small piece of leather looks great, but it can be a bit difficult to find with your fingers in thick winter gloves.