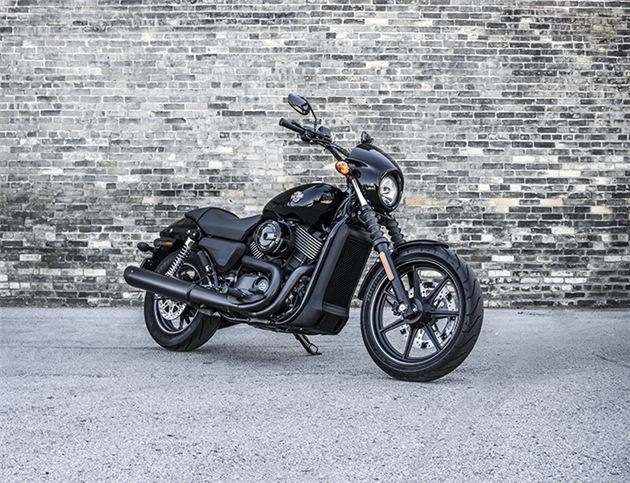 These are the first pictures of the new Harley-Davidson Street 500 and Street 750.
The new family of entry level Harleys are liquid-cooled V-twin powered with toothed belt drive and similar layout to the Sportsters.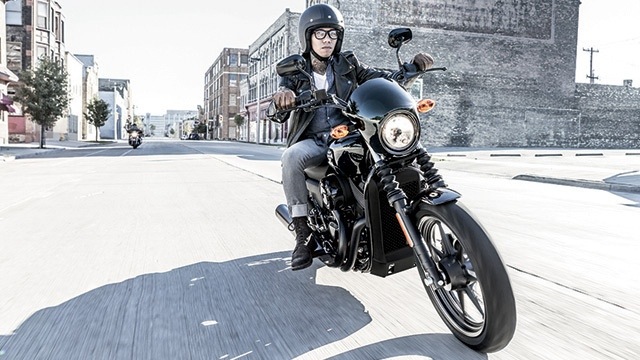 The learner-approved Street 500 is tipped to become the company's top-selling bike.
Australia and New Zealand will only get the 500cc model for the moment. Price is not yet decided, but it will be between $10,000 and $12,000, ride away.
Sadly, they are not coming until January 2015. Australia and New Zealand will be among of the last markets to get it after Europe, USA, India and Japan.
Built in Kansas and India, it is yet to be confirmed where the bikes coming to Australia will be made.
The Street 500 will be targeted at learner riders as well as emerging markets such as India and China, but as a low, lightweight, cheap and nimble bike it should also find broad appeal in all markets.
Harley Australia marketing director Adam Wright says they are "extremely excited" about the entry level bikes.
"It opens up a whole new market segment for Harley in Australia and we look forward to attracting more younger adults into the Harley family," he says.
It is powered by the Revolution X, 60-degree V-twin, SOHC, four-valves-per-cylinder, precision-liquid-cooled engine. The only difference in the 750cc is a bigger bore.
No output figures have yet been released.
"I've ridden this bike and it's responsive, torquey with great midrange punch, maneuverable, nimble and brakes well and is an all-round bike for young people and returning riders".
"Price will be competitive. "That will put it in a good competitive position for this size motorcycle, yet retaining our image as a premium brand.
He says Australia and New Zealand may take the 750cc model "down the track".
Some of the details are 217kg wet weight, 645mm seat, mid-mount controls, single front brake disc with dual piston caliper, 17-inch front wheel, 15-inch rear wheel and dual shocks.
Both Street models come with a12.5-litre tank which is the same capacity as the 883 Iron and being much larger than the H-D Forty Eight fuel capacity at a meagre 7.9 litres.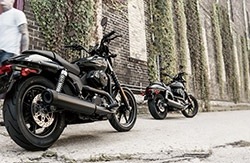 Adam says it has all the hallmarks of a Harley: "Teardrop tank, premium paint, cafe racer screen! LED tail lights, locking fuel cap and forks, metal tank and fenders, not plastic which is true to the brand," he says.
It comes in black or red.
The beginner Harley is expected to become the iconic "heavy motorcycle" manufacturer's top-selling bike around the world.
The current top-selling learner bike in Australia is the Kawasaki Ninja 300 which has sold 2732 in the first nine months of the year, more than twice the number of the next highest-selling bike, the Yamaha WR450F.
Harley is currently the second biggest seller of road bikes in Australia with 6299 sales to the end of September, behind Honda with 5779.
Sales of the new Street 500, alone, are likely to make Harley the new king of road bike sales.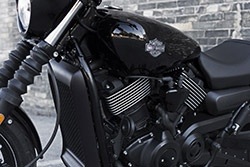 Together, the bikes should be a hit with the youth market, as well as women wanting lighter, lower and more manageable machines.
Adam says they will also target "sleepers" – returned riders who have a bike licence for many years and are only now returning to riding.
In August, Harley chief operating officer Matt Levatich revealed they were about to unveil a 500cc V-twin to replace the Buell Blast learner bike.
He said he had ridden the bike which he described as "nimble, light, has a low seat and it will have supple throttle and brake response for learners".
The addition of a 750cc model as well came as a surprise.
Harley-Davidson Street 500
Price: $10,000-$12,000 ride away (TBC)
Available: January 2015
Engine: 500cc liquid-cooled, Revolution X
Transmission: 6-speed, belt drive
Wet weight: 217kg
Seat: 645mm seat
Brakes: single front brake disc with dual piston caliper
Wheels: 17-inch front wheel, 15-inch rear wheel
Suspension: telescopic forks with gators, dual rear shocks
Fuel: 12.5 litres