Harley-Davidson has just added the 750cc Street Rod to their line-up.
It's the second new motorcycle since boss Matt Levatich announced last month that they would introduce 50 new models in the next five years including an electric bike.
The Street Rod is a 750cc variant of the new learner-approved, Indian-made Street 500 and joins the Road King Special as the second of the 50 new Harleys to come.
Harley used to have a Street Rod which was a sporty version of the V-Rod family. It was an aggressive motorcycle, loved by the media, but spurned by riders. It sold from 2006 to 2012.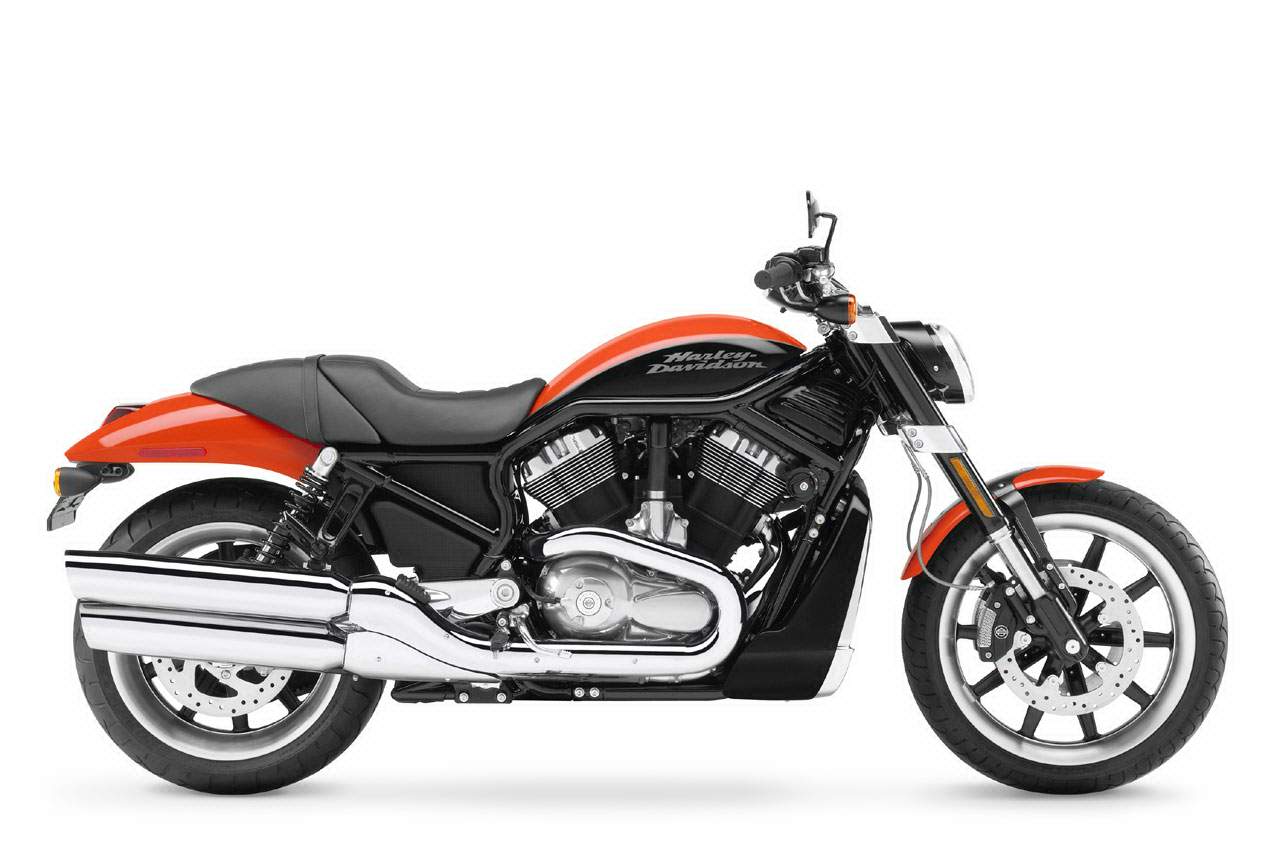 Harley now plans to purge the whole V-Rod family from the line-up this year.
In its place, it appears the company will produce more variants of the Street range, especially the 750cc model, including the just-announced Street Rod.
It will be available from May at $12,995 rideaway and $13,995 rideaway in New Zealand.
Harley Australia had previously said they wouldn't bring in the Street 750, but with the exit of the V-Rod, that could also change.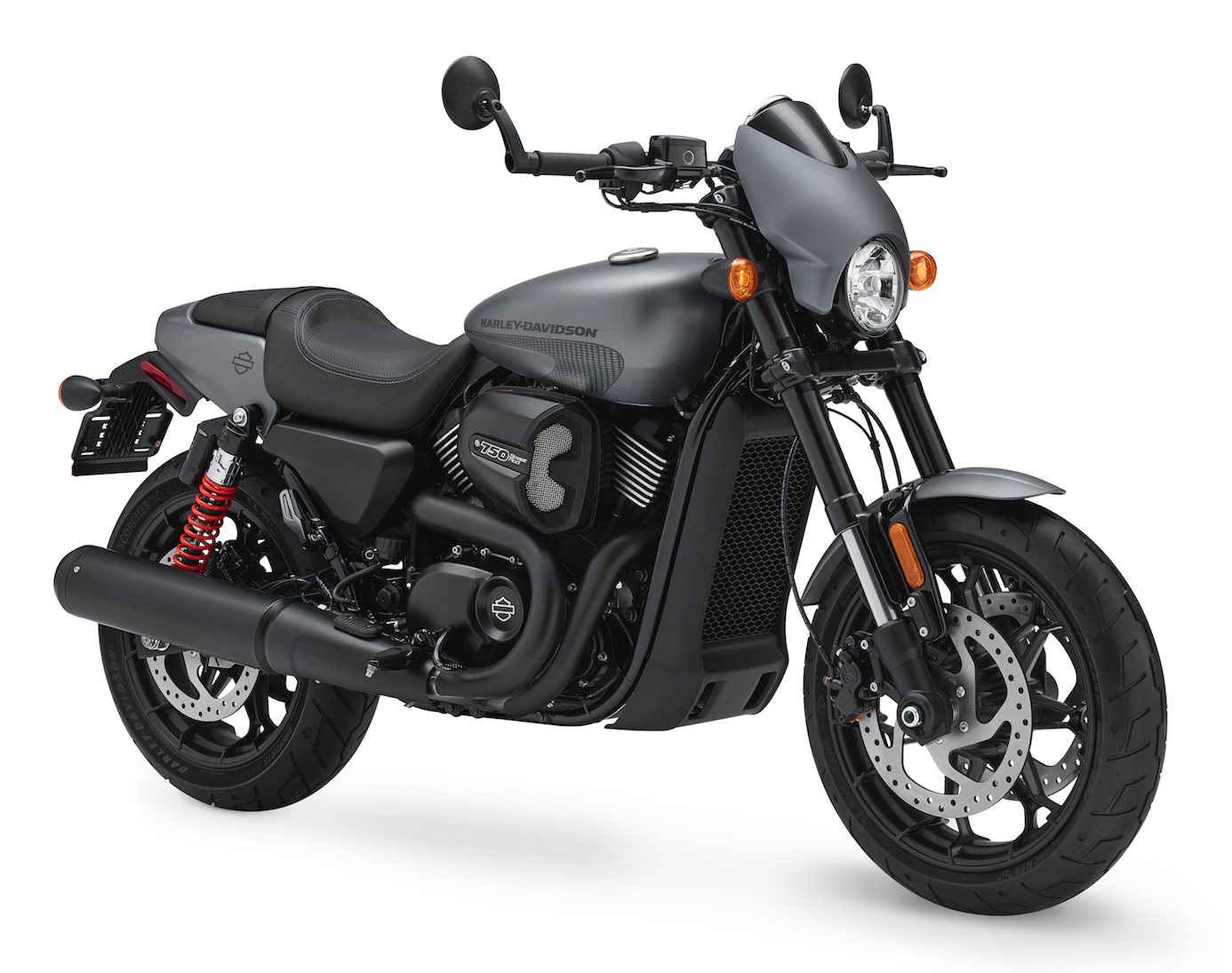 Here is the Harley-Davidson Australia and New Zealand Street Rod press release:
The new Harley-Davidson Street Rod is set to raise eyebrows, and reset expectations. The newest member of the Street family is built to thrive in the city and will provide an exhilarating experience beyond.  

Drenched in Harley-Davidson Dark Custom styling, the new Street Rod oozes purpose and attitude. Powered by the all-new High Output Revolution X 750cc engine, the model is matched with sharper chassis geometry and an aggressive riding position.

To push the rider to new heights, The Street Rod also features a new seat shape, designed to hold the rider firmly in place, and sits 765mm higher than its learner-legal family member, the Street 500, to enhance the rider's view forward.

"The Street Rod's new High Output Revolution X 750 has got hot cams, gas-flowed heads, more compression and a higher redline. It gets your attention. We wanted a chassis to match, sharp handling and aggressive, perfect for urban cut-and-thrust and canyon carving.

"It's attitude and the relationship between seat position; rearset footpegs and wide handlebars put the rider fully in control. The fact the Street Rod looks so good – and very close to our early sketches – gives us all a real charge too!" shared Mathew Weber, Harley-Davidson Chief Engineer.

The exclusive 17-inch front and rear Open Spoke Black Cast aluminium wheels and new Michelin Scorcher 21 radial tyres inject an athletic stance, while the new scoop-style air cleaner cover and sharper snap of the exhaust note draw attention to the engine's strong design.

The new forged brake/gear levers plus aluminium rear-set footpegs that aid control and make it easier for more riders to get good ground reach when stationary. To suit more spirited riding lean angle is increased from 28.5° left and right to 37.3° right and 40.2° degrees left.

"The Street Rod is a perfect addition to the Street family. It is an exciting time for Harley-Davidson and our riders." said Adam Wright, Director Marketing, Australia and New Zealand.  

The Street Rod will be available in three colour options: Vivid Black, Charcoal Denim and Olive Gold.
Street Rod target market
No doubt the Street Rod is aimed at the youth market with its aggressive stance, budget price and minimalist "blank canvas" looks.
For Harley to grow its market it needs to reach out to new sectors, particularly young people. It would be a perfect step-up from the Street 500.
However, women and shorter people might not like the fact that the seat height has been raised to 765mm.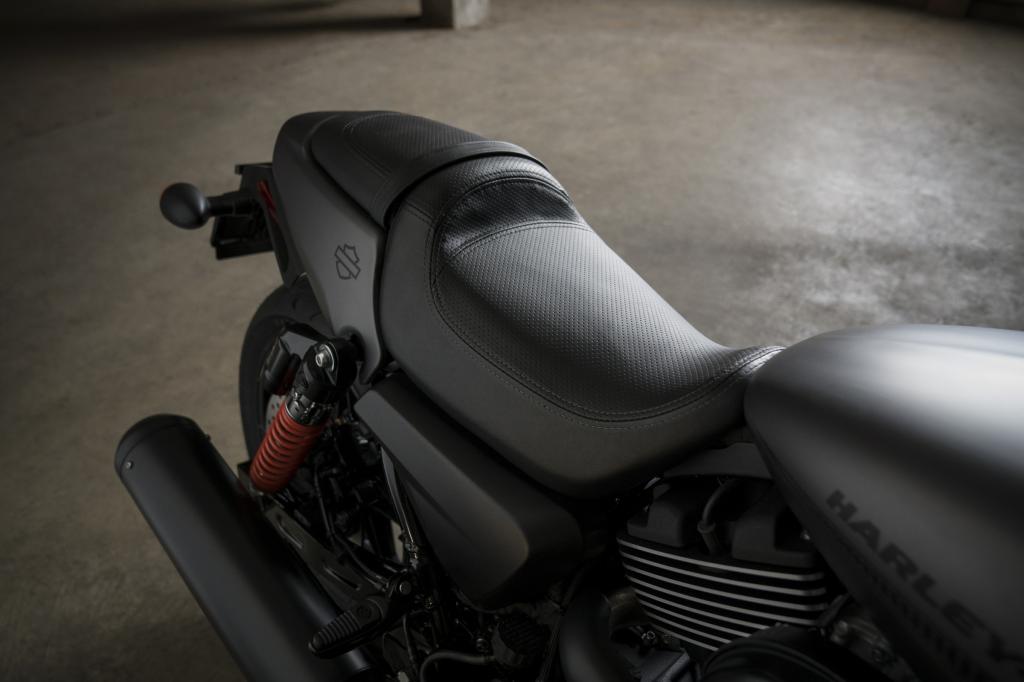 Tech talk
Harley says the Street Rod has a "punchy mid-range torque" and an extra 1000rpm from the liquid-cooled, single OHC 8V 60° V-Twin High Output Revolution X 750 engine delivers.
Peak torque is at 4000rpm and it has been tuned to deliver strongly between 4000 and 5000 revs.
It features a larger volume air box and new dual 42mm throttle bodies, new four-valve cylinder heads and high-lift camshafts, plus a higher-volume exhaust muffler – all designed to increase airflow and efficiency
Compression ratio is raised from 11.0:1 to 12.0:1 and the redline goes from 8000 to 9000rpm.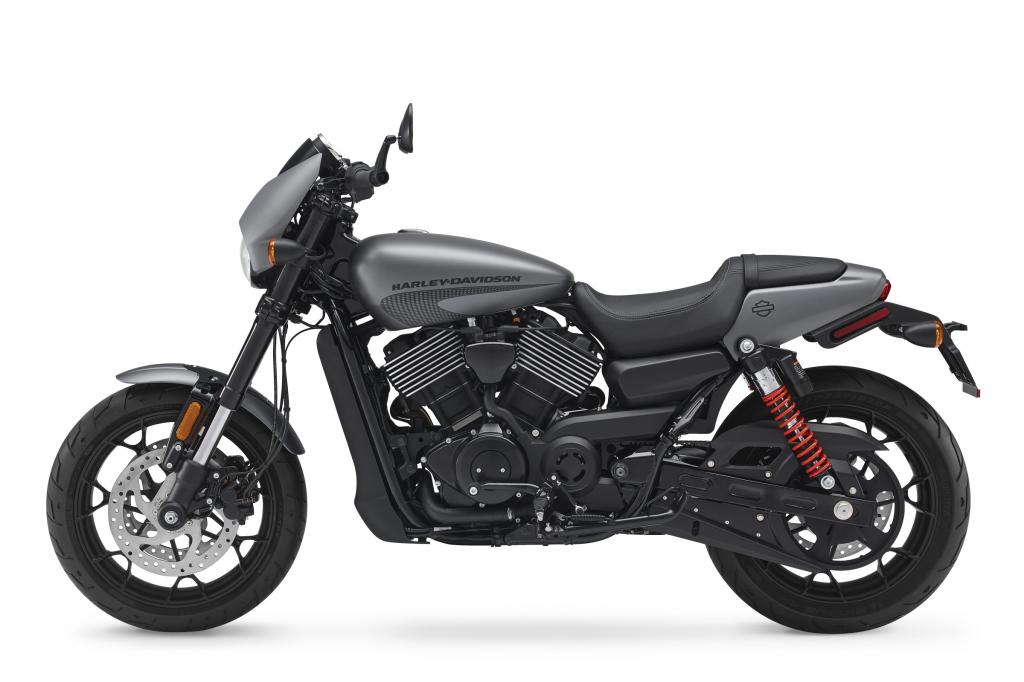 It also features sharper geometry with  43mm upside-down forks gripped by lightweight aluminium yokes. Fork rake is tightened from 32° to 27° for quicker steering.
The new rear shock absorbers feature an external reservoir to increase fluid capacity and maintain damping consistency. Travel is increased 31% to 117mm.
The swing arm is slightly longer to accommodate the taller shocks.
It rides on  exclusive 17-inch front and rear Open Spoke Black Cast aluminium wheels and new Michelin Scorcher 21 radial tyres, sized 120/70 R17V front and 160/60 R17V rear.
Brakes have been upgraded to dual two-piston calipers and 300mm front disc brakes with ABS.
Street Rod will come standard with Harley-Davidson's Smart Security System.