Harbor Freight Gordon LED Flashlight Review Summary
Harbor Freight Gordon LED Flashlight Image Gallery
The Harbor Freight "Gordon" LED flashlight is super cheap but super good.
It's as powerful as many other LED flashlights that cost up to 10x more.
We haven't been very keen on Harbor Freight, preferring instead to pay good money and get good tools.
Sure, some bargains can be found and many motorcyclists take great pleasure in discovering them.
As we've said before though, cheaper isn't always better, so just because something is 1/4 the price at Harbor Freight doesn't necessarily mean it's equal in quality.
For sure.
Take the Harbor Freight Hex Key Wrench Set we reviewed a couple of weeks ago. Please!
Yes, it's 75% cheaper than the Sears T-handle Allen Wrench Set we also reviewed.
But our conclusion was that the Harbor Freight tools aren't even close.
But get this: when we ordered the hex wrenches, we discovered this little gem of a $4.99 LED flashlight.
As it turns out, this is one of those one-in-a-million Harbor Freight bargains that actually is worth the money — and more.
They claim the normal price is $9.99, so we figured we couldn't go wrong for 5 bucks and we'd give it a shot. But I had minimal expectations that the Gordon LED flashlight would be worth even that.
When it arrived, I took it out of the package and looked it over.
"Not bad", I thought. I couldn't tell from the photos on the Harbor Freight website, but for $4.99 I assumed it was all plastic.
Nope, it actually has a pretty thick machined aluminum body with real machined knurling. O-rings seal the front and rear screw-off covers, the former holding the LEDs and the latter covering the battery carrier.
There's a rubber(ish) covered on/off button at the end of the light and everything seemed like it was made with more care than could possibly be expected for the price.
It didn't come with the three AAA batteries that it needs, but hey — what do you expect for a fin?  I scrounged up the relatively rare (around here anyway) triple A's and screwed the thing back together.
I turned it on and…WOW!
This little thing really, I mean really puts out!  It throws way more light than I expected. It has 9 powerful LED lights under the glass and they create an enormous amount of even and pure white light.
It's as good or better than most of the other C- and D-cell flashlights I own that are 4-5 times its size. It sure seems like the Gordon is putting out way more light than it should for its size.
Fire it up in a pitch black room and you'll be amazed — I can point it at the ceiling and it lights up the room enough to read a book. I demonstrated it to a half-dozen different people and everyone is amazed.
Here are before/after photos taken in a dark room, both un-retouched other than resizing, taken from about 6 feet away.
The top photo is a good indication at how dark the room is before and how much wide, even light the Gordon flashlight throws in the bottom photo: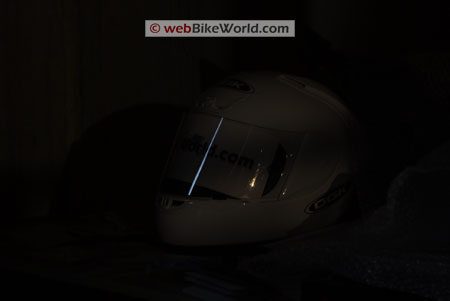 It's small size makes it ideal for carrying under the saddle or in a tank bag or saddlebag. It's only 98 mm long (3-7/8″) and the body is about 28 mm in diameter (1-1/8″). It's a robust little guy at 102 grams (3.625 oz.) and the knurling makes it easy to grasp one-handed.
Gordon (probably a made-up name used for U.S. marketing purposes) claims the flashlight puts out 90,000 micro-candela (MCD) and that the LED lights will last for 100,000 hours. There's no guarantee that I can find and the packaging says it's "Distributed Exclusively by Harbor Freight Tools", so I assume they contracted with the factory in China to throw the Gordon label on them and ship over a container or two.
The goodies at Harbor Freight come and go, so the Gordon LED Flashlight (Item number 93712-1VGA) may not be there long.
Believe it or not, I went back in and ordered 5 more just to have around!
My wife thinks I'm nuts, but we'll probably end up giving them away or something.
All told, the 6 Gordon LED flashlights cost me less than the Gerber Reactor LED flashlight (wBW review), which is a nice light but its plastic body broke after about 10 short uses.
I'm not a big fan of Harbor Freight, but if you're looking for a nice little flashlight at giveaway prices, check this one out.
w

BW

 Review: Gordon LED Flashlight
Manufacturer: Harbor Freight
List Price:  $4.99
Colors: Black
Made In: China
Review Date: April 2007
Note:
 For informational use only. All material and photographs are Copyright © webWorld International, LLC since 2000. All rights reserved. See the webBikeWorld® 
Site Info page
. Product specifications, features and details may change or differ from our descriptions. Always check before purchasing. Read the
Terms and Conditions
!
Owner Comments and Feedback
---
From "E.J." (5/09):  "I signed up for the Harbor Freight e-mailing list and catalogs. They make for some interesting reading, and as you said, as long as you're careful about what you buy, they're not a bad place.
So, I was perusing the latest catalog and found the Gordon flashlights on sale – $2.99 for a twin-pack!
I was shocked when I opened the package and found they now include the necessary batteries. So, for three bucks, I got a pair of flashlights and six batteries. That's a heck of a deal. 🙂 "
---
From "G.":  "(I) want to compliment you on the Gordon LED flashlight reco. Outstanding find. Keep one in my tank bag and giving one to everyone I know."
---
From "G.M.":  "Hey guys, you really do have a great site, and as most of us who comment say, I always check here first before spending money on my bike stuff.
As an older guy returning to motorcycling after a couple of decades off, I find that motorcycling is now pretty close to old the definition of a boat: A hole in the pavement into which I pour money (to mix the metaphor), but it's money lovingly spent.
As for the Harbor Freight LED flashlight, it is a great flashlight at an incredible price.
The LED's are so bright I have been trying to figure out how to use them for other lighting on my bike.
Lighting has been a major portion of the money I pour into the bike, using your site as a guide.
As you point out in your reviews, there are LED's and LED's, and these are BRIGHT!  I can not stand to look directly into the beam, Egon. This light rides in my tail pack, along with other necessary items.
It throws a great deal of light, it is light in weight, and I have yet to use up the batteries in any of these (I have several in various places around the house).
I have a different view of Harbor Freight than some other readers. I find HF to be a great place to buy tools, if you use their coupons, watch out for their deals, and choose wisely.
My motorcycle workshop contains a lot of HF tools, from hand tools, to electric drivers, to the Motorcycle Lift, to SAE and Metric T-handle Allen wrenches, to sockets and adapters, and even Stubby Ratchets (not a silent movie actor).
I have purchased several of their million candlepower hand held lights, which could light a stadium, for $9.99. You can't buy batteries for most lights for this price, and they are rechargeable.
When they die, throw them away, and buy another. Not recommended yet for your MC saddlebags due to size, but great products nonetheless.
I do support America, but I also know we have to compete. I started buying HF drills and electric hand tools when my Sears Craftsman tools and Black and Decker tools kept dying after 5 or 6 years, like clockwork.
Most of us don't use drills and electric hand tools enough to wear them out, and when these tools die, often due to the death of the batteries which cost as much as the tools, I decided it's best to spend my money sensibly.
I could buy HF replacements for a fraction of the cost.
If you're going to get a short life out of a tool, pay less for it. The HF electric tools have lasted at least as long as my Sears and B & D, so I'm way ahead of the game dollar wise, and not pound foolish.
I have only purchased one item from HF that was just junk, and they took it back.
Choose wisely, watch their coupons, and save a great deal of money. Maybe spend the money you save on safety equipment, lighting, or gas. And ride safely!"
---
From "B.D.": "I just saw this review and I had a nice chuckle about it. I'd agree, some of their stuff isn't worth the box it's comes in.
Harbor Freight has to be the poster child of "Cavet Emptor" if there ever was one.
That being said, I do shop there from time to time, but not before I've thoroughly handled and inspected it's brand name counterpart and weighed the pros and cons of each.
But like I said in the earlier Sears Craftsman post, I always try to buy, and encourage others to American when it comes to actual Hand Tools.
Sometimes, there's just no getting around buying junk from a Junk, but we still have the choice to vote with our feet and wallets.
I'm an admitted tool junkie, and my wife has to hide the tool sale catalogs that arrive in the mail out of fear that I'll find a new thingamajig that I'll have to have and only use once. (According to her anyway)
But like the cool little LED Flashlight you found, there are good deals to be had.
You have to keep your expectations low and hit them on their alternate sale dates to really reap the benefits. For instance, their ATV and Motorcycle Lifts are an excellent buy and I know dozen or so other motorcyclists that have the same lifts.
They usually show up for about $60.
Compare the same lift from say, Pep Boys or Auto Zone or Kragen/Chucks/Checkers and it's the exact same lift is usually twice as much. What if you need a cherry picker for pulling out that old Chevy 350?
It kind of makes no sense to pay a premium from the larger stores when it's just square tubing and a hydraulic jack.
It pays to know when it's appropriate to shop there and when to keep you wallet in your pants.
Sure a 110 piece socket set for $9.99 is hard to put down, but I won't tell you how many of those sockets end up in the trash because some random bolt head turns out to be the harder material.
By the way, HF does have a fairly liberal tool exchange policy now.
They'll usually honor the "you break it, we'll replace it" warranty on smaller hand tools.
If you buy one of their clever orange power tools, get the warranty they offer. Usually if a tool is going to break it will do so within the first 90 days. If it doesn't you've still got 640 days to "Trade-Up" and the extra $10 is well spent.
Or approach it the way I do… treat the purchase as if it was a "throw away tool" and if it breaks after it got the first job done then I can at least get my money back. If not, it's a keeper.
But still, when it comes to motorcycle repair, get yourself a good set of American made tools.
If only just for the bike. After all, nuts and bolts are the only things keeping us from having a catastrophic failure at speed.
A high quality torque wrench, some Loctite and follow the torque specs laid out by the manufacturer."
Other WebBikeWorld Motorcycle Flashlight Review
wBW Flashlight Review  Info