After a six-hour border crossing from Mexico to Guatemala and arriving at our hotel in the dark about 10pm, riders on the Tacos n Tequila tour with Ferris Wheels Motorcycle Safaris were not very complimentary about the country.
We had been asked for a bribe to smooth things along, but Mike and Denise Ferris (who will change the company name to World on Wheels from January 2016) don't do bribes.
Instead, they asked me to take a photo with my "professional-looking camera" of the officer who asked for the bribe.
The whole episode left a bad taste in our mouths as we finally headed to Huehuetanango in the dark on treacherous roads with rocks falls, potholes and drivers not as courtesy as they are in Mexico.
That all changed over the next day's 180km ride!
Guatemala is an exciting, vibrant, challenging, raw, but stunningly beautiful country.
The roads in Mexico were a surprise because when they were good, they were very very good and when they were bad, they were very very bad.
It's the same in Guatemala, except the roads can be even "badder". Yet the challenge is what makes this country great.
The 180km ride seemed like an easy day, so we checked out the Mayan pyramids in Huehuetanango before heading to Coban.
It started in typically heavy city vehicular and pedestrian traffic but as we left the city, it quickly became a wild romp over winding hilly roads with spectacular scenery and quaint villages.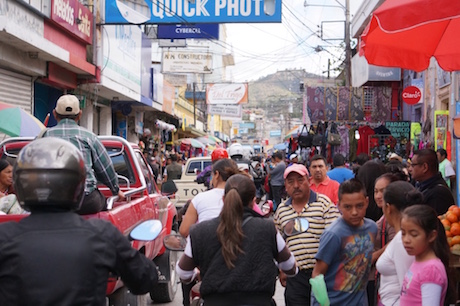 The people are friendly, the kids are enterprising (shoeshiners besieged us in one village) and more traditionally dressed than Mexico.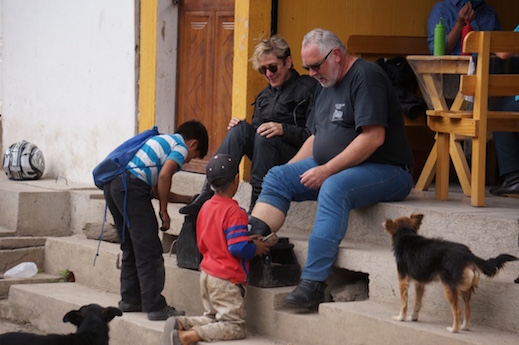 However, the drivers are not so courteous. In Mexico they move over to let you through, but here they move over to stop you passing.
It makes the riding a little more challenging, but passing is easy because they drive so slow.
For the first half of the ride, the roads are smooth and twisting with some spectacularly tight drop-down/step-up second-gear hairpins.
As we head further into the hills, there are rough patches of roads and around any corner you could find half the road engulfed in a landslide of limestone rocks.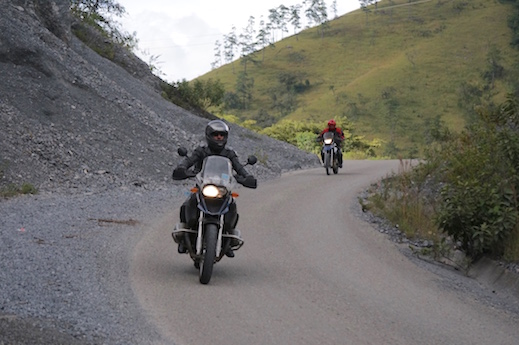 Then the road turned to an off-road nightmare of crumbling rock, ruts and potholes.
It has been severely eroded by a hurricane and the big trucks and colourful buses that ride this route.
As we ascended into the 100% humidity, the roads also became wet, then muddy and the potholes filled with brown water hiding their depth.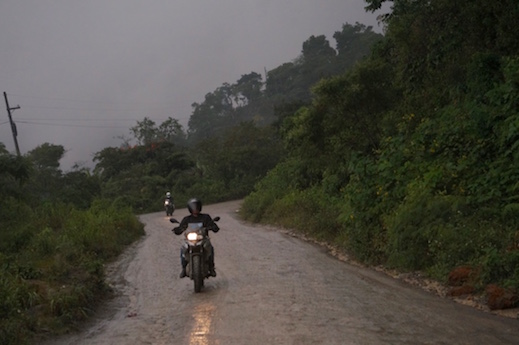 With Mrs MBW, the pillion in a million, on the back, this was extremely slow going and hard work.
However, our trip was brightened by a colourful parade of children, villagers in traditional costume and wild horses, pigs and geese.
Around one corner, we were confronted with a narrow road that looked like Bolivia's "Death Road" and a massive truck taking up all but 1m on the cliff-edge side.
He stopped and beckoned us forward and I shook my head. But he laughed and insisted, so I gunned it and we made it through.
By now Mrs MBW was resigned to the dangers and numb to the pounding pain. At least the muddy conditions weren't slippery with my pillion adding rear-wheel traction.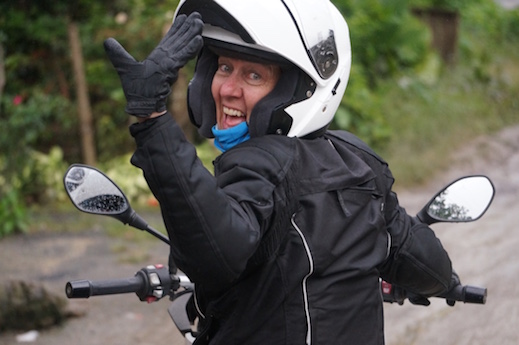 Over the intercom she kept asking for a countdown of how far to the destination and after about 50km of the most challenging road we've ridden together, we finally caught up with Mike Ferris, just 1km short of blessed concrete road.
The 180km trips took about eight hours and in that time we were converted to the challenging pleasures of this raw and exciting country.
Those shiny shoes are going to need another polish!