The motorcycle chase and leap over the wire fence in the 1963 World War II film, The Great Escape, has been voted as the greatest motorbike scene in movie history by a UK insurance e company.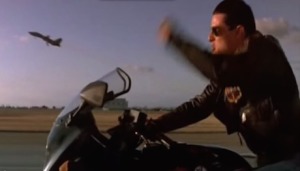 It beat the Tom Cruise airfield ride on a Kawasaki GPZ900R in Top Gun, the riding scenes from Easy Rider to the soundtrack of The Weight, ArnIe Schwarzenegger's Fat Boy jump in the LA sewers in Terminator 2: Judgement Day and the James Bond Istanbul rooftop chase in Skyfall featuring Aussie stunt rider Robbie Maddison.
The result is fairly typical of any of these surveys and closely reflects some of my own choices for top 10 motorcycle movie chases.
There are several reasons why The Great Escape always stands out.
First, it features real high-quality riding, not computer graphics and not rigged stunts like the Arnie jump where the Fat Boy was suspended on wires. Actor Steve McQueen was an accomplished rider and did most of his own riding, except for the final jump.
There is also the cool factor of Hollywood's King of Cool riding a motorcycle. The image has become ann icon of cool, like Marlon Brando in his leather jacket on a Triumph Bonnveille in The Wild One. 
But I believe there is a more important reason for the chase scene's popularity: the bid for freedom.
Motorcycles are all about freedom and what could be more illustrative of this than an escaped prisoner of war trying to elude the Nazis on a motorcycle and making the ultimate leap for freedom across the barbed-wire border to Switzerland?
What are your top 5 motorcycle movie moments?