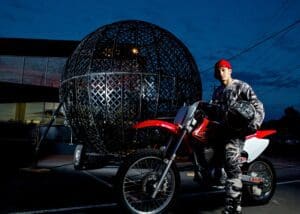 Does anyone remember the old Globe of Death where motorcycles would ride around inside a giant metal globe-shaped cage?
It used to be one of the attractions of the circus when it came to town or at the local show.
The last one I saw was at the 105th Harley-Davidson anniversary in Milwaukee in 2008. Click here to see a video of that display.
But now it's back and will be a highlight of the annual RACV Motorclassica, at Melbourne's Royal Exhibition Building on October 25-27.
The Globe of Death is a replica of an old circus act with four motorcycle riders racing around daredevil stunt woman Ricardo da Ararujo, of Brazil, who has been riding the Globe since he was eight.
Motorclassica will also have almost 50 significant motorcycles competing in a Concours d'Elegance.
Among them will be the world's fastest Velocette, a 1960 model which set the world record for the now-defunct British marquee, a collection of 10 iconic 1980s Japanese motorcycles, a rare 1937 Zundapp K500 and 1944 WL and sidecar, and the only 2010 Confederate R131 Fighter in Australia, a bike that looks more like a Meccano set than a motorcycle.
Motorclassica will also celebrate Harley's 110th with a display of significant models from the earliest, a 1000cc Twin Two Speed from 1914 to a 2013 Road King Anniversary model.
Current, classic and customised bikes will also be on sale including the latest models from Triumph and Benelli, and collectible bikes from Indian, Triumph, BSA, BMW and Japanese manufacturers.