Two Awesome Bikes One Difficult Choice
KTM recently announced the release of the KTM 690 Enduro R and the 690 SMC R for the North American market this spring. The bikes add to the company's already stellar lineup of road bikes. Both bikes are similar in many respects but offer some different equipment that sets them apart.
First, we'll focus on the things that both models have. The engine is at the top of the list. It's a 690cc single-cylinder that KTM says is the most powerful production single-cylinder available. It thumps out 74 hp and 54 lb-ft of torque. The bikes also come with a quick shifter, lean angle sensitive ABS, and traction control.
How They Differ
Now that the common equipment is out of the way, we'll take a closer look at the KTM 690 Enduro R. The bike comes with ride-by-wire and two ride modes (Off-Road and Street) allowing you to select the right mode for your riding surface.
KTM revised the exterior of the bike to be sharper-looking and more ergonomic. The bike is supposed to be more comfortable than ever before. Keeping the bike's ride well-managed is the fully-adjustable WP XPLOR suspension,which is no shocker seeing as how KTM owns that company. KTM says it provides a ride that works for both seasoned riders and off-road newbies.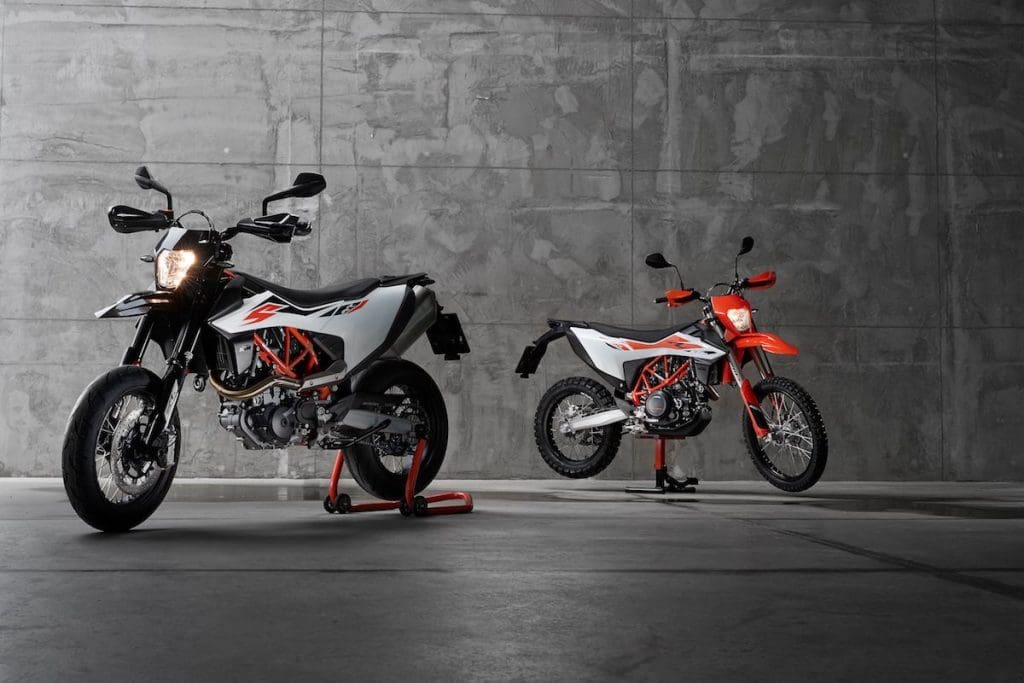 The KTM 690 SMC R is a little different. The supermoto is a different kind of animal with many of the same features. Like with the 690 Enduro R, KTM revised the styling and exterior design of the bike to make it sharper and more ergonomic. It has its own unique style.
The bike gets fully-adjustable APEX suspension from WP. The suspension is optimized for street use and KTM specifically points out commuters as the bike's audience. Like the 690 Enduro, the bike has two ride modes (Street and Sport). However, they're tuned much differently, with no off-road option. The bike's new fancy electronics also allow you to act like a hooligan. The Supermoto ABS lets you slide the rear tire around as you wish. 
You should start seeing these bikes in KTM dealers across North America soon. Hopefully, we'll be able to give you a closer look when that time comes.