Updated March, 2019
Our Top Picks
Best Overall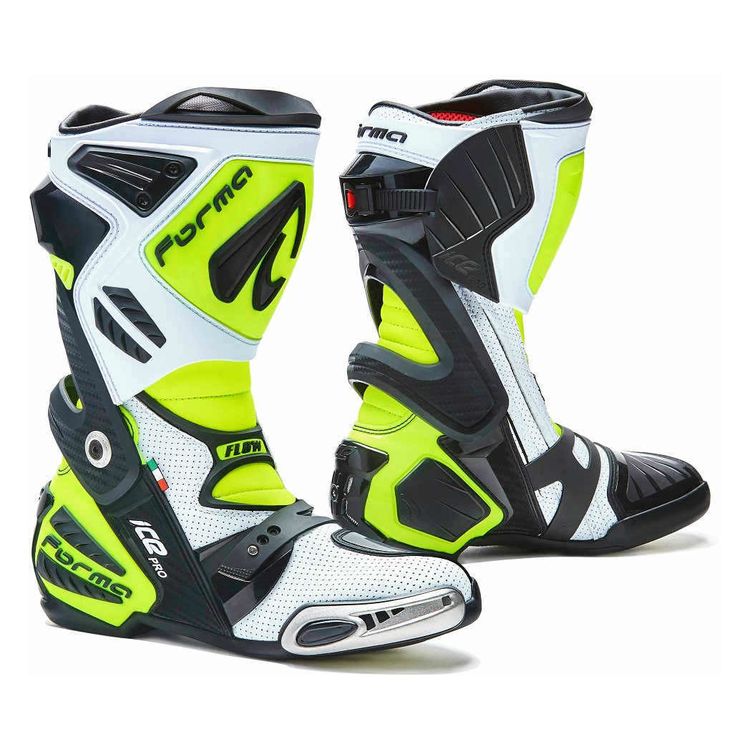 Best Value
Fully Loaded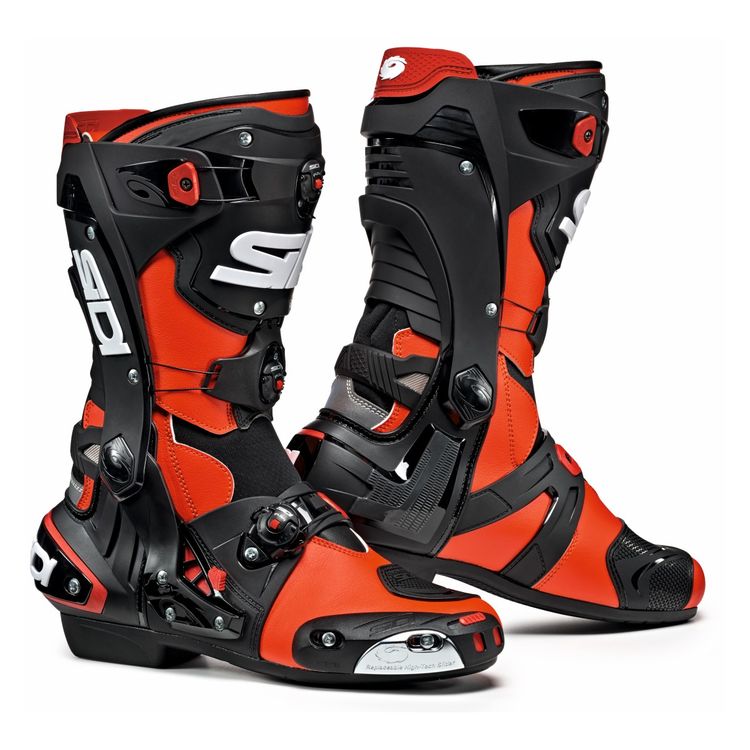 Other great options:  TCX RT Race Pro Air, SIDI Streetburner, TCX Roadster2
---
Boots are a very critical piece of gear for riders as they are your means of contact with the pegs of your bike and also with the ground.
In addition, your feet tend to be the "leading edge" when you go down and are sliding toward solid objects, so you are counting on your boots not only to hold up to the abrasion but also to provide some protection on impact. With over 50 bones in the human foot and ankle as well as over 30 joints, there is a huge potential for injury any time a rider is not wearing proper boots when riding.
Sport boots are purpose-built to provide the best protection possible as well as the most comfortable stability system when in the competitive tuck position that is required on most sport bikes.
In the aggressive rider position of a sport bike, the rider's knees are well in front of the ankle, meaning that a sport boot must account for and accommodate that acute angle formed by the foot and leg rather than the right angle that the foot and leg form when riding other styles of bikes.
Any boot with a 90-degree angle at the ankle is going to resist the natural riding position of a sport bike with the leg forward and cause unneeded fatigue. Some of the most advanced sport boots now even offer a hinge system that will allow for a great range of motion of the ankle, from a 90-degree position down to an acute angle when the rider is in a tight tuck.
The key attributes for any sport boot are the abrasion protection, ankle protection and stabilization, and a sole that hangs well off the pegs but also provides sure footing as you reach toward the ground when stopping or when you are beginning to launch.
Be sure to check back regularly with us here at wBW to read about our latest hands-on reviews of motorcycle boots and other great products for riders.
Sport Boots Buyer's Guide
Everyone has bought shoes and knows that it can be very challenging at times to find a shoe or boot that meets your needs for fit, comfort, and style. And that process is made even more daunting when you are looking for a great sport boot because now you are adding in additional qualifications such as impact and abrasion protection and ankle stabilization. But finding the best blend of all of these must-haves is the only way that you will be satisfied with your selection.
In addition to the basics of trying the boots on in the store, riders need to consider their normal riding position and preferences. I call myself a lazy rider because I like to just hang my foot off the peg by the heel of my boot. So I know that having a well-defined heel is critical to my level of satisfaction with a sport boot. Other riders like a flat sole much like an athletic shoe and a defined heel will throw off their foot positioning on the pegs.
I also prefer a tighter fit so that if I move my foot at all, my boot moves. That provides me with the "fine touch" that I like when riding. It is similar to driving a sports car in racing flats and being able to accelerate just by curling your toes a bit. Other people want to have a little space to wiggle their foot and toes without moving their boot. So the secret is to know what you want and don't settle for anything less.
Best Sport Boots
In Detail
Best Overall
The Forma Ice Pro Flow sport boots offer aggressive sport bike riders all of the protection that they would need on a track but with a price that makes them a doable selection for street riders or track racers. All of the technology found in the $500 plus sport boots are in the Ice Pro Flow as well as the comfort that you need for a long, but sporty ride.
Construction & Fit:
From a comfort perspective, the Forma Ice Pro Flow offers everything that riders will want starting with the microfiber upper which offers insets of perforated microfiber for better ventilation and comfort.
Added air can be introduced to the boot via the toe slider venting as well.
Air mesh lining and the extra soft polymer padding with memory foam make these sport boots feel as comfortable as a favorite pair of sneakers
Elasticized front fastening system with snap closure keeps it all in place throughout your ride
VELCRO brand closures and a zip closure work with the rear buckle pump ratchet closure to allow riders to set a custom fit each time they wear these sport boots for added comfort and peace of mind
Safety Features:
Protection is the main priority here, so let's start off with the fact that these sport boots are CE Certified quality.
Anti-torsion F.C.S with an anti-scratch frame
Rear F.C.S cushioned stop for maximum safety, a vented stainless steel toe slider
Plastic gear pad for added protection
Injection molded plastic protectors in the impact prone locations around the foot and ankle.
Plastic heel cup is reinforced with nylon for added durability and integrity
Double density anti-slip race compound sole for great grip on the pegs and stability when reaching for the ground
At under $400, the Forma Ice Pro Flow sport boots offer riders the function, comfort and protection that is needed from a quality sport boot at a reasonable cost, making them the selection for the Best Overall Sport Boots 2019.
Buy Forma Ice Pro Flow
We receive a small commission when you purchase from one of our affiliate partners. Thank you for supporting us.
---
Best Value
Not every sportbike rider is going to head out to the track, but many will want to have the same great protection and comfort in a pair of sport boots that are more affordable. The SIDI Apex sport boots are basically a short version of the SIDI Vertigo track ready boots. The Apex offers the same great protection and aggressive style but at a cost of just over $200, making them more within the budget of many riders.
Construction & Fit:
Removable arch support and the Lorica outer construction of the Apex provide added comfort that sport riders want and the short style makes them a perfect fit under jeans or also with riding pants.
Adjustable air vent lets the rider determine how much or how little ventilation is needed for comfort and the full-length zip open entry makes the SIDI Apex easy to slide into and out of.
Safety Features:
The Apex offers some awesome armor options:
Thermoplastic resin ankle ball protection cup and heel armor
Adjustable and aerodynamic nylon scuff pads on the toe
The best part about this armor is that it is all bolt on and replaceable, making these boots a great investment.
Additional protection includes:
Vertebra System protects the rider's Achilles tendon while the shock absorbing heel cup rounds out the protection for the back of the foot and leg
Composite inner sole and the dual compound outer sole work together to provide comfort and stability as well as a secure grip on the pegs and the ground
For about the same cost as a nice pair of sneakers, sport riders can have the protection and function of a track quality boot but in a short, more comfortable style making the SIDI Apex the 2019 selection for Best Value Sport Boots.
Buy SIDI Apex
We receive a small commission when you purchase from one of our affiliate partners. Thank you for supporting us.
---
Fully Loaded
SIDI has incorporated all of the latest technology into one amazing sport boot, or actually two, the Rex and the Rex Air. For sports boots that look very solid and safe, the Rex boots are amazingly comfortable and flexible.
Construction & Fit:
Rex Air is made of perforated Technomicro for even more airflow, making it the perfect selection for riders in super hot climates
Base material is SIDI's exclusive Technomicro along with strategically located elastic panels which expand to allow your foot to slide into the boot
SIDI's proprietary Tecno-3 Push Closure System closes the boot at the arch of the foot, shin, and ankle removing any need for laces or latches
Hinged ankle support allows for a great range of motion when tucked or in a more relaxed riding position.
Use of flexible materials, elastic and padding make these boots easy to put on and take off as well as very comfortable when riding or walking
Added ventilation comes from the slots at the center of the brace support
Safety Features:
Ankle support system is similar to an exoskeleton and is made of fiberglass-infused nylon (the system restricts lateral movements while reinforcing the internal and external ankle joint)
Fully encapsulated heel cup and a toe slider comprised of nylon reinforced round out the impact and abrasion protection (toe slider is also equipped with an air intake and an innovative alloy insert)
Be sure to check back in the next month or two to read the full in-depth, hands-on review of the SIDI Rex sport boots. All of the comfort features, safety innovation, and functionality make the SIDI Rex sport boots the selection for Best Fully Loaded Sport Boots for 2019.
Buy SIDI Rex/Sidi Rex Air
We receive a small commission when you purchase from one of our affiliate partners. Thank you for supporting us.
---
Other Great Sport Boots
In Detail
The TCX RT Race Pro Air offer sport riders a superior level of protection without limiting movement and dexterity.
Construction & Fit:
These boots still offer a high cut style but are a sleeker and less cumbersome design. The reduction in the weight of the RT Race Pro Air is thanks to the use of durable yet light microfiber with strategically-designed injection-molded components.
Comfort features include:
Padded rear flex area
Soft microfiber gaiter for a perfect fit around the calf
Air Tech breathable, soft touch mesh lining with double density foam for superior comfort at the ankle
Replaceable anatomic extra-light breathable insole
Reinforced midsole with differentiated thickness
Safety Features:
Primary protection featured by these CE Certified sport boots include:
FFC Fasten Fit Control lacing system and outside elastic zipper
VELCRO brand tab closure for a secure fit and easy when putting the boots on and taking them off
Replaceable abrasion-resistant magnesium toe slider and the magnesium rear and heel sliders round out the amazing impact and abrasion protection in the RT Race Pro Air
Additional protection is provided by features such as:
Iron mesh intake-equipped polyurethane shin plate and shift pad
Front and lateral panels
Heel counter
Double Flex Control System
At the $500 price point, the TCX RT Race Pro Air is at the upper end of the scale in price but it offers top of the line features, comfort and safety in a lightweight race quality boot making it a great choice for sport riders.
Buy TCX RT Race Pro Air
We receive a small commission when you purchase from one of our affiliate partners. Thank you for supporting us.
---
The SIDI Streetburner is the short boot that packs in all of the safety and function of the full-length SIDI track boots. Picture all of the bells and whistles from the Rex just adorn on a short boot that offers a great range of motion and comfort.
Construction & Fit:
The comfort features are impressive and start with the top grain leather outer construction, composite inner sole, and removable arch support.
Dual compound sole adds to the level of comfort as well as the grip when hanging on the pegs or getting a solid footing on the ground
Fit is always perfect thanks to the Tecno-II buckle system
Safety Features:
Even as a short boot, the Streetburner includes an external ankle brace system, bolt on and adjustable aerodynamic nylon scuff pads on the toe and a shock absorbing heel cup.
For the bargain price of only $250, sport riders can have all of the protection of a track quality boot in a shorter version that offers more mobility and comfort thanks to the SIDI Streetburner.
Buy SIDI Streetburner
We receive a small commission when you purchase from one of our affiliate partners. Thank you for supporting us.
---
The TCX Roadster 2 sport boot is clearly a sport style boot but with a lower profile than some of the more decked out options.
Construction & Fit:
These boots feature a microfiber construction and an Air Tech lining for breathability and natural cooling.
Safety Features:
PU heel guard and PU shifter pad, which is integrated into the sole, add to the level of comfort and protection.
PU toe slider is replaceable making these boots unique in this price range.
Instep can be adjusted using the Velcro fastener band for a more custom fit.
These CE certified boots also offer a Comfort Fit System with an anatomical, extra lightweight, breathable footbed and a mono compound rubber sole with a designated grip surface.
The TCX Roadster 2 sport boots look rather tame next to some of the more track ready boots, but they will meet the needs of any rider who is looking for affordable basic protection in a sport boot cut.
Buy TCX Roadster 2
We receive a small commission when you purchase from one of our affiliate partners. Thank you for supporting us.
Download & Save Our Infographic!
Can't decide on your favorite Sport Boot? Acquire all the information you need with our handy infographic to decide later or on-the-go. Download and save all our top picks for best Sport Boots of 2019.