Former MotoGP and World Superbikes legend Garry McCoy will compete in the third annual 2016 Ellaspede Dust Hustle fun race event this Saturday (September 3, 2016).
McCoy will be wheeling out a '74 Yamaha MX125 in the Old Mates class and will compete in two pro exhibition races in the lunch hour on modern race bikes against young guns such as Jarred Brook, Michael Kirkness, Briony Hendrickson and Jace Castles.
No doubt McCoy, also known as "Mr Squiggle", will include plenty of sideways action for the fans.
Meanwhile, ex gun racer Stan Bear will be riding a vintage slider in  lunchtime demos.
Apart from the pros, there will be 130 amateurs, many in fancy dress, having a go, crashing and laughing. It should prove very entertaining!
It's all good fun from 8am to 9pm with free entry and plenty of parking.
And if the on-track action isn't enough, there is plenty of off-track acton as well with food trucks, a bike show and live music.
Ellesapede spokesman Hughan Seary says the Food Truck Roundup will include nine gourmet food trucks "which will pull a whole crowd of its own".
Dust Hustle has engaged Brisbane Motorcycle Street Care (BMSC) to run a bike show and raise money for a local child to get a much-needed operation. While spectator entry to the Dust Hustle is free, it's $10 to enter your bike in the show.
All female AC/DC covers band Her Way To Hell will kick off the trackside afterparty from 4pm with Young Henrys beer and cider and Sailor Jerry rum at the bar.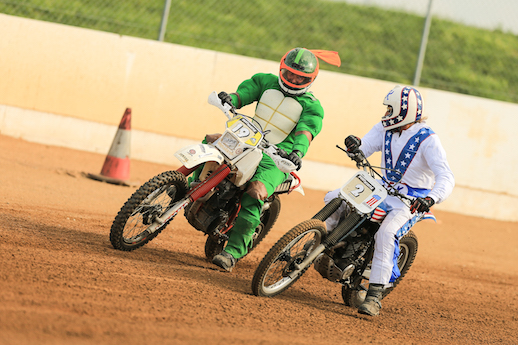 The fun flat track event rekindles memories of 1960s cult film On Any Sunday and follows the British Dirt Quake which began the year before.
The fun component is the fact that most bikes are bizarre customs that are totally inappropriate for flat track with often equally bizarre riders in costume.
The Dust Hustle will be held on September 3, 2016, at the Mick Doohan Raceway, Northgate, Brisbane, from 8am to 9pm and spectator entry is free.