A massive motorcycle procession is expected tomorrow (Friday, March 16, 2018) for Lance McDiarmid, aka Macka, to acknowledge his many years of service to his fellow riders and the annual Victorian MRA Christmas Toy Run.
His sister, Anita, says they "would love for Lance to have a motorcycle escort from Le Pine Funeral Directors", 484 Geelong Road, West Footscray, to the Altona Sports Club for the 2pm funeral service.
Riders should assemble by 12.45pm. A wake will be held after the service in the Sea View Bar. Parking is available at the rear.
In lieu of flowers, Anita says Macka's family has asked for donations of new or second-hand books and games, or new toys for children 0-15.
These will be collected at the service for the 2018 Christmas Toy Run for the Father Bob Foundation.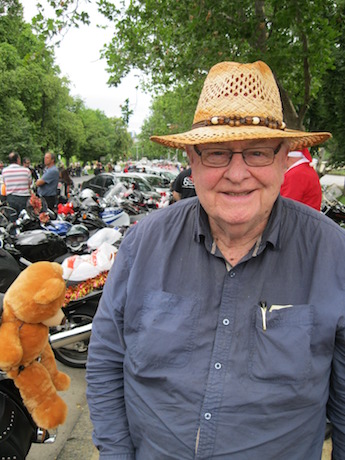 Macka a prominent leader
Macka was a prominent Motorcycle Riders Association (Victoria) leader in the western suburbs of Melbourne.
"He was a great organiser. Quick to laugh. Quick to lend a hand," says MRA founding president Damien Codognotto.
"He was a strong advocate for motorcycle safety and for riders' rights.
"He was elected sub-branch (register) president year after year and was awarded an MRA Honorary Life Membership.
"Macka's Western Suburbs Register always had a strong presence at Blood Runs (rides to the blood bank) and at MRA Toy Runs in Melbourne.
Macka was born in Sunshine, raised in Maidstone, Deer Park then Braybrook.
He completed an electrical apprenticeship with Union Carbine Petrochemical Plant Altona and started his own business MACKs R C Hobbies because he couldn't find the parts he wanted for his cars.
Anita says he had lots of hobbies apart from motorcycles, including darts, snooker, remote control cars was on a lot of committees.