The Ducati Scrambler is already one of the most anticipated bikes of 2015, even though it's just a simple, fun machine.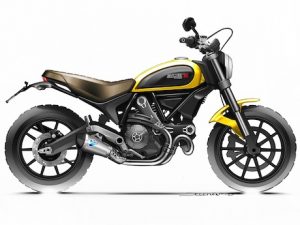 However, Ducati has also ensured the bike is practical and interchangeable with plenty of clever accessories and riding gear to match the fun mood.
The first shipment of the Ducati Scrambler is due to arrive in Australia in March 2015. Scrambler prices are:
Icon (Ducati Red) $12,990

Icon ('62 Yellow) $13,140

Urban Enduro $14,990

Classic $14,990

Full Throttle $14,990
The first model available will be the Icon. There is no date yet for the other variants.
That's pretty good value for a fun little weekend warrior that you can play with on the dirt or the tar, then take to work from Monday to Friday.
But with the innovative luggage you can also take it touring and still retain much of its style with its range of waterproof and classic style saddlebags, rear seat bag and magnetic tank bags.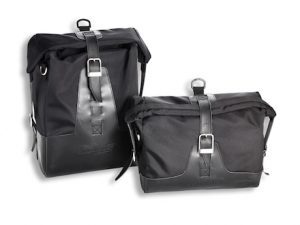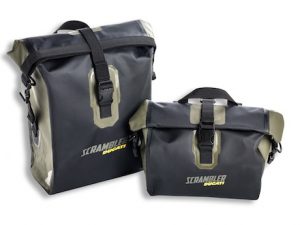 Even though there are four Scrambler models, you can conceivably make hundreds of variations with a bit of swapping and changing among the multitude of bike accessories.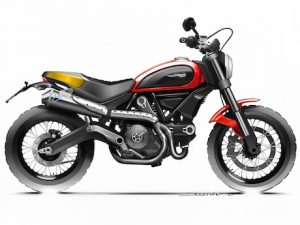 However, instead of calling them bike accessories, Ducati calls them "ingredients". They allow users to "scramble" their Scrambler with different tank side panels, mudguards, plate holder, headlamp rim and grille, instrument panel rim, grips, mirrors, wheels, handlebars and crossbars, and four different seats.
There are also Termignoni exhausts that include a high-rise scrambler-style pipe and shorty twin pipes that change the look even more.
And, of course, you can also dress up in all the hipster Scrambler riding and leisure apparel which comes in three different lines (Urban, Outdoor and Lifestyle) for men and women.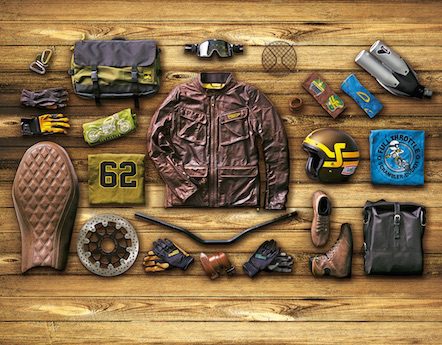 The Urban and Outdoor lines are riding gear with different styles from helmet down to boots.
The Urban line is typified by the Quattrotasche (four pockets) jacket made by Dainese with Pro Shape protectors and the Outdoor line by the Outdoor jacket with removable camouflage lining and type-approved soft protectors.
The Lifestyle leisure wear includes T-shirts, fleeces, trucker caps, belts, watches and even a water bottle.
Meanwhile, Australian delivery of the new Multistrada with Desmodromic Variable (DVT) timing is scheduled for late May, the Diavel Titanium arrives by April and the Panigale R arrives in late April.
PRICE LIST FOR DUCATI SCRAMBLER INGREDIENTS:
Evo-line type-approved silencer: $1849

Sport-line racing silencer: $1649

Full Racing Exhaust System: $2389

Aluminium number plate support: $498

Billet aluminium frame plugs: $298

Billet aluminium Sprocket Cover: $298

Black-Alu side panels: $298

Billet aluminium instruments trim: $198

Lower instrument panel cover: $198

Brake fluid reservoir cover: $98

Belly pan protective plate: $178

Billet aluminium headlight trim: $238

Headlight protection grille: $118

Frame for protection grille: $78

Clamps for grille: $198

Sport headlight fairing: $198

Tall plastic fibre material mudguard: $198

Aluminium handlebar cross-bar: $58

Set of two aluminium footpegs: $298

Set of two billet aluminium handlebar balancing weights: $138

Aluminium variable section handlebar: $158

Chromium-plated aluminium mudguard set: $438

Aluminium spoke rim set: $1638

Urban Enduro Seat: $398

Classic leather seat: $398

Full-Throttle racing seat: $398

Lowered seat$298

Urban Enduro rear bag: $198

Urban Enduro magnetic tank bag: $298

Urban Enduro waterproof side bags set: $478

Full Throttle side bags set: $1198

Classic side bags set: $518

Plug&play anti-theft system: $438

Scrambler canvas$258

Adhesive tank protector: $42

Set of Scrambler logos: $78

Logo "Icon": $78

Logo "Full Throttle": $78

Logo "Urban Enduro": $78
PRICE LIST FOR DUCATI SCRAMBLER GEAR:
JACKET SCR QUATTROTASCHE Sz 46-58

, $

922

TEX JACKET SCR OUTDOOR  Sz S-XXL

, $

607

TEX JACKET LADY SCR OUTDOOR  Sz XS-XL

, $

607

GOGGLES SCR HERITAGE

, $

154

GLOVES SCR STREET MASTER C2 BLK/BLK Sz S-XXL

, $

164

GLOVES SCR STREET MASTER C2 BLK/YLW Sz S-XXL

, $

164

GLOVES SCR OVERLAND BLK/BEI Sz S-XXL

, $

82

GLOVES SCR OVERLAND BLK/YLW Sz S-XXL

, $

82

GILET SCR OVERLAND Sz S-XXXL

, $

154

BOOTS SCR CROSS COUNTRY Sz 41-47

, $

298

JACKET SCR SPROCKET Sz S-XXXL

, $

257

CHECKERED SCR SHIRT Sz S-XXXL

, $

133

WING HOODIE SCR SWEATSHIRT Sz S-XXXL

, $

175

ATHLETIC CREW SCR SWEATSHIRT Sz S-XXXL

, $

144

1962 HOODIE SCR  SWEATSHIRT LADY XS

, $

154

1962 HOODIE SCR  SWEATSHIRT LADY Sz S-XL

, $

154

TRACK STAR SCR LONG-SLEEVED T-SHIRT Sz S-XXXL

, $

92

MOAB SCR T-SHIRT Sz S-XXXL

, $

82

SHORT TRACKERS SCR T-SHIRT Sz S-XXXL

, $

82

HERITAGE SCR T-SHIRT Sz S-XXXL

, $

82

RUMBLE SCR T-SHIRT Sz S-XXXL

, $

61

GHOST RIDER SCR T-SHIRT Sz S-XXXL

, $

61

MILESTONE SCR T-SHIRT Sz S-XXXL

, $

61

BIG BANNER SCR T-SHIRT Sz S-XXXL

, $

61

CROSSOVER SCR T-SHIRT Sz S-XXXL

, $

61

T-SHIRT MOAB SCR LADY Sz XS-XL

, $

61

T-SHIRT MIDNIGHT SCR LADY Sz XS-XL

, $

61

T-SHIRT HERITAGE SCR LADY Sz XS-XL

, $

61

CAP MOAB

, $

51

CAP BALL

, $

61

CAP HERITAGE

, $

51

SCR LOGOS LEATHER BELT 110

, $

154

SCR LOGOS LEATHER BELT 100

, $

154

SCR LOGOS LEATHER BELT 90

, $

154

SCR  HEAD LOGO BRACELET

, $

51

SCR COMPASS WATCH

, $

288

SCR COMPASS WATCH STRAP

, $

20

SCR WOODS BACKPACK

, $

123

MESSENGER BAG SCR WOODS

, $

133

PLAID SCRAMBLER

, $

72

HELMET BAG SCRAMBLER

, $

82

SCR FOULARD  YELLOW

, $

41

SCR FOULARD  GREEN

, $

41

SCR MAIN LOGOS STICKER SET, $37

SCR LIFESTYLE STICKER SET, $37

SCR MUG

, $

20

LIGHTER SCR

, $

51

SCRAMBLER SNAP KEY RING

, $

20

SCRAMBLER PVC KEY RING

, $

13

ALUMINIUM BOTTLE SCRAMBLER

, $

37

SCR LOGOS PIN SET

, $

20

SCR  HEAD LOGO RUBBER BRACELET

, $

10

SCR COTTON SHOPPER

, $

10